Events

Date: 31 December 2014
New Year's Eve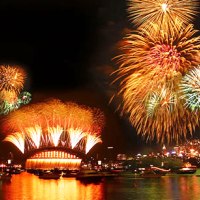 New Year's Eve - a time to look back fondly on the year gone and of course welcome in the new. Champagne corks pop and fireworks light the skies as people across the globe count down the seconds to midnight.
Being somewhere special for this momentous occasion is a must for many celebrants, which is why at Flight Centre we offer the biggest range of New Year's Eve holiday packages for destinations throughout the world.
From gazing at the spectacular fireworks in Sydney to witnessing the Times Square Ball descend in New York, we're sure to have the perfect New Year's Eve experience for you. Choose one of our New Year's Eve holiday packages below or contact a consultant on 133 133 for assistance.
Sydney's New Years Eve celebration is one of the most spectacular in the world. Each year, the balmy summer celebration centers around the city's famous harbour. And with the stunning harbour Bridge as a backrop, you'll see some of the most breathtaking fireworks ever. To top it off, the streets are filled with a young, colourful crowd & all the bars, clubs lounges & pubs are absolutely pumping. This tour gives you a few days in this cool city so you can ring in the New Year Contiki-style!
Enquire online: New Year's Eve
Call an Airfare Expert 133 133
Enquiry Options
Phone

Please enter your phone number including the area code