Honolulu is the gateway to the Hawaiian islands, and where you'll most likely hear your first 'aloha'. It's also one of the most popular destinations, with many travellers touching down here and spending their entire holiday around Waikiki Beach. Accommodation in Honolulu is not only plentiful, it's where you'll find some of the most upmarket hotels in Hawaii, known for their unrivalled views and close proximity to the beach.
If 5-star is not how you wish to spend your holiday budget don't despair, Honolulu also has a good choice of mid-range hotels and value accommodation. Take a look through our guide to Honolulu hotels, below.
Compare Cheap Honolulu Hotel Deals
Choose your style of Honolulu hotel
If you've been dreaming of your Hawaiian holiday for some time, chances are you've thought about 5-star accommodation. Top of the range Honolulu hotels include the Ritz Carlton Residences and Waikiki Beach Marriott among others. An upmarket hotel gives you luxury, fine dining, access to the spa and, of course, Waikiki beach within easy walking distance. If you'd rather not spend all your money on accommodation, there is plenty of budget-friendly accommodation to choose from in the form of 3- and 3.5-star hotels such as Park Shore Waikiki, as well as serviced apartments and condominiums such as Aston at the Waikiki Banyan.
Where to stay in Honolulu
If you're looking for beachfront accommodation in Honolulu, you will have a string of magnificent hotels to choose from in Waikiki. Behind this famous stretch of coastline, the options significantly expand, with budget-friendly hotels in Honolulu relatively easy to find, such as the 3-star Aqua Oasis, a Joy Hotel, east of Kalakaua Avenue and a few blocks back from the beach. Most of the hotels in Honolulu lie between Ala Wai Boulevard and the beachfront.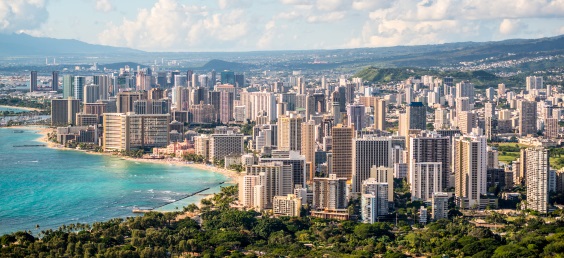 Best time to stay in Honolulu
Like greater Hawaii, almost any time of year is a great time to visit Honolulu. While there is slightly more rainfall in winter, temperatures remain pleasant all year round. High season in Hawaii runs from December through April, and also from June through August. Keep in mind the Honolulu Marathon is held in December, which can attract the crowds.
Getting around Honolulu
Once you get back from the beach Honolulu is like any other city. Getting around is easily achieved by public transport or taxi, although travelling by bus will take you longer to get to where you need to go. When staying in Waikiki or Ala Moana, the easiest way to get around is simply to walk. If you're hiring a car to travel around the island, keep in mind that parking in Honolulu can be expensive.
Accommodation The Easy Way
What's the simplest way to arrange your accommodation in Honolulu? Let one of our travel experts do it for you! As well as access to all the latest deals, they have insider hints, tips and a wealth of travel experience to draw on... and they love to create amazing holiday packages.
Talk to a travel expert and personalise your trip