Most of the accommodation in the Maldives is found on the islands that boast the best palm-tree lined beaches and are surrounded by tropical reefs. That's no small number, with over 100 hotels in the Maldives to choose from.
This Indian Ocean paradise is one of the world's most exclusive and romantic destinations and a bucket-list item for many people – blissful, perfect holidays is what the Maldives are all about. Find out more about Maldives accommodation with our overview, below.
Compare Maldives Resort Deals
Choose your style of Maldives hotel
A resort, overwater bungalow or beachside villa? Accommodation in the Maldives falls into a neat bundle of luxurious, very luxurious and 'wow'. For those who want their holiday dollar to stretch as far as possible, 4-star options do exist in the Maldives, with the Sun Island Resort & Spa offering a huge range of facilities. 5-star Maldives hotels and resorts abound, such as the Sun Siyam Iru Fushi and Centara Grand Island Resort & Spa, while at the super top-end are the adults-only deluxe resorts like Anantara Veli and W Maldives.
Where to stay in the Maldives
Take it for granted that wherever you stay in the Maldives, you'll be treated to tropical waters, pristine beaches, crystal clear lagoons and wide open skies. Each resort is on its own private island and, generally speaking, islands in the north of the atoll are known for their snorkelling while islands in the south are more suited to diving. No matter where you stay, experiencing the region's marine life will be a must-do.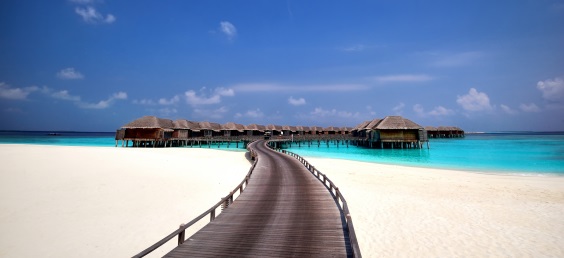 Best time to stay in the Maldives
In terms of weather, the best time to stay in the Maldives is between November and April, with high season falling between December and February. Humidity is low, skies are blue and there's less rain than at other times of the year. If you're in the Maldives during low season, between May and November, storms and rain are more likely. For divers, visibility is at its best during the dry season (December to April), while lower water temperatures in the wet season (May to November) seem to inspire greater numbers of marine life to congregate.
Getting around the Maldives
Many visitors to the Maldives simply have no desire to venture beyond the tropical island they're on and as such, getting around is easy. If you're going to island hop, air travel is the most popular way to cover the distances. The country has 12 regional airports, and seaplanes are also an easy choice for getting around. For shorter jumps between atolls, boat is the only option and most Maldives resorts and hotels will be able to assist you with chartering a dhoni, or traditional boat of the Maldives.
Accommodation The Easy Way
What's the easiest way to arrange your accommodation in the Maldives? Let one of our travel experts do it for you! As well as access to all the latest deals, they have insider hints, tips and a wealth of travel experience to draw on... and they love to create amazing holiday packages.