Perfectly designed Nusa Dua is Bali's home of the upmarket resort. Here you'll find one luxury beachfront hotel after another, as well as the 18-hole Bali National Golf Club. Nusa Dua accommodation is exactly what you would expect in such an exclusive enclave: international and on a grand scale.
If you're looking for a Nusa Dua hotel for a romantic holiday or family getaway, you'll have no shortage of options in this, Bali's beautiful, purpose-built paradise.
Compare Cheap Nusa Dua Hotel Deals
Choose your style of Nusa Dua hotel
Nusa Dua hotels pretty much come in one style – luxury. That doesn't mean, however, that you can't find a hotel in Nusa Dua which offers a range of accommodation options through room choice or extras, for example. On the epic end of the scale is Mulia which is made up of three hotels: Mulia Resort, The Mulia and Mulia Villas. Kayumanis Nusa Dua Private Villas are tucked between the larger resorts, offering a very tranquil alternative. Because this is the premium end of town, every Nusa Dua hotel is beautiful, but the scale of your accommodation is up to you.
Where to stay in Nusa Dua
The idyllic peninsula of Nusa Dua lies in southern Bali and is a vast area filled with some of the most exclusive accommodation on the island. It's also some of the most secure accommodation on the island, with any vehicle entering Nusa Dua having to pass through a security checkpoint. Nusa Dua is known for its dramatic limestone cliffs, atop which you'll find majestic hotels such as the Hilton Bali Resort. If golf is your thing, you may wish to be close to the Bali National Golf Club, in the south. Nusa Dua hotels fall roughly either north or south of the upscale shopping resort, Bali Collection, which lies in the heart of Nusa Dua and offers a free shuttle between the hotels, day and night. While the most of the best Nusa Dua accommodation is within easy reach of the pristine beaches, you'll find that many of the hotels have resort pools which are so stunning, they almost make the beach obsolete.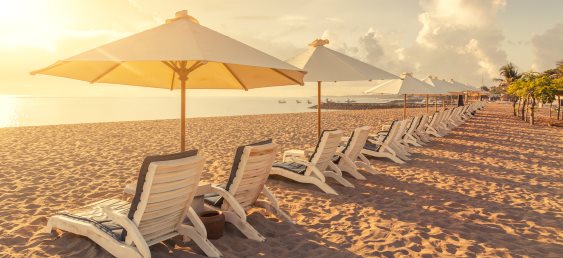 Best time to stay in Nusa Dua
Unlike the rest of Bali's hotspots, there's no reason to try and avoid Nusa Dua in peak season because this is what gives the luxury enclave plenty of atmosphere, although room rates are likely to be higher. In terms of weather, just as is the case with Bali in general, May, June and July are ideal because it's still quite dry and there's slightly less humidity in the air. If you're looking for accommodation in Nusa Dua, chances are your hotel will be so inviting, what's happening on the rest of the island will have no bearing at all. In short, it's always a wonderful time to stay at Nusa Dua!
Getting around Nusa Dua
Nusa Dua lies just 20 minutes from the airport on the southern coast of Bali. The best way to get around Nusa Dua is to walk, although if you're heading from one end of the peninsula to the other, Blue Bird Taxi is still a good transport option. If you're keen on shopping up big at Bali Collection or visiting the bars and restaurants in the vicinity, the daily shuttle is the best way to go. If you'd like to explore Uluwatu and the beaches of Bukit Peninsula, you could always hire a driver to take you everywhere you want to go, for a relatively minimal price.
Accommodation The Easy Way
What's the simplest way to arrange your accommodation in Nusa Dua? Let one of our travel experts do it for you! As well as access to all the latest deals, they have insider hints, tips and a wealth of travel experience to draw on... and they love to create amazing holiday packages.
Popular Destinations in Indonesia