As the world enjoys a culinary renaissance, words such as quenelle, confit and macerated are making their way into the vernacular – and it's all thanks to a new breed of rock star: the celebrity chef.
Our collective passion for gourmet grub, which is largely due to what can only be described as the MasterChef effect, has whet our appetite for creative wholesome food.
And if you think the closest you'll get to your favourite chef is watching him or her on television, think again. Today's kitchen kings and queens are all at sea, lending their names to menus, specialty restaurants and tours on some of the ocean's most recognised fleets – and the competition is reaching boiling point.
Never mind sun-drenched coastlines and endless leisure activities. These days, international cruise lines are placing as much emphasis on their food and wine landscapes as they are on their itineraries, and they're luring some of the biggest names in gastronomy aboard. Let the food fight begin!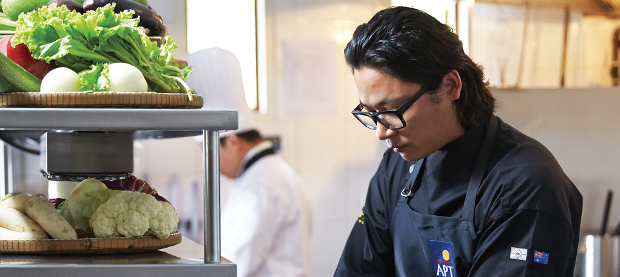 Luke Nguyen
The storyteller who weaves tales through food
There's one chef with a different approach to food culture, both on shore and at sea. Thailand-born and Cabramatta-raised, Vietnamese–Australian chef Luke Nguyen is so passionate about sharing the dishes of his heritage that he's giving lucky APT guests a backstage pass.
In his role as an APT ambassador, Luke offers a deliciously comprehensive taste of Vietnam. He not only oversees menus on luxury river vessels, such as RV AmaLotus and RV Samatha, from Myanmar to Vietnam, but also takes guests, and their taste buds, on sensory journeys.
These enticing experiences include personally prepared welcome dinners (which feature traditional dishes from specific Vietnamese regions); eye-opening walking tours through Saigon; and inspiring, empowering classes at cooking studio GRAIN by Luke Nguyen in Ho Chi Minh City.
"Food is a really important expression of the Vietnamese culture because it tells a story – of the land and of the history of the people," explains the proud chef. "For me, demonstrating how the local cuisine is sourced and made is a way of opening a door to the Vietnamese way of life."
On APT's hosted tours, guests have the unique pleasure of experiencing the real Asia through a local's eyes, enjoying behind-the-scenes glimpses of tradition, culture and daily lives, including people's close relationship with food.
"It's not just about food; it's about the culture as well," adds Luke. "I want to show my guests places that they'd never experience if they travelled alone."
MUST-TRY EATS:
Sip a bowl of steaming pho from a roadside food stall in Ho Chi Minh City.
Learn to make fried pumpkin flowers stuffed with prawn and dill mousse in a cooking class at GRAIN by Luke Nguyen.
All the dishes on Luke's onboard degustation menus are amazing, so it's impossible to pick a favourite, but do try the roast-duck soft rice-paper rolls or the pork ribs, which are slow braised in southern herbs and coconut juice.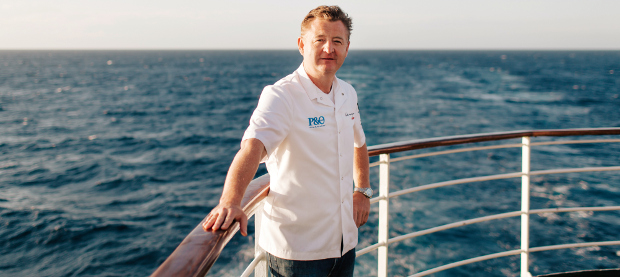 Luke Mangan
The pioneer who redefined the culinary horizon
Any cook worth his or her salt knows that the key to a great dish is the seasoning, and the same can be said for cruise lines. For P&O Cruises, a sprinkling of salt – Salt grill, to be precise – has proved to taste a lot like success.
Luke Mangan was the first Australian chef and restaurateur to float the idea of taking his modern yet uncomplicated flavours to sea, starting with destination restaurant Salt grill by Luke Mangan.
Luke's three onboard restaurants have served more than 350,000 diners since 2009, and the number of dishes flying off the pass is only set to increase: Luke's aquatic empire has just expand to five Salt grill restaurants along with corresponding bars on new P&O ships Pacific Eden and Pacific Aria.
As the first champion of the chefs-at-sea movement in Australia, Luke finds it hard to believe that the seven-year success story began with a passing remark.
"I have to admit that when we opened our first Salt grill on the Pacific Jewel in 2009, I was slightly hesitant. I didn't want Salt grill to be just any restaurant; I wanted to provide the passengers with something really special.
"Fast-forward seven years, and it's incredible to see how much the partnership with P&O Cruises has grown, and also to see a range of other chefs becoming more involved with the industry."
MUST-TRY EATS:
Kingfish sashimi with ginger, eschalot and Persian feta.
Free-range-egg omelette of snow crab and enoki mushroom with herb salad and miso mustard broth.
Pan-fried potato gnocchi with seasonal vegetables.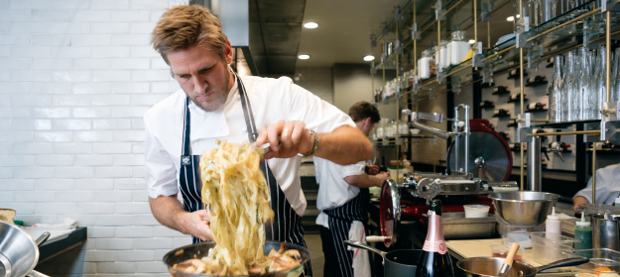 Curtis Stone
The innovator who's reinventing home-style cooking
Although families still savour coming together for a special celebratory meal, formal dining and family-style eating now often blend into the one experience. Embracing this trend is much-loved chef and author of a New York Times bestselling cookbook, Curtis Stone.
In his partnership with Princess Cruises, Curtis marries his three loves – food, family and travel – across three distinct dining experiences, including specialty restaurant SHARE by Curtis Stone, which debuted on Ruby Princess and Emerald Princess in the northern hemisphere in December 2015.
The Melbourne-born chef's passion is clear: "I love the process of passing plates among each other and creating meaningful connections through food and conversation," he says.
By creating a homey yet contemporary atmosphere, SHARE shines a spotlight on the important things in life: people – and creating shared moments with one another over a delicious meal.
"It's such a perfect pairing," says Curtis, "because I believe that when good food brings people together – much like travel does – they experience the world in a whole new way, creating happiness as well as lifelong memories."
MUST-TRY EATS:
Butter-roasted lobster with caramelised endive and endive foam.
Twice-cooked duck leg with fennel, bacon jus and parmesan crumb.
Dark-chocolate crémeux with toasted hazelnut feuilletine and burnt vanilla bean ice-cream.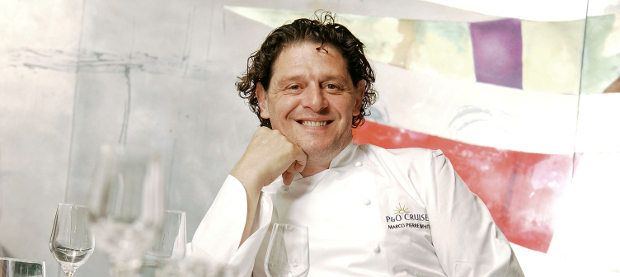 Marco Pierre White
The maestro who's exploring the future of cruising
The godfather of modern British cuisine, the enfant terrible of cooking, the very chef whose name strikes fear into the hearts of MasterChef contestants, Marco Pierre White hardly needs an introduction. Still, it's important to note that by the age of 33, he'd secured three Michelin stars, making him the youngest chef ever to do so.
Today, Marco continues to shine as he joins The Food Heroes, P&O Cruises' line-up of celebrity chefs. Bringing his skills and finesse to gala-evening menus and to the delectable dishes at Ocean Grill (on board Arcadia and Adonia) and Cafe Jardin (on board Oceana), the chef will be a fixture on the 2016 cruise circuit.
"When I'm travelling, the one thing I love is exploring," explains Marco. "I also love new flavours, so I believe that food-themed cruises are the future."
Making a huge contribution to the exciting new cruise-ship fare, Britain's largest ship, Britannia, is currently hosting The Cookery Club. Marco joins the likes of British chef James Martin and spice king Atul Kochhar in leading cooking classes by day and hosting intimate dinners with passengers on select sailings by night.
Though many of us might expect Marco to be dishing out course upon course of pretentious food on tiny plates, he actually favours the opposite: delicious, fuss-free fare. As he explains, "What's key is that individuals feel they can go home and replicate what they've been shown."
MUST-TRY EATS:
Salt-marsh lamb rack with dauphinoise potato, crushed mint peas and romarin jus.
Morel mushroom and truffle risotto with buttered green and white asparagus, and a soft-poached hen's egg.
Black Forest popping-candy torte with Dorset cherry ice-cream.
Words: Anna Howard