Fly, Cruise & Stay Across Three Continents
---
Deal Number 5308828
Repayments
Interest Free
Just go. Make your dream holiday your next holiday with easy Interest Free repayments over the next 9 months on packages over $999. For full product information please see our interest free page.
Plus $99 setup fee
Includes Flights + Hotels + Rail Pass
Duration 12 nights
Sailing From Kobe
Departing 2019-05-06
Cruise Line Princess Cruises
Cruise Ship Diamond Princess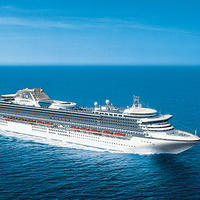 What's Included?
Inside from: $12849
Outside from: $15089
Balcony from: $16079
48 Day Fly, Cruise & Stay Package departing Sydney
One-way economy class airfare from Sydney to Osaka including prepaid taxes
4 Nights accommodation staying at the Ana Crown Plaza in Osaka including breakfast
12 Night cruise, from Kobe, onboard Diamond Princess in an inside twin share cabin
All main meals and entertainment onboard
Port charges and government fees
Japan Rail Pass
3 Nights accommodation staying at the Hotel Gracery Shinjuku in Tokyo including breakfast
One-way economy class airfare from Tokyo to Rome including prepaid taxes
3 Nights accommodation staying at The Tribune Hotel in Rome including breakfast
14 Night cruise, from Rome to Barcelona, onboard Emerald Princess in an inside twin share cabin
All main meals and entertainment onboard
Port charges and government fees
2 Nights accommodation staying the Hotel Gotico in Barcelona including breakfast
One way economy class airfare from Barcelona to Vancouver including prepaid taxes
2 Nights accommodation staying at The Rosedale on Robson Suite Hotel including breakfast
7 Night cruise, from Vancouver to Anchorage, onboard Coral Princess in an inside twin share cabin
All main meals and entertainment onboard
Port charges and government fees
One-way economy class airfare from Anchorage to Vancouver including prepaid taxes
One-way economy class airfare from Vancouver to Sydney including prepaid taxes
BONUS $50* Onboard Credit per cabin
Upgrade to an Outside cabin from $2,240*per person
Upgrade to a Balcony cabin from $3,230*per person
Please speak to your Travel Consultant as Terms & Conditions apply.
Itinerary
12 night cruise sailing from Kobe aboard the Diamond Princess. Visit Beppu, Kagoshima, Busan, Republic of Korea (South Korea), Kobe, Okinawa, Miyake-jima, Taipei and Kobe.
Day 1
Kobe
06/05/2019 dep 17:00
Day 2
Beppu
07/05/2019 arr 09:00 dep 16:00
Day 3
Kagoshima
08/05/2019 arr 08:00 dep 18:00
Day 4
Busan
09/05/2019 arr 11:00 dep 22:00
Day 5
Kanmon Straits Scenic Cruising
10/05/2019 arr 05:00 dep 07:00
Day 6
Kobe
11/05/2019 arr 06:00 dep 17:00
Day 8
Okinawa
13/05/2019 arr 07:00 dep 17:00
Day 9
Miyako-Jima, Japan
14/05/2019 arr 07:00 dep 18:00
Day 10
Taipei (Keelung)
15/05/2019 arr 07:00 dep 18:00
Day 13
Kobe
18/05/2019 arr 06:00
** Itinerary may vary by sailing date.
Kobe
Kobe is the fifth-largest city in Japan and is the capital city of Hyogo Prefecture on the southern side of the main island of Honshu. Its name comes from "kanbe", an archaic title for supporters of the city's Ikuta Shrine. With a population of about 1.5 million, the city is part of the Keihanshin (Keihanshin) metropolitan area along with Osaka and Kyoto. The earliest written records regarding the region come from the Nihon Shoki, which describes the founding of the Ikuta Shrine by Empress Jing? in AD 201. For most of its history the area was never a single political entity, even during the Tokugawa Period, when the port was controlled directly by the Tokugawa Shogunate. Kobe did not exist in its current form until its founding in 1889.
Beppu
Ominous steam rises from the Japanese island of Kyushu where Beppu lies in wait. But not to worry - this legendary tourist town is renowned for its healing geothermal waters and spas. Overlooking Beppu Bay to its east and protected from the west by dramatic mountain peaks, this exotic city is blanketed with misty turquoise waters and elegant Japanese foliage. Its main attraction is the "Hells of Beppu," a collection of nine stunning onsen, or hot springs, some of which feature geysers and colorful waters in shades from white to copper to sapphire. The springs' names, including Kamado-Jigoku (Boiling Hell) and Oniyama-Jigoku (Demon Mountain Hell), are somewhat misleading as all of the hot springs are breathtakingly beautiful rather than frightening - though your nose may cower and crinkle at the sulfurous odor they emit!
Kagoshima
From the 12th century to the Meiji Restoration of 1868, Kagoshima was the chief stronghold of the mighty Shimazu clan. The city lies at the top of the Satsuma Peninsula, a mountainous, geothermal wonderland of hot springs and geysers. The area is also rich in modern Japanese history: Saigo Takamori and the Satsuma samurai were leaders of the Meiji Restoration that toppled the shogun and restored the Emperor to power in 1868. In 1877, dissatisfied with the direction of the new government, Saigo led the Satsuma Rebellion, which ended in his death and the final defeat of the samurai. The symbol of Kagoshima is Sakura Jima - the volcanic island that sits just offshore. The volcano has erupted over 30 times in recorded history.
Busan
The second largest city in South Korea, Busan is your gateway to a fascinating land whose culture is a unique amalgam of old and new. Modern high-rise towers dwarf ancient Buddhist temples. The city's bustling business district offers a stark contrast to the serene grounds of Yongdusan Park. In short, Busan is a microcosm of South Korea, a nation whose startling economic success often obscures one of Asia's most sophisticated and venerable cultures. Busan was the scene of bitter fighting during the Korean War. The United Nations Memorial Cemetery marks the final resting place for the troops from 16 nations who gave their lives during the conflict.
Kanmon Straits Scenic Cruising
Okinawa
The largest island in the Ryukyu Archipelago, Okinawa has been a center of trade and a source for conflict through its history. The island has been an independent kingdom, the feudal possession of a Japanese daimyo and a prefecture of Japan following the Meiji Restoration of 1866. Okinawa was the scene of bitter fighting during the closing days of World War II. Over 100,000 civilians perished and the island was left in ruins. A US military possession, Okinawa returned to Japanese rule in 1972. Naha is the island's largest city and the capital of Okinawa Prefecture. Okinawa is the birthplace of karate. One of the world's most popular martial arts, karate is a fusion of Chinese kung fu and traditional island martial arts.
Taipei (Keelung)
The oldest Chinese reference to Taiwan dates back to the Han Dynasty in the 3rd century B.C. However, it wasn't until the 17th century A.D. that Chinese Hakka traders first settled on the island. These bold merchants were soon followed by European and Asian adventurers seeking to control and colonize the strategic island. The most famous migration of all occurred in 1948, when the government of the Republic of China fled the mainland. Taipei is Taiwan's capital city and one of the world's most important commercial centers. Despite its turbulent history, Taiwan today boasts an economy that is the envy of the world. Modern Taiwan is a world leader in the production of bicycles, computer chips, plastics, chemicals and computer notebooks. Taipei is a sophisticated modern metropolis that has not forgotten its rich traditional past. The port of Keelung is your gateway to Taiwan. Visit the bustling city of Taipei and other interesting areas surrounding on this fascinating island in the East China Sea.
Ship Facilities
Food and Drink: 24-hour Room Service, Churchill Lounge, Crooners Bar, Dining Room, Fabio's, Hamburger Grill, Horizon Court, Ice Cream Bar, International Dining Room, Lobby Bar, Martini Bar, Pacific Moon Dining Room , Patisserie, Prego Pizzeria, Sabatini's Italian restaurant, Santa Fe Dining Room, Savoy Dining Room, Sports Bar, Sterling Steakhouse, Trident Grill, Vivaldi Dining Room, Wake View Bar, Wheelhouse Bar, Wine bar,
Recreational: 9-hole Mini Golf, Card Room, Cyber Golf, Golf Simulator, Library, Outdoor Pool, Shuffle Board, Skywalkers NightClub, Swim-against-the-current lap pool ,
Other: Art Gallery, Atrium, Boutique, Chapel, Duty-free shop, Future Cruise Sales, ScholarShip@Sea, Wedding Chapel, Wrap Around Promenade Deck, Writing Room,
Relaxation: Churchill Lounge, Hot Tubs, Lotus Spa, Splash Pool, Terrace Pool, The Sanctuary(adults only), Whirlpool,
Entertainment: Club Fusion, Explorers Lounge, Movies Under the Stars outdoor theater , Princess Theatre, Show Lounges, Skywalkers Nightclub,
Fitness: Fitness Center, Gym, Jogging Track, Ocean View Gymnasium, Sports Court,
Profile
Passenger Capacity: 2670
Tonnage: 115875
Total Crew: 1100
Length: 952
Launched: 13 Mar 2004
Princess Cruises
Princess Cruises is the third largest cruise line in the world, carrying over 1.7 million passengers every year to destinations all across the globe. There are 19 ships within the Princess Cruises fleet, with Sun Princess, Sea Princess, Golden Princess, Ruby Princess and Majestic Princess sailing out of several Australian ports in 2019/2020, including Adelaide. Princess Cruises are known for their affordable luxury, offering more of that most sought-after shipboard luxury – the private balcony – across all cabin classes. The Piazza ­is also a signature drawcard for Princess Cruises, with most ships featuring this impressive grand central atrium that spans several decks and includes cafés, bars, a spiral staircase and several glass-walled lifts, providing 360-degree views of the ship. Princess Cruises also offer some exceptional experiences ­– the Sanctuary, which is a luxurious, spa-inspired top-deck retreat just for adults, and Discovery at Sea enrichment programs.
Interested in Princess Cruises deals? Talk to one of our expert cruise consultants today on 13 70 79 or get in touch using the form below.
Terms and conditions
The following product terms and conditions apply in addition to our Booking Terms and Conditions (available on our website) and terms and conditions of the relevant travel service provider.
Prices quoted valid for sale until 31 October 2018 for travel during the period specified (if applicable) unless otherwise stated or sold out prior.
All prices are per person (unless otherwise stated), subject to availability and may be withdrawn or varied without notice. Accommodation (if included) is based on twin share unless otherwise stated.
Advertised price includes bonus nights and/or stated saving (if applicable).
Additional supplier conditions and travel restrictions may apply. Please enquire for further details.
Airfare (including internal flights) is not included unless otherwise stated and, if included, is economy class unless otherwise stated.
Components of the total price including local payments, "resort fees", "national park fees", "trip kitties" and food funds (if applicable) may be payable direct to the supplier on arrival or to your travel consultant prior to your departure. Where applicable, these payments are included in the total price quoted.
Gratuities are not included unless otherwise stated.
Prices shown are fully inclusive of taxes, levies and government charges current at the time of publication.
Additional levies, government charges & other applicable fees, including additional taxes, surcharges and visa fees specific to your departure date or flight routing, may apply and are beyond our control.
Seasonal surcharges and blackout dates may apply depending on date of travel.
Prices shown are for payments made by cash in store or by BPAY.
Payments made in store by credit card will incur a surcharge (see Booking Terms and Conditions for further details).
These prices are a guide to the best price and are subject to change without notice, due to matters outside our control, such as adverse currency fluctuations, fuel surcharges, taxes and airfare increases. Please enquire for further details..
Important Notice
The above information has been obtained from the relevant suppliers and should be considered an indicative guide only as to the prices that may be available for these products. Flight Centre cannot guarantee that any particular product will still be available at the following prices, or for your exact dates of travel. At the time of making your booking, prices may differ to that price displayed on this website. Please contact a Flight Centre travel consultant to obtain the latest up to date information regarding applicable prices, fees and charges, taxes, availability, any blackout dates (such as school holidays), seasonal surcharges and other terms and conditions which may apply.
Talk to an Expert to find your perfect Cruise.
From quick getaways to dream holidays
We're the biggest travel agency south of the equator with access to destinations right around the world. Anywhere you want to go, we can take you there.
Book Now Pay Later!
Where ever you want to fly, cruise, tour or stay, you can holiday sooner with our Interest Free Holidays.
Real People, Real Experience, Real Easy
Our Travel Experts love travel as much as you do. Book with us, knowing you're getting the best advice from the best in the business.