Enjoy the Rewards of Business Travel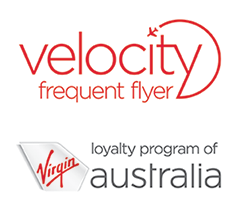 With 20,000 Velocity Points, you can mix business with pleasure and take off sooner for that weekend getaway, upgrade your next flight, or shop til you drop at the Velocity Rewards Store.
Simply become a new client of Flight Centre Business Travel, book and pay for four eligible Virgin Australia flights between 1 June and 31 July 2015 to receive your 20,000 bonus Velocity Points.
But hurry – offer is limited to the first 50 new clients.
For more information call 1300 797 826.
Terms and Conditions
To qualify, new clients of Flight Centre Business Travel must book and pay for eligible airfares between 1 June – 31 July 15. 20,000 Points will be issued for every 4 flights booked, (A total of 20,000 Points for 50 travellers, limited to 2 recipients per company). Travel must be completed before 31 August 15. Valid for domestic and international travel on Virgin Australia marketed flights. Flight upgrade terms and conditions apply, see velocityfrequentflyer.com for more details. Points will be awarded up to 4 weeks from the final eligible travel date. To earn and redeem Velocity Points you must be a Velocity member. Velocity membership and Points earn and redemption are subject to the Member Terms and Conditions available on velocityfrequentflyer.com, as amended from time to time. New Flight Centre Business Travel clients with annualised spend of $20,000 or more will be required to register for Virgin Australia's Accelerate Program and individual travellers must be a member of the Velocity Program.
Request an appointment with a Business Travel expert