Flight Centre Mt Pleasant White : Your local Flight Centre Store
Shop 170, Mt Pleasant S/C, Cnr Malcomson Rd & Bucasia Rd
,
North Mackay
,
QLD
,
4740
Map
Opening hours:
Mon: 9:00 AM - 5:30 PM
Tue: 9:00 AM - 5:30 PM
Wed: 9:00 AM - 5:30 PM
Thu: 9:00 AM - 9:00 PM
Fri: 9:00 AM - 5:30 PM
Sat: 9:00 AM - 4:00 PM
Sun: 10:00 AM - 3:00 PM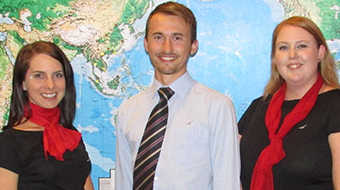 Flight Centre Northern Beaches is located at the Northern Beaches Central Shopping Centre in Mackay's Rural View. Alicia and the team have a combined travel experience of 14 years – having explored many countries and experienced all types of travel firsthand, you can rely on the Northern Beaches team to provide reliable service and advice. Uninterrupted one-on-one consultations ensure consultants meet the needs of even the most detailed itinerary. From river cruising, round the world journeys, group travel and everything in between, come and see the team at Northern Beaches for your next holiday!