Greek Island Hopping 13 Days SAVE $458
---
Deal Number 5372012
Repayments
Interest Free
Just go. Make your dream holiday your next holiday with easy Interest Free repayments over the next 9 months on packages over $999. For full product information please see our interest free page.
Plus $99 setup fee
SAVE $458* per person
Duration 13 days
Destination Europe
Company Contiki
Availability Valid for select departures 01 May - 22 September 2019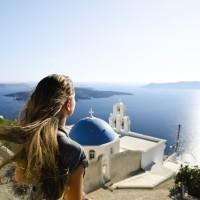 What's Included?
13 day trip 12 nights accommodation in a Hotel 12 Breakfasts, 4 dinners Sightseeing tours of all major cities plus orientations in all other destinations
Service of an experienced & professional Trip Manager & English-speaking local guides
Local taxes, payments & service charges
Transport & included sightseeing
WAS $3055*, NOW $2597*, SAVE $458*
Availability
Valid for select departures 01 May - 22 September 2019
Visit Europe
HIGHLIGHTS:
Athens - Mykonos - Santorini - Ios
Day 1 Athens.
Good morning island lovers Welcome to Greece, and welcome to the best holiday of your life. Yep, big call on Day 1 but we're making it The day is yours to settle in to our hotel & start getting to know the city. Later, we'll join forces as a group & start firing up the fun over dinner.
Day 2 Athens.
Yes, yes, you're hearing the call of cocktails on Mykonos Island. But let's get acquainted with Athens for a day before we set sail. This city is a time capsule of life on earth. We'll give you the chance to do an Athens' Past & Present Tour including the iconic Acropolis and Olympic Stadium, and enjoy a traditional Athens affair in the eve via the famous Plaka area of the city.
Day 3 Athens to Mykonos.
See, just like we told you. Our time in Athens was amazing and well worth delaying our island time for. But delay it further? We shall not... Let's do this 3 nights on the island of Mykonos, how did we get so lucky? Even the boat ride across the Aegean will have you awe struck and in love.
Day 4 Mykonos.
Here we are on yet another day when it feels completely fabulous to be alive. You're still in Mykonos baby And the day is yours to soak up sunshine and play in the sea.
Day 5 Mykonos.
Windmills; cafes overflowing with olives, feta and tzatziki; storybook streets - and that's before you've even taken a dip in the ocean Explore with the crew, take up a few optionals, or simply waste the day away as you please.
Day 6 Mykonos to Santorini.
This morning, let's spare a thought for all those travellers who only have the time and money to visit just one Greek Island. Those poor unfortunate souls... Saddle up We're taking to the seas again, this time in search of the island of Santorini. It's finally your turn to be the one lulling about the white-washed blue dome churches looking like a sultry summer babe. Home to the famous Oia sunset, this is the stuff dreams are made of. Ah, life.
Day 7 Santorini.
Rise and shine, Greek Island travellers The island of Santorini will not explore itself. Take a swim at Perissa Beach, eat the local specialty of fried tomato balls known as domatokeftedes, and roam the streets of Fira. Just remember to plan your day around the excursion to the iconic sunset of Oia - this is not an optional you're going to want to miss.
Day 8 Santorini.
The beautiful thing about having two full days on the one island is you have time to both relax and explore. Whatever you didn't do yesterday is still up for grabs today. If you feel like you've crammed it all in already, just head to the black or red sand beaches and spend another glorious day ocean-side. Ain't life grand?
Day 9 Santorini to Ios.
Say your so longs to Santorini this morning. We have one last Greek Island to hop to, and we promise she's magnificent. A bit more rugged and remote than Santorini and Mykonos, Ios will prove a nice change of scenery. But thankfully, there will be no change in the hours spent ocean side and good times had.
Day 10 Ios.
Another day, another chance to soak up the Greek sun and frolic in the sand without a care in the world. Get some adrenalin in with some watersports, or if you haven't done so already, go explore the pretty town and down a hearty meal at a local cafe. You're going to need the fuel if you want to hang out in the party scene of Hora until the break of dawn.
Day 11 Ios.
Don't underestimate the power of this village. When the sun sets, this place really comes to life. As such, we suggest a day out on the water getting salty on a boat trip, or a full day of pool hangs and beach time so you're all sun-kissed and feeling floaty by the time the night rolls in.
Day 12 Ios to Athens.
While choking back the tears and waving miserably at the dreamy islands of Greece, try to think positive thoughts: we have a boat ride to enjoy this morning, as well as one more night together in the city of Athens. One last dose of Athens and one last chance to hang out together as the Greece loving squad that we are.
Day 13 Athens.
Hugs, tears, and a final batch of reminiscing; it's astounding how close a group can get in just two short weeks. Nothing says bonding quite like the good life. The Croatia Island Hopper is probably the only way to really ease the pain of this goodbye. #NOREGRETS
View our great airfares, hotels and travel insurance.
Terms and conditions
Important Notice
The above information has been obtained from the relevant suppliers and should be considered an indicative guide only as to the prices that may be available for these products. Flight Centre cannot guarantee that any particular product will still be available at the following prices, or for your exact dates of travel. At the time of making your booking, prices may differ to that price displayed on this website. Please contact a Flight Centre travel consultant to obtain the latest up to date information regarding applicable prices, fees and charges, taxes, availability, any blackout dates (such as school holidays), seasonal surcharges and other terms and conditions which may apply.
Contact an Expert to find out more about this tour and other amazing tours!
Talk to a travel expert and personalise your trip
From quick getaways to dream holidays
We're the biggest travel agency south of the equator with access to destinations right around the world. Anywhere you want to go, we can take you there.
Book Now Pay Later!
Where ever you want to fly, cruise, tour or stay, you can holiday sooner with our Interest Free Holidays.
Real People, Real Experience, Real Easy
Our Travel Experts love travel as much as you do. Book with us, knowing you're getting the best advice from the best in the business.