Salcantay Base Camp to Machu Picchu Trek, 15 Days
---
Deal Number 5238195
Repayments
Interest Free
Just go. Make your dream holiday your next holiday with easy Interest Free repayments over the next 9 months on packages over $999. For full product information please see our interest free page.
Plus $99 setup fee
Duration 15 days
Destination Peru
Company World Expeditions
Availability Valid for select departures 27 March - 25 September 2019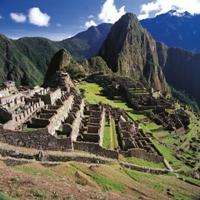 What's Included?
15 day tour departing Lima
14 nights accommodation in comfortable and central hotels primarily Casa Andina Classic hotels
14 breakfasts, 7 lunches and 6 dinners
Entrance to Machu Picchu on two occasions
Group medical kit
The use of a gear pack including sleeping bag, fibre filled jacket, thermarest and headtorch
Group camping equipment & porters to carry personal gear
Sightseeing and site entrance fees as listed (including Machu Picchu entrance fee)
Services of an expert bilingual guide
Airport transfers if arriving/departing on first or last day
Private internal transportation
Availability
Valid for select departures 27 March - 25 September 2019
Visit Peru
HIGHLIGHTS:
Lima - Cusco - Sacred Valley of the Incas - Mollepata - Salcantay - Humantay - Incachiriasca Pass - Acobamba - Paucarcancha - Qesca - Ancascocha Pass - Sacred Valley at Chilca - Machu Picchu
Day 1 Lima.
You will be met at the airport and transferred to the hotel where you are free to rest in the hotel or just wander around Miraflores, the area of Lima where our hotel is located. Some of Lima's best galleries and shops and restaurants are located in this area. Founded by Francisco Pizarro in 1535, Lima is the oldest capital in South America, with a superb combination of Spanish Colonial and 19th century European architecture. If you have time to visit a museum we would recommend the brilliant Larco Herrera Museum which also has an excellent onsite restaurant or the Museo de La Nacion or the Larco Herrera Museum. Overnight: Casa Andina Standard Miraflores Centro or similar.
Day 2 Cusco.
Transfer to Lima airport and fly to Cusco. Try to get a seat on the left side of the aircraft for the best views of stunning snow peaks. After your transfer to our hotel located in the historic centre you will have some time to explore the city and also enjoy a few hours of rest, essential to initiate successful acclimatisation to the altitude. In the evening you will meet with your guide at 6pm at your hotel for an initial trip briefing and receive your kitbags and jackets for your trek. Overnight: Casa Andina Standard Cathedral or similar.
Day 3 Cusco.
Today we have a guided tour of Cusco and its nearby ruins. The city, once capital of the extensive Inca Empire, has seen many changes since Francisco Pizarro's men took the city with such apparent ease in November 1533. We explore the city by foot to appreciate its superbly constructed Inca walls and architecturally extravagant colonial churches and palaces. This also includes a visit of Koricancha, the Golden Temple of the Sun, in ancient times. After this we take a short drive to visit the monolithic walls of Sacsayhuaman along with Tambomachay, better known as 'the bath of the Inca. Both sites are spectacularly set above the city. In the afternoon you may have time to explore some of the central parts of the city and a chance to look at some of the great varieties of local craft work on sale in open-air artisan markets and shops. Overnight: Casa Andina Standard Cathedral or similar.
Day 4 Sacred Valley of the Incas.
We leave Cusco and head to the Chinchero Plateau to explore Chinchero, an important town in Inca times. The most striking remnant of this period is the massive stone wall in the main plaza which has ten trapezoidal niches. There are beautiful views overlooking the Sacred Valley of the Incas, with the Cordillera Vilcabamba and the snow-capped peak of Salcantay dominating the western horizon. Chinchero is believed to be the mythical birthplace of the rainbow. Next we visit the mysterious concentric circular terraces of Moray which, according to some scholars, could have been an agricultural research centre. From here we head to the salt mines of Maras. This village is a salt-producing centre that dates back all the way to pre-Inca times. There are thousands of salt pools all carved into the mountain side. We walk down through the salt pans to the Sacred valley for a lunch break before heading to our hotel in Ollantaytambo. The rest of the day is free to relax and enjoy beauty of this famous valley. Overnight: Tika Wasi Hotel or similar.
Day 5 Sacred Valley of the Incas.
Today we enjoy another day in this beautiful place. The valley actually follows the course of the famous Urubamba River, one of the main tributaries of the Amazon River. During our time in Ollantaytambo we visit its remarkable temple/fortress set high on a ridge above the village. The village itself is a fascinating mixture of Inca and Colonial architecture. If the weather is good and we have time we can enjoy some short walks in the valley - a good way to prepare for the trek ahead. This evening we have a pre-trek briefing with our trekking guide at our hotel and prepare for the trek. Overnight: Tika Wasi Hotel or similar.
Day 6 Mollepata.
Today we have an early start as we begin our scenic 5-hour drive north to our trailhead at Mollepata, where we will meet up with our team of muleskinners and their pack animals to start our 7-day trek towards Salcantay and Machu Picchu After a picnic lunch we start hiking steadily uphill towards our first night's campsite close to Soraypampa at approximately 3,700m. Today we'll get our first glimpse of Salcantay's sister peak, Humantay (5,950 m / 19,700 ft). Overnight: Campsite.
Day 7 Salcantay to Humantay.
This morning we'll be woken early with hot tea brought to our tents, and after breakfast we'll get an early start on our day's hiking. We'll hike for about 3 hours, steadily gaining altitude, before stopping for a lunch break at Salcantaypampa (4,150 m / 13,600 ft), set in front of an enormous mass of glacial moraine. After a rest we continue on for 2-3 hours of steady hiking towards at our next camp of Ichupata (4,400 m / 14,400 ft), set on the flanks of the majestic peak of Mt Salcantay (6,271m / 20,574 ft), which dominates the skyline for most of our trekking days. The camp at Ichupata is cold due to its proximity to the Salcantay massif, but since our cooks and pack animals will have set out earlier, we should find the camp already set up and a fresh pot of hot tea awaiting our arrival Overnight: Campsite.
Day 8 Incachiriasca Pass to Acobamba.
After a hearty cooked breakfast we set off to hike across one of Salcantay's ridges and over the mountain pass of Incachiriasca. At an elevation of 4,870 m / 15,970, Incachiriasca is the highest pass of our trek, offering us spectacular views of our dramatic surroundings. After a stop at the pass to rest and take photos, we head down to follow the ancient trail to our next camp at Acobamba, set on a lovely little plateau above Sisaypampa. Overnight: Campsite.
Day 9 Paucarcancha to Qesca.
From Acobamba we descend into the scenic Pampacahuana valley, passing simple shepherd's homes and scattered communities, and stopping to visit the extensive Incan ruins of Paucarcancha (3,350 m / 11,000 ft). From here we trek up the valley towards the Ancascocha Pass. Tonight we camp just above the small village of Q'esca, home to shepherds and potato farmers. (We might also consider staying higher up and taking an alternative route to Q'esca). Overnight: Campsite.
Day 10 Ancascocha Pass.
Another early morning today as we begin our climb up to the second high mountain pass of our trek, the Ancascocha Pass (4,695 m / 15,400 ft). From here we begin a steady descent, hiking through dramatic mountain scenery and passing two pretty alpine lakes known for their large trout. Tonight we camp near the small farming village of Ancascocha. Overnight: Campsite.
Day 11 Sacred Valley at Chilca.
From Ancascocha we head down a narrow valley whose rivers run right down into the mighty Amazon. As we descend, the sparse alpine vegetation begins to change and we start to encounter larger trees-a good chance to spot some of the most common Andean birds in this region: the black-throated flowerpiercer, great sapphirewing, rusty-fronted canastero, creamy-crested spinetail, and, if we remember to look up, the endangered Andean condor-among the largest and heaviest flying birds in the world. Near the end of our day's trek, we reach Hatunrumiyoq from where we'll have incredible views of the rugged snow-capped peak of Mt Veronica (5,980 m / 19,500 ft). Tonight we camp near the large village of Chilca, and if time permits, our cooks will prepare a special 'Pachamanca'-a traditional Peruvian feast of meat and vegetables cooked in the ground using hot stones. A good night's sleep at this lower altitude will put us in good stead for tomorrow's trek along the Inca Trail to Machu Picchu. Overnight: Campsite.
Day 12 Machu Picchu.
After an early breakfast we hike down to the railway at Chilca for a short drive to Ollantaytambo to take the tourist train to Km 104 from were we start our steep hike up to the important site of Winay Wayna. At this we continue the last section of the Inca Trail via Inti Punku where we get our first awe-inspiring views of the 'lost city' of Machu Picchu. After a brief look at the site from above we head down by bus to our hotel in Aguas Calientes for a well-deserved soak in the nearby hot springs (optional). Overnight: El Mapi Hotel or similar.
Day 13 Machu Picchu to Cusco.
Today we start early to explore these remarkable and truly enigmatic ruins. We will enjoy a guided tour of the sanctuary followed by time to explore this fascinating site at your own pace (with the accompaniment of the guide). In the afternoon or early evening we depart from Machu Picchu for the train ride back to Ollantaytambo where we transfer to our vehicle for the drive back to Cusco. Here we transfer to our hotel for two nights. Overnight: Casa Andina Cathedral Hotel or similar. NB: Depending on train schedules, we may arrive into Cusco very late at night. *Important: Peruvian authorities have implemented entry restrictions to protect Machu Picchu from the impact of its immense popularity. As of January 2018 there are two time slots (morning and afternoon) in which patrons can enter Machu Picchu for a limited number of hours and must follow one of three predetermined routes. Additionally, all visitors must be accompanied by a guide at all times. These changes have been made to improve the visitor experience and in an effort to deal with overcrowding. World Expeditions endeavour to ensure you get the most of your Machu Picchu experience regardless of these restrictions.
Day 14 Cusco.
Today we have a free day in Cusco to relax and repack after our trek, or to enjoy a spot of souvenir shopping, choosing from a huge variety of expertly made Peruvian craft work-including alpaca sweaters and hats, vibrant textiles and weavings, ceramics and traditional Andean instruments. Overnight: Casa Andina Cathedral Hotel or similar.
Day 15 Lima.
After breakfast we are transferred to the airport where our trip concludes.
View our great airfares, hotels and travel insurance.
Terms and conditions
The following product terms and conditions apply in addition to our Booking Terms and Conditions (available on our website) and terms and conditions of the relevant travel service provider.
Prices quoted valid for sale until 31 December 2018 for travel during the period specified (if applicable) unless otherwise stated or sold out prior.
All prices are per person (unless otherwise stated), subject to availability and may be withdrawn or varied without notice. Accommodation (if included) is based on twin share unless otherwise stated.
Advertised price includes bonus nights and/or stated saving (if applicable).
Additional supplier conditions and travel restrictions may apply. Please enquire for further details.
Airfare (including internal flights) is not included unless otherwise stated and, if included, is economy class unless otherwise stated.
Components of the total price including local payments, "resort fees", "national park fees", "trip kitties" and food funds (if applicable) may be payable direct to the supplier on arrival or to your travel consultant prior to your departure. Where applicable, these payments are included in the total price quoted.
Gratuities are not included unless otherwise stated.
Prices shown are fully inclusive of taxes, levies and government charges current at the time of publication.
Additional levies, government charges & other applicable fees, including additional taxes, surcharges and visa fees specific to your departure date or flight routing, may apply and are beyond our control.
Seasonal surcharges and blackout dates may apply depending on date of travel.
Prices shown are for payments made by cash in store or by BPAY.
Payments made in store by credit card will incur a surcharge (see Booking Terms and Conditions for further details).
Prices quoted are based on cheapest available at time of advertising and may be higher depending on date of purchase and date of travel. Please enquire for further details..
Important Notice
The above information has been obtained from the relevant suppliers and should be considered an indicative guide only as to the prices that may be available for these products. Flight Centre cannot guarantee that any particular product will still be available at the following prices, or for your exact dates of travel. At the time of making your booking, prices may differ to that price displayed on this website. Please contact a Flight Centre travel consultant to obtain the latest up to date information regarding applicable prices, fees and charges, taxes, availability, any blackout dates (such as school holidays), seasonal surcharges and other terms and conditions which may apply.
Contact an Expert to find out more about this tour and other amazing tours!
Talk to a travel expert and personalise your trip
From quick getaways to dream holidays
We're the biggest travel agency south of the equator with access to destinations right around the world. Anywhere you want to go, we can take you there.
Book Now Pay Later!
Where ever you want to fly, cruise, tour or stay, you can holiday sooner with our Interest Free Holidays.
Real People, Real Experience, Real Easy
Our Travel Experts love travel as much as you do. Book with us, knowing you're getting the best advice from the best in the business.