SAVE up to $148*
Duration 11 days
Destination Turkey
Company Geckos
Availability Only on 7, 23 April 2018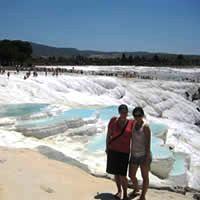 What's Included?
11 day Geckos small group tour departing Istanbul
2 nights accommodation on board a boat
1 night accommodation at a pension
6 nights accommodation in hotels
1 night accommodation of camping
9 breakfasts, 1 lunch, 3 dinners
Transport by Ferry, Local bus, Private Bus, Train, Boa
WAS $820*, NOW $672*, SAVE $148*
Visit Turkey
HIGHLIGHTS:
Istanbul - Canakkale - Ayvalik - Selcuk - Pamukkale - Butterfly Valley - Fethiye - Southern Coast Sailing - Antalya
Day 1 Istanbul.
Welcome to Turkey. This adventures kicks off in Istanbul, the continent-straddling metropolis that the Greeks, Romans, Byzantines, Ottomans, and now you (for one night at least) have called home. You've got the whole day free to explore the capital city (depending on when you get here of course) before you join up with your Geckos crew and leader at a Welcome Meeting at 6pm - make sure you've got all your important documents and details for your leader. Double check with the hotel reception or the check out the hotel's noticeboard for meeting confirmations. Until then, maybe get out into the city streets for the must-sees: the Blue Mosque, the Hippodrome and stunning Aya Sofya. The must-eats: kebab, bal?k ekmek (fish sandwich) and steamed corn from a street vendor. Your hotel is right in the thick of the action so you won't have to walk far for your first kebab. If you can, maybe arrive early and lose yourself and splash some cash in the Grand Bazaar, indulge in a traditional hamam (Turkish bath) or cruise the waters of the Bosphorus. After the meeting, head out on an optional group dinner, a good introduction to some fabulous Turkish cuisine in a street-side cafe.
Day 2 Canakkale.
Today you'll take a bus to the shores of Gallipoli (approximately 5.5 hours) to pay your respects at a site of immense significance for Australians and New Zealanders. It is a spot of pilgrimage and reverence and the calm lapping waters belies the murderous campaign that took place here during the First World War. This now-serene site is located at Turkey's most westerly point and you'll get a sobering insight into the plight of the ANZAC, Allied and Turkish forces at the site of one of the most significant military battles in Australia's history. It's hard to think that this area was once Anzac Cove and the battlefields of Nek and Lone Pine, and saw such brutal scenes of war. It's possible to look down upon the rough and barren hills and gullies that sadly became the graveyard for so many thousands of young men from both sides. Here you can hear stories of heroism and camaraderie that unfolded among the tragedies, and take the time to read moving inscriptions etched onto a sea of gravestones. Travel on down the coast to Eceabat (approximately 1 hour). If you want to check out the big smoke in Canakkale, cross the Dardanelles this evening and enjoy dinner in this University City.
Day 3 Ayvalik.
Drive down the coast to Ayvalik (approximately 3.5 hours), a town where you can fill up on food and drink, and a place that even takes its name from food (ayva is Turkish for quince). The town is famous for olive oil, but we suggest finding the nearest seaside cafe and ordering Ayvalik toast - a toasted sanga stuffed with sausage, pickle, tomatoes, salad and chips, slathered with tomato sauce and mayonnaise. Try not to drool on the screen. Take an orientation tour of Ayvalik and discover a town that's a fascinating mix of Greek and Turkish cultures (in fact the island actually swapped all its Greek residents for Turks in 1923). Check out the cobblestone backstreets, beautiful houses and lively cafes. There's the option to take an excursion out to the ruins of Troy (sans golden-haired and armoured Brad Pitt), where you can explore the ancient walls, climb around the 4,500 year-old ruins, check out the Trojan horse statue and gaze across the Troad (the Plains of Troy) towards the waters of the Dardanelles and the hills of the Gallipoli Peninsula. You could also hop on a boat from Ayval?k to Cunda Island, filled with Greek Orthodox churches and famous for its dairy farming - a cheese-fest awaits. Back in Ayval?k, the village is set around a harbour and looks out to the Aegean Islands, so a drink at a harbourside bar is a great way to enjoy the sunset.
Day 4 Selcuk.
Get your entertainment ready this morning as you're going to be driving approximately 4 hours by local bus to the traditional farming village of Selcuk, where many Turkish traditions live on. When you get here you can head out to the nearby ruins of Ephesus and explore the streets once walked by Marc Anthony and Cleopatra. This is one of the best-preserved Greco-Roman classical cities in the world; founded by Ionian Greeks in the 11th century BC, brought to full flower under Roman rule, and always an important religious centre. You will be amazed by the sophistication of this ancient city, which had running water, public toilets, in house heating, a renowned medical institute, a brothel and Roman baths. The theatre is well preserved (be brave and stand in the middle of the stage, and give us your best Idol audition), but it's the magnificent library that's going to take your breath away. Nearby are the remains of the Temple of Artemis, one of the Seven Wonders of the Ancient World, and the last home of the Virgin Mary who, as legend has it, came here accompanied by St John and lived out her days in this beautiful spot. You can also check out the artefacts of the Archaeological Museum, the ruins of the Basilica of St John and some impressive Roman Terrace houses. Get your local guide to point out secret messages that ancient Christians carved into the rocks to direct worshippers to their next meeting. Chill out tonight in Selcuk, and maybe try manti (Turkish stuffed dumplings) for dinner.
Day 5 Pamukkale.
Take a morning orientation tour around Selcuk, a town full of history and packed with artefacts and relics that reflect its past as an ancient fortress on Ayasoluk Hill. You'll discover how the town itself is usually undisturbed, which gives the opportunity to experience the 'real' Turkey. Travel east inland to Pamukkale (approximately 6 hours), which literally translates to 'cotton castle'. Here spectacular natural hot springs with high calcium bicarbonate content cascade over the edge of the cliffs, leaving bright white deposit terraces (the 'cotton'). It's been used as a spa since the 2nd century BC. These pools are said to fix up any circulation and digestion problems you might have. If you've got Cleopatra on the mind after yesterday's stories, then maybe choose to head out to the ancient city of Hierapolis and take a dip in what used to be her old pool - the transparent water-filled pool, sculpted as a gift from Marc to Cleo, are jaw dropping (even if you'll be sharing it with a few more people than she did). You can also check out the other ruins of the city - Hierapolis is known for its abundance of temples and religious structures, and the amphitheatre shouldn't be missed.
Day 6 Butterfly Valley.
Travel to the seriously picturesque Blue Lagoon by public bus and then jump on a water taxi to Butterfly Valley (approximately 3.5 hours). This place is home to roughly 100 species of butterflies, though we can't guarantee you'll see them all. The word 'paradise' often gets thrown around willy nilly, but in this totally amazing place it's the only one that suits. Here you'll swim, hike to waterfalls - you know, the usual paradisy stuff that you probably dream about at home. This 250 metre to 1 kilometre canyon is considered to be one of the most stunning and amazing places in Turkey, and it's a tip-top example of just what beauty Mother Nature can whip up. What to do...what to do. How about chill out in a hammock and swim in the Mediterranean. Tonight you'll get into the proper rustic paradise feel when you sleep in a tent (don't worry you don't have to pitch it yourself).
Day 7 Fethiye.
Enjoy as leisurely start to the day as you take this morning to perfect your relaxation technique in this untouched heaven. After lunch you'll take the boat back to Oludiniz, and can choose to check out the Blue Lagoon before heading to the pretty short distance up to Fethiye. The lagoon is so luminously blue it should def have an Instagram filter named after it. Chill out by the coast for the afternoon and swim the 3 kilometre-long stretch of beach. Tonight you can explore the culturally rich town of Fethiye, located on a bay and surrounded by pine forests and islands. Enjoy a walk by the harbour and look up to see massive rock cut tombs, check out the Lycian sarcophagi scattered around the town, try local seafood and join in with the thriving nightlife.
Day 8 Southern Coast Sailing.
This morning you'll take a local bus to Kas (approximately 3 hours), which is right on one of the southernmost bit of Turkey. With its whitewashed buildings covered in bougainvillea and cobbled streets, Kas is one of the most attractive towns on the Turkish Mediterranean Coast. Spend an hour or two lunching and wandering the pretty streets, before you transfer an hour down the road to Kekova. Here you'll board your sturdy vessel and make waves on a memorable voyage along the Turquoise Coast. Check out some of the most stunning coastal scenery in the world - it's just ridiculously good-looking. You've got a tough couple of days ahead: swimming, exploring sunken cities, sunbaking and eating fresh seafood. Grin and bear it. This afternoon, cruise to Tersane bay for a swim and then enjoy a home cooked dinner on board, before docking for the night and sleeping under a blanket of Mediterranean stars.
Day 9 Southern Coast Sailing.
It's a hard knock life on the Turkish seas - wake up to a spectacular Mediterranean sunrise this morning and enjoy a hearty breakfast on board. Perfect your best boat-life pose as you cruise to a sunken city, from where remains of a mysterious civilisation can be viewed. Earthquakes almost 2,500 years ago sunk this half of the Lycian city of Simena. Here you can walk up to nearby Simena Castle, swim in crystal clear waters, or explore Lycian rock tombs. More swimming, exploring, sunbaking and eating... can you handle that much action. Lucky you will spend another memorable night on the boat, under the stars if you feel like it.
Day 10 Antalya.
Soak up the last of life as a glamorous boat-dweller with breakfast on board. Then transfer by public bus approximately 3.5 hours to Antalya, the capital of the Turkish Mediterranean. It's hard to get a bad photo of Antalya (unless your finger is over the lens) thanks to cobblestone streets, the old city, the marina and the Taurus Mountains in the distance. You can spend the afternoon exploring the charming back streets of the Kaleici (old city), get historical in one of the best museums in the country, get theatrical at Aspendos (a beautiful intact theatre from Roman times), hit the beach once more at Mermerli Beach, or just try not to cry as your totally terrific Turkey trip terminates tonight.
Day 11 Antalya.
Your Turkey adventures come to an end after breakfast today, so wave goodbye to all your new mates.
View our great airfares, hotels and travel insurance.
Departure dates and Pricing
Departure Date
Return Date
Availability
Price
Enquire

Mon 23rd April, 2018

23/04/2018

-

01/01/1970

-
Enquire

»
Terms and conditions
The following product terms and conditions apply in addition to our Booking Terms and Conditions (available on our website) and terms and conditions of the relevant travel service provider.
Prices quoted valid for sale until 28 February 2018 for travel during the period specified (if applicable) unless otherwise stated or sold out prior.
All prices are per person (unless otherwise stated), subject to availability and may be withdrawn or varied without notice. Accommodation (if included) is based on multi share unless otherwise stated.
Advertised price includes bonus nights and/or stated saving (if applicable).
Additional supplier conditions and travel restrictions may apply. Please enquire for further details.
Airfare (including internal flights) is not included unless otherwise stated and, if included, is economy class unless otherwise stated.
Components of the total price including local payments, "resort fees", "national park fees", "trip kitties" and food funds (if applicable) may be payable direct to the supplier on arrival or to your travel consultant prior to your departure. Where applicable, these payments are included in the total price quoted.
Gratuities are not included unless otherwise stated.
Prices shown are fully inclusive of taxes, levies and government charges current at the time of publication.
Additional levies, government charges & other applicable fees, including additional taxes, surcharges and visa fees specific to your departure date or flight routing, may apply and are beyond our control.
Seasonal surcharges and blackout dates may apply depending on date of travel.
Prices shown are for payments made by cash in store or by BPAY.
Payments made in store by credit card will incur a surcharge (see Booking Terms and Conditions for further details).
Prices quoted are based on cheapest available at time of advertising and may be higher depending on date of purchase and date of travel. Please enquire for further details..
Important Notice
The above information has been obtained from the relevant suppliers and should be considered an indicative guide only as to the prices that may be available for these products. Flight Centre cannot guarantee that any particular product will still be available at the following prices, or for your exact dates of travel. At the time of making your booking, prices may differ to that price displayed on this website. Please contact a Flight Centre travel consultant to obtain the latest up to date information regarding applicable prices, fees and charges, taxes, availability, any blackout dates (such as school holidays), seasonal surcharges and other terms and conditions which may apply.
Contact an Expert to find out more about this tour and other amazing tours!
Talk to a travel expert and personalise your trip
Widest range, unique products
We have the widest range of airfares and holidays as well as access to specials you won't find anywhere else.
We won't be beaten on price
Our Lowest Airfare Guarantee ensures you always get the best deal which means you save money.
Experts: anytime, any place.
With over 700 stores in Australia, a 24/7 call centre and website, we're always here for you.