1 August 2019
One of the world's most modern cities, Seoul is a monstrously-large metropolis spiked by gleaming skyscrapers and embellished by magnificent royal palaces.
To properly investigate this city of more than 20 million people would take many, many visits. On my recent trip to Seoul I bypassed its tourist-soaked attractions and sought out some lesser-known sights.
Like Jogyesa Temple? Try Myeong-dong Cathedral 
It is easy to think of South Korea as a Buddhist country given many of its most famous temples, like Jogyesa, are devoted to the Buddhist faith. But Christianity is in fact the number one religion in the country.
The most beautiful Christian church in South Korea is located in Seoul's shopping mecca, Myeong-dong. Just past the neon lights of this commercial area stands Myeong-Cathedral, a structure so magnificent it would not look out of place in a major European city.
This 119-year-old Gothic Revival-style building has a soaring 45m-tall steeple which looks particularly majestic after dark when it is lit up against the night sky. Its interior is equally impressive thanks to the meticulous stonework, soaring ceilings and intricate stained-glass windows.
Like Mount Namsan? Try Ihwa Mural Village 
Seoul's topography is unusual for a large city in that the downtown area is sandwiched in between two lofty ridges – Mount Bukhansan and Mount Namsan. The latter is the shorter and more accessible of the two, which has made it a very popular viewpoint with tourists.
Equally superb views can be earned from the quirky hillside neighbourhood, Ihwa Mural Village. A formerly rundown area, Ihwa-dong was given a makeover in 2009 was part of a revitalisation project. This scheme saw artists encouraged to decorate the walls and fences of the neighbourhood with more than 100 colourful, whimsical murals.
As Ihwa-dong became popular among Seoul residents, who visited to pose for photos with the murals, it began to attract creative types. They have opened up galleries and studios in Ihwa-dong, making it a vibrant and fascinating art community.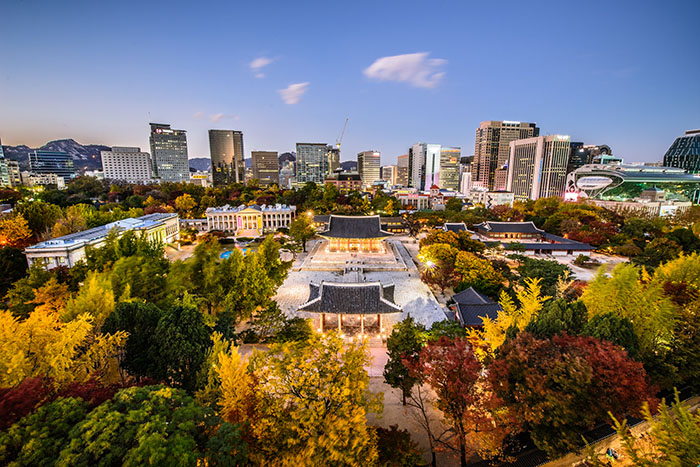 Like Gyeongbokgung Palace? Try Deoksugung Palace 
Visiting historical sites is typically a daytime activity. But Deoksugung palace is an anomaly in that it's even more extraordinary once the sun slides from view. After dark, this 15th century former royal complex is brightly illuminated and its ancient grandeur contrasts wonderfully against the cutting edge skyscrapers which surround it in downtown Seoul.
If you can't come here at night then time your visit to coincide with the elaborate changing of the guards ceremony which takes place at its main gate every day at 11:00am, 2:00pm and 3:30pm. Deoksugung is one of Seoul's five palaces built during the Joseon Dynasty era (1392 – 1897) and is not nearly as crowded as the two most famous of this group – Gyeongbokgung and Changdeokgung.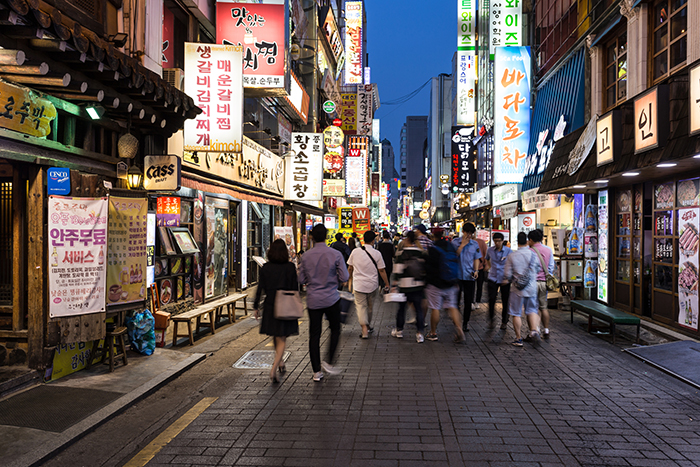 Heard of Myeong-dong shopping precinct? Try Insadong
A network of narrow pedestrian streets lined with fashion outlets and boasting Seoul's best night market, Myeong-dong is arguably the city's most famous commercial destination. Only a kilometre to the north is a shopping area which is just as interesting but minus the crowds and noise.
Instead of the mass-produced items for sale at Myeong-dong, Insadong Street is Seoul's main outlet for traditional culture and handicrafts. On this 700m-long street you will find classical Korean Hanbok clothes, ceramics, herbal teas, hanji paper products, handcrafted furniture, calligraphy tools, and tasteful souvenirs. It also boasts an array of art studios, galleries, restaurants, cafes and bars, giving it enough attractions to while away an entire afternoon.
Heard of the Seoul fireworks festival? Try the Seoul Lantern Festival 
Seoul has a range of fantastic annual festivals, including the ever-popular International Fireworks Festival. My personal favourite is the Lantern Festival, which creates a fairytale environment in downtown Seoul. For more than 1km along the attractive, manmade Cheonggyecheon Stream, hundreds of colourful lanterns are displayed.
Ranging from small simple constructions to giant, elaborate pieces, these lanterns glow throughout the night amid a setting otherwise dominated by towering office blocks, apartments and shopping centres. The festival was inspired by the efforts of Korean people during the Japanese invasion of the 16th century, when locals hung lanterns along the Namgang River to illuminate Japanese soldiers who were trying to wade covertly through the water.
---
---
Other Travel Articles You Might Like...