30 January 2020
Whether you're heading to Brisbane for work or leisure, you will want to check out a few of the city's newest and trendiest restaurant and bar openings that have popped up around the city's newly created entertainment precincts. 
From the $110-million development of a disused wharf aptly titled Howard Smith Wharves which arrived at the end of 2019 to the new Queen's Wharf precinct arriving in 2022; Brisbane is a city in the process of telling its coming of age story and is doing so with its  sunshine state fare.
We head north to check out 8 of the latest offerings.
ARC Dining
5 Boundary St
Part of the shiny new Howard Smith Wharves precinct ARC Dining, serves up views in every direction with interiors designed by well known local  Anna Spiro. Think pink and black marble, plenty of colour and trendy greenery, including a central fig tree. The 240-seat restaurant comes under the tutelage of Chef Alanna Sapwell with a menu that boasts light but satisfying dishes specialising in seafood.
Stone & Wood Brewery 
99 Bridge St, Fortitude Valley
The newest taproom and brewery from the well known Stone & Wood is located smack bang in the ever evolving Fortitude Valley. However it's open to the public only five nights a week. When the doors aren't open in the heritage-listed building, the brewhouse is busy fermenting up a storm to create its one-off small batch varieties. These are only created for and drunk onsite, poured straight into your glass from tanks behind the bar. 
RELATED: There Is An Actual Bus Called the Vino Bus and It Is Everything You Could Wish For
SK Steak and Oyster 
The newest addition to Brisbane's burgoing niche dining scene, SK Steak and Oysters is located squarely beneath the new Calile Hotel on Ada Lane within the James St entertainment area. Featuring soaring ceilings, giant pillars, curved cream leather booths, a grand piano, and starched white tablecloths; it's what trendy fine dining is made of. 
Same Same
46 James St, Fortitude Valley
When Brisbaneites favourite thai stalwart, Longtime closed its doors last year, locals didn't know where to turn. However, it wasn't long before the creators behind the Ann Street restaurant moved onto creating a new upscale eatery, Same Same and as the name suggests, still focused on street-inspired Thai cuisine. You'd be forgiven for thinking this is just a case of slapping on a new name and transplanting a restaurant to a thriving new location. The new space traverses over two levels, where on the upstairs level is a dimly lit bar LOS, host to over 140 tequilas and on the ground level, a long bar curving around an open central kitchen with a delicious menu complimented by the 140-bottle wine list.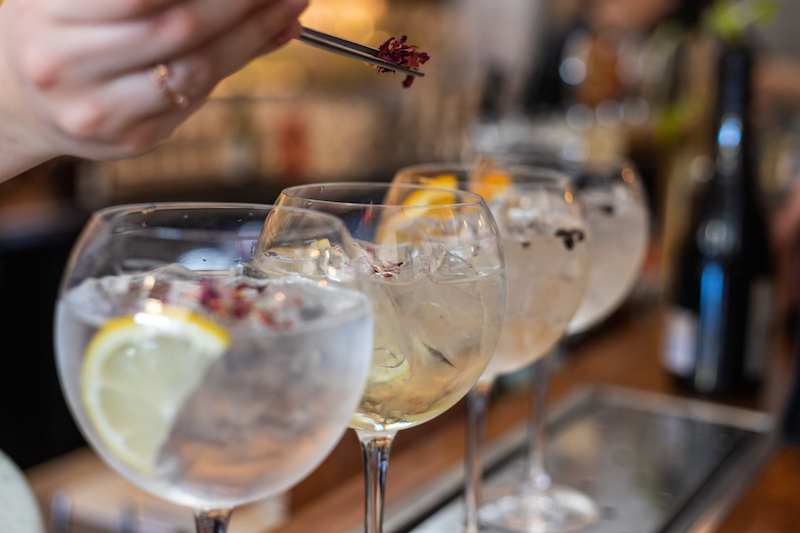 Oche
111 Constance St, Fortitude Valley
Hold onto your Akubra cowboys and cowgirls, Brisbane's first dedicated darts bar has opened it's (massive) doors in Fortitude Valley's heritage-listed Old Flour Mill. While the game itself and the building have been around since before you and I were a twinkle in anyone's eye, the traditional game of darts has been modernised at Oche. You can either settle into one of the 14 darts booths (both single and double) or jump onto one of the communal tables in the centre of the bar if you're just after a drink and bite to eat or waiting on a booth (we recommend you pre-book to avoid the wait).
Za Za Ta Bar and Kitchen
1000 Ann St, Fortitude Valley
This modern restaurant takes its culinary cues from executive chef Roy Ner's Israeli heritage. Located in Fortitude Valley, you can start with a challah toastie filled with wagyu bits or indulge in the after-dark bar scene inspired by Tel Aviv. 
The restaurant's space harks back to the 1940s with spattered references to the Victorian era. Award-winning interior designers Luchetti Krelle decked out the space with reclaimed leadlight doors, tessellated tiles, wrought iron, velvet upholstery and washed plywood furniture.
RELATED: 10 Free Things To Do In Brisbane
Baja Brisbane
211 Brunswick St, Fortitude Valley
The latest offering from Milk Box Tuckshop's Daniel Quinn is Mexican cuisine, Southern Californian vibes, Japanese influences and the Queensland produce that makes up Baja Brisbane, what's not to love? Steering clear of cliched Mexican decor, this restaurant serves up SoCal Mexican dishes in a chill minimalistic space featuring terracotta tables and a cactus garden. 
Cenote Casa Bathhouse
1/723 Stanley Street, Woolloongabba
The only non-eatery on this list means it's a feast for the other four senses where you can kick back and absorb the relaxation on offer with this new spa concept influenced by luxe worldwide bathing experiences. 
Think swimming in Mexican cenotes, soaking in a Japanese onsen and floating at a Balinese resort. Open by appointment from Wednesday to Sunday, Cenote Casa Bathhouse offers up sauna sessions, an oil-infused steam room, a magnesium plunge pool or the heated hydrotherapy spa. To soak away the stress of the outside world. This boutique spa is perfect for group events like hens parties, with a max booking for 6 lucky individuals at a time.
Sign up to our newsletter for more travel inspiration, tips and exclusive deals sent straight to your inbox.
Other Travel Articles You Might Like...