2 December 2021
New Zealand's South Island has long been a favourite destination for tourists, with many Aussies making the trip across the ditch to experience its natural beauty, adrenaline-filled activities and endless opportunities to embrace the great outdoors. 
However, Tropical North Queensland (TNQ) is a destination that can hold its own. With everything from breath-taking scenery and hiking adventures to heart-pumping, high adrenaline activities, Tropical North Queensland is fast becoming a go-to for tourists. Here is why we believe Tropical North Queensland is the new New Zealand, South Island. 
What To Expect: 
Tropical North Queensland is filled with the awe-inspiring wonders of mother nature. 

Tropical North Queensland has plenty of adrenaline-filled activities to get your blood pumping. 

With such a beautiful landscape, there is endless opportunities in Tropical North Queensland to embrace the great outdoors
---

---
Awe-Inspiring Wonders Of Mother Nature
Mother nature can be awe-inspiring and Tropical North Queensland is a great showcase of her talents. Boasting a collection of breath-taking natural attractions, the destination has everything from white sandy beaches to thundering waterfalls. With so much beauty spread across the far North – it would be a wise idea to have your camera ready.
Beaches
Tropical North Queensland is the perfect place to go if you are looking to kick back on a beach. Whether you are craving a stroll across a seemingly endless stretch of sand or want to dive into the crystal-clear water for some snorkelling, Tropical North Queensland has the beach to scratch that itch.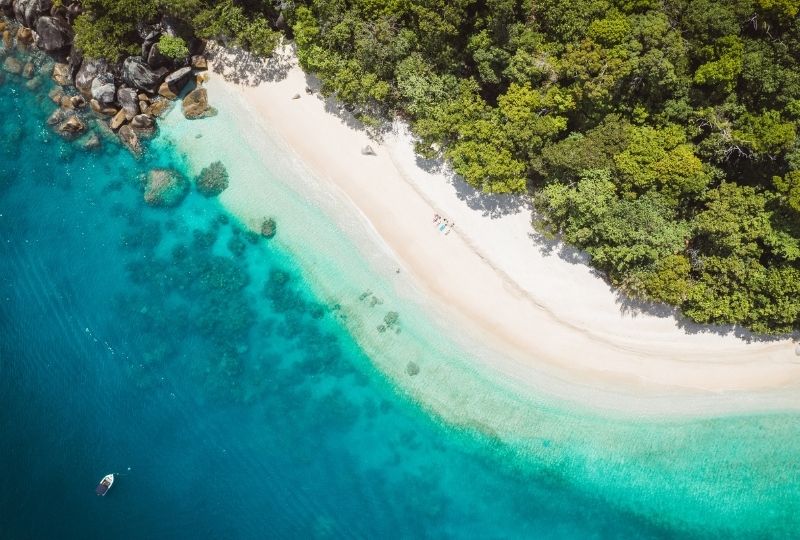 Waterfalls
TLC might tell you, 'Don't go chasing waterfalls,' but in Tropical North Queensland, this is definitely bad advice. Nothing beats the exhilaration of seeing a thundering wall of water cascading down a cliff face. One of the best places to see waterfalls is the Atherton Tablelands, which is home to around 20 vertical waterways and even has its own waterfall circuit.  
If you are looking to check out some waterfalls, summer is the best time because it is wet season in Queensland which means the waterfalls will be their most spectacular. It can also get very warm in Tropical North Queensland so it can also be a good opportunity to take a dip and cool off. 
Geological Wonders
Tropical North Queensland is filled with geological wonders that showcase Mother Nature at her most powerful and awe-inspiring. Explore the Undara lava tubes which were formed when a volcano erupted 190,000 years ago. Another great place to check out is the Mt Hypipamee Crater which was formed when gas produced by molten rocks caused a giant explosion that sent chunks of earth flying through the air. 
Embrace The Great Outdoors
With such a beautiful landscape, there is endless opportunities in Tropical North Queensland to embrace the great outdoors. With everything from camping experiences to hiking and walking trails there is a smorgasbord of opportunities to indulge yourself in nature. With so much to experience, be sure to set your compass for a direct encounter with Tropical North Queensland at its most charming and enchanting. 
Camping
If you are looking to wake up in paradise, Tropical North Queensland is the place to go. Tropical North Queensland has a plethora of camping options that will make anyone a happy camper. Whether you are looking for a remote wilderness experience or you would rather glamp it up in a cosy cabin, Tropical North Queensland has something for you. 
Great Barrier Reef
Of course, we can't forget the famous Great Barrier Reef. The rainforest of the sea is the world's largest coral reef system and is one of the most diverse ecosystems in the world. The reef is made up of around 2,900 individual reef systems and is home to more than 1,500 species of fish. Right on the doorstep, Tropical North Queensland is one of the best places to experience the reef with plenty of underwater adventures.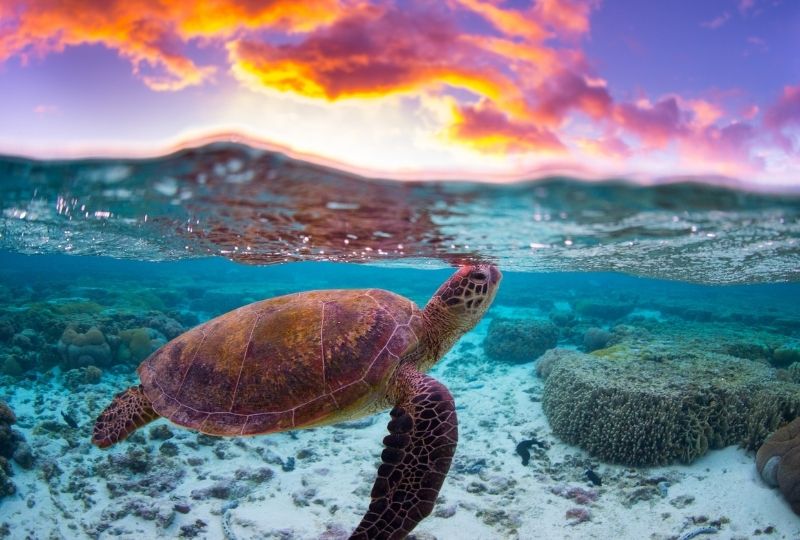 Hiking/Walking Trails
Tropical North Queensland has a range of hiking and walking trails. With a collection of different biomes ranging from coastal areas to mountain ranges, there is something for everyone. One of the best hiking experiences is Mt Bartle Frere. Being the highest mountain in Queensland, this hike is for more experienced hikers. If you do decide to take on the challenge, we recommend taking your time and camping overnight. If you time it right, you will be able to experience a glorious sunrise at the summit. 
Adrenaline Pumping Activities 
Much like Queenstown is the adventure capital of New Zealand, Cairns is considered to be the adventure capital of Australia. With a range of heart-pounding activities from sky-diving to ziplining it is easy to see why thrill-seekers are heading to Tropical North Queensland.  
Sky-Dive Over Mission Beach
For one of the best views in all of Queensland, go skydiving over Mission Beach in Cairns. As you hurtle towards the ground you will be treated to views of two of Queensland's most impressive sites, the Great Barrier Reef and the World Heritage Rainforest – that is if you can keep your eyes open. 
Zipline Over A Crocodile
Just in case ziplining didn't get your heart racing enough, Cairns Zoom and Wildlife Dome have added an extra element of danger to really turn up the heat.  
The dome offers a high ropes course that consists of multiple complex crossings and ziplines. Some parts of the course are up to 12m in the air. The course ends with a zipline that takes you directly over a huge Crocodile affectionately named Goliath. Crickey!
Brave The River Rapids
Make your way down the thundering river rapids and take on the twists and turns of the mighty Tulley River – a river world-renowned for white water rafting. For beginners, the Barron River is the best experience, however if you are looking for a challenge, take on the mighty Russell River. This experience is not for the faint hearted and is gruelling on the fitness. 
Other Travel Articles You Might Like...