4 August 2020
Aries: Coming in hot
Bold and ambitious, very headstrong, irritated by laziness and easily bored; sound familiar? If you're an Aries, you're avoiding a flop'n'drop escape as passionately as society is avoiding handshakes. Instead, your fiery nature is seeking out action and adventure, and ideally a warmer climate to do so in. We're talking a strenuous hike, white water rafting or perhaps a location that offers bungee jumping and similar adrenaline-inducing pastimes.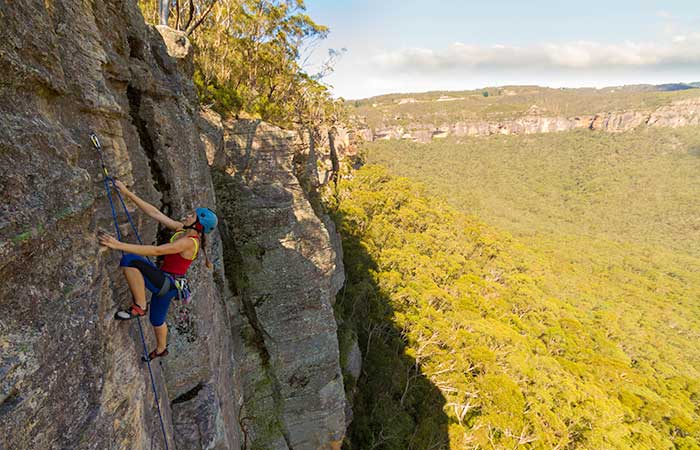 Get your adrenaline fix in the Blue Mountains, NSW
Fortunately, Australia has plenty of destinations that are right up your alley. We believe you and your risk-taking, goal-oriented nature will enjoy all of the following:
A multi-day hike doing Tasmania's South Coast Track, finishing off with a jaunt through some vineyards, of course, TAS

White-water rafting and exploring Cairns and the surrounding region, QLD

Adventure sports (bungee jumping, abseiling, rock climbing and paragliding) in the Blue Mountains, NSW
Picturesque vineyards like Tamar Valley are perfect stops for your next Tassie road trip
Taurus: Earthy-luxe; #namaste
Strong, dependable, stubborn and practical, you Taurus travellers out there love relaxing and serene environments, paired with the finer things in life. Not much to ask for right? Seeking soft sounds, soothing serenity, and a little luxury, we believe you will be very happy holidaying at a range of retreats, glampsites and National Parks across Australia. Fortunately we have some of the most visually appealing and relaxing options right here on our doorstep, that you can barge right into like a bull in a china shop.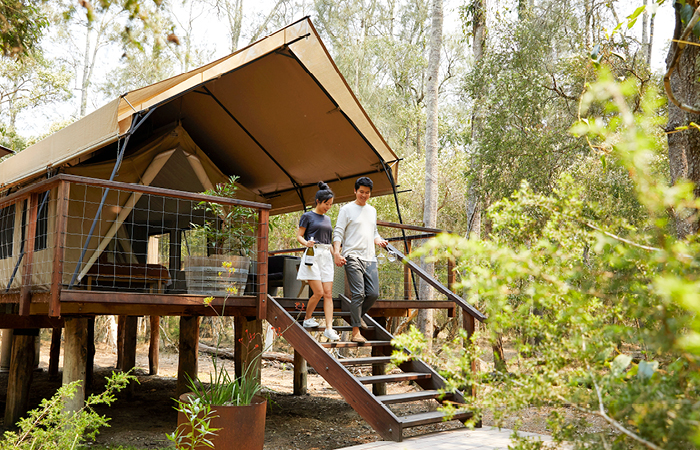 Glamping, Jervis Bay. Image courtesy of Destination NSW
Our top recommendations for our Taurean friends are:
Glamping in Jervis Bay, where you can feast on organic fare, enjoy a morning bush walk or sunrise yoga, before getting it all on the gram, NSW

A relaxing retreat, day-spa visits optional but recommended. Daylesford, VIC

A weekend of scenic walks, cooking classes and relaxation in the clean, crisp Wineglass Bay air. Did someone say Scallop pie? TAS.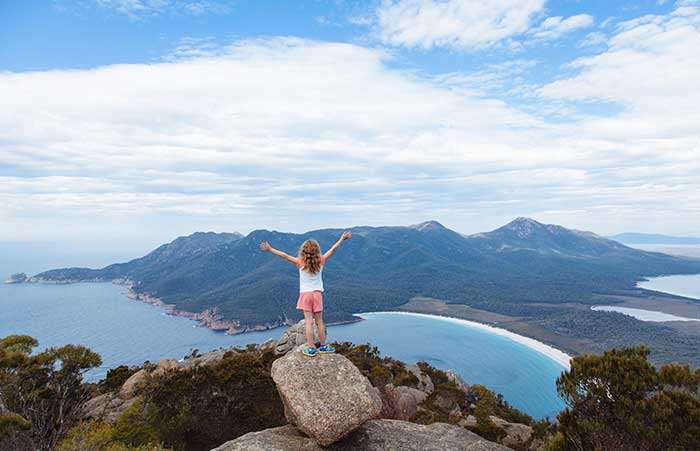 Wineglass Bay, Tasmania
Gemini: Social butterfly  
Curious and kind, social and expressive with a passion for variety in life, your next ideal destination could be almost anywhere, as long as you haven't been there before. Your constant need to feed your insatiable curiosity means layers upon layers, all in one place. Like an onion, if it were a holiday location. We're talking a destination full of activities; cultural, historical, outdoors, indoors, and everywhere in between. Most importantly though, you need to share your holiday with people, you don't want to do this alone. 
A few good options are:
Melbourne, which has everything from quirky cafes and laneways, to swanky rooftop bars, the arts, sports, and four seasons in one day, VIC

Cairns. You've got reef, rainforest, city, surf, Australian history and rich culture, QLD

Hobart, explore MONA and Salamanca one day, go cheese tasting and vineyard hopping the next. You've also got plenty of day trip options, beaches and National Parks to explore, TAS.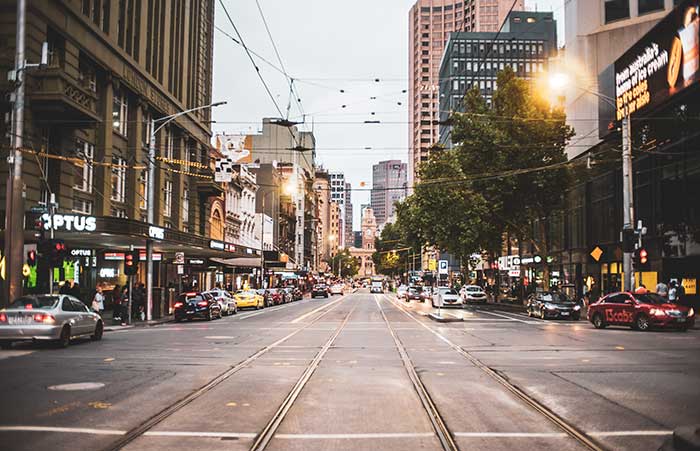 Melbourne, a city that really comes alive
Cancer: Seeking tranquility
Sentimental, compassionate, intuitive and creative, Cancers are dreamers and their ideal escape involves being by the water. A beach escape, a lake house, sailing the coastline or island hopping, you're seeking a tranquil paradise that will make you feel comfort and calm. Fortunately, Australia is one beautiful big island, and our water options are endless; Cancer you're in luck.  
Some of our favourites for you are:
Sailing around the Whitsundays - DIY style, or skipper in tow, QLD

Road tripping WA's coastline from Perth, right up to the stunning Ningaloo reef off Exmouth, exploring beaches and national parks as you go, WA

Coffin Bay, Eyre Peninsula, where you'll find more kangaroos than people, and most importantly, untouched, picturesque beaches, SA.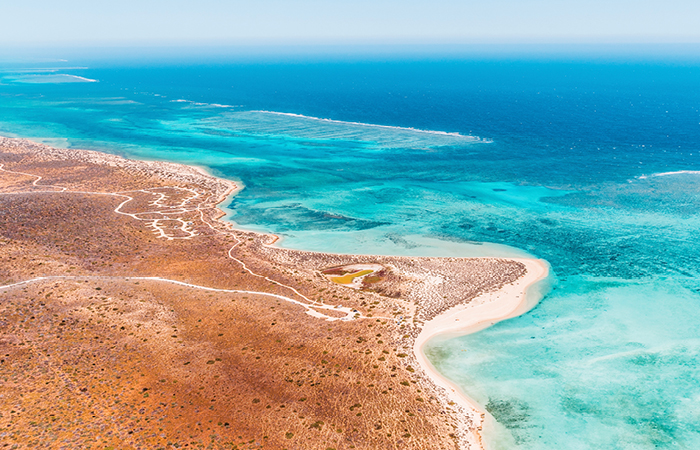 Ningaloo Reef, WA
---
Keen to book yourself an Aussie escape? Click here!
---
Leo: Make a statement, and be seen doing so
The leader of the pack, Leos are strong-willed, dramatic, outgoing and self assured. You like to make a statement, stand out, have fun and most importantly, be noticed wherever it is you are. When it comes to holidays, you're looking for the hottest spots and some limelight to bask in; you're the king and queen of the jungle afterall. 
Some of our top spots for leos are: 
Bondi Beach is the ultimate leo hotspot. You can be bold, stand out, be a part of the scene and get it on the gram, NSW

Hayman Island, where the new Intercontinental takes the Whitsundays to a whole new leo-approved level, QLD

Byron Bay, if it's good enough for international celebrities and the who's who of Australian society, it's good enough for a Leo, NSW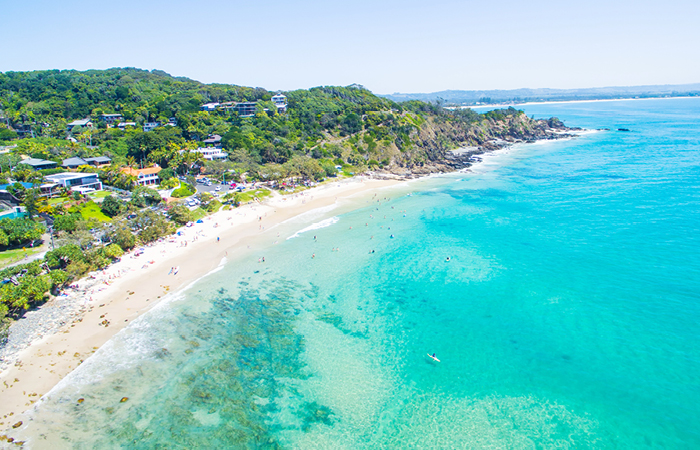 Byron Bay Coast, NSW. Image courtesy of Destination NSW
Virgo: Leisurely learning, #blessed
Practical, loyal, gentle, analytical and focused. In an ideal (and pre-COVID) world you probably took an annual trip to a Balinese retreat or spent a week each October in an Indian ashram. Or at least practised yoga weekly. You love to pair relaxation and holiday time with giving back, helping out, learning and contributing to a better world. You've probably volunteered at some point and are always aiming for improvement. You're very #blessed and #grateful, but that's the way you like it, right Virgo?
Finding your ideal escape here in Australia isn't hard, with so much nature and so many communities to experience. We think you might like one of these: 
A detox and wellness retreat in Emu Bay on Kangaroo Island, SA 

Glamping on the beach at award-winning Sal Salis, WA

Experiencing and learning about the historic Daintree region, while staying in style at the Daintree Ecolodge, QLD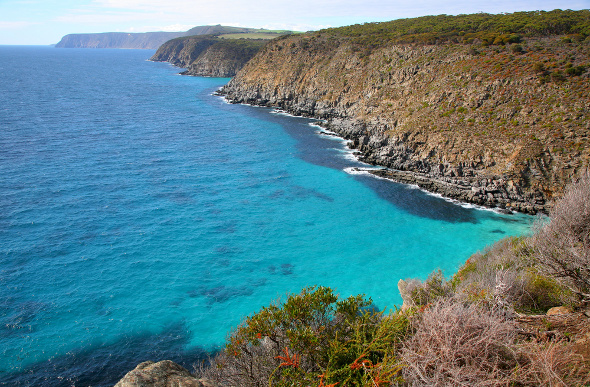 Libra: A walking contradiction aka "seeking balance"
Social, diplomatic and gracious, Librans are justice seekers who love to be surrounded by beauty and art. Always craving balance and harmony, you simply must escape to a destination that is as beautiful as it is sophisticated, with activities that will refresh and satisfy your soul. We're talking hiking by day, gourmet food and wine by night; luxury accommodation in the heart of a National Park; island hopping aboard a yacht that is simple, yet stylish. It's really not that much to ask for now is it, dear Libra?
Striving to create equilibrium in all aspects of life, we think some of these will appease your domestic wanderlust (for now): 
Spicers Lodges, where you can hike, bike and enjoy the spa by day, then settle in for champagne and delicious dining as the sun sets, QLD & NSW

Melbourne. Perfect for people watching, gourmet dining, quirky laneways, an alternate cafe scene, swanky rooftops, grungy bars and of course, the arts, VIC

Byron Bay, the ultimate location for those seeking balance. You can be zen by day, sip craft cocktails by night, and of course do it all in a boujee beach setting, NSW.
Spicers Scenic Rim, QLD
Scorpio: Enthusiastic control freaks
Passionate, stubborn, faithful, resourceful and brave. Boasting a true boy/girl scout mentality, your perfect holiday encompassees a challenge and often starts months before - we all know Scorpions are enthusiastic planners (aka love to take control). Ideally, said holiday will involve others in one way or another, people you can helicopter around, assisting/helping/showing them how to do things 'your way'. 
Fortunately, there is a whole sunburnt country just waiting to be explored, and we think some of these might be up your alley:
A week cycling the Brisbane Valley Rail Trail; combining beautiful scenery with history and lots of things to tinker with and tend to along the way, QLD.  

A camping trip, anywhere. You'll have plenty of chores to keep you busy and chances to show off your resourcefulness. Australia wide.

A road trip, WA's Coral Coast or VIC's Great Ocean Road, so you can plan, plan, plan, create a tight itinerary, gather confirmations and information, and ultimately organise every little detail.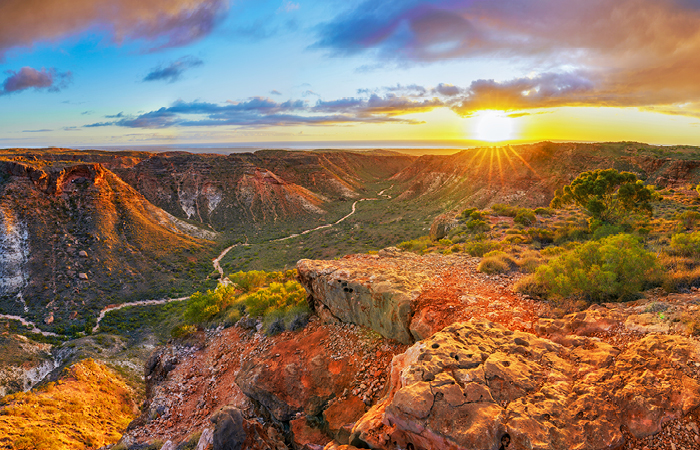 Cape Range National Park, located along WA's stunning Coral Coast
Sagittarius: Here for the journey 
Funny, extroverted and optimistic (most of the time), Sagittarians are high energy philosophers. The ultimate travellers who enjoy mental challenges and are always pretty keen to explore, learn and discover somewhere new. If you're a Sagittarius, you want to feel free on your holidays, like it could lead to some kind of spiritual awakening or the like. It's all about the journey, not the destination. 
So strap yourself in dear Sagittarius, we see you enjoying something like:
Darwin, for the mental stimulation. It's Australia's only city that has been destroyed twice, rich in history and culture, NT

A week camping, hiking and being in nature in Carnarvon National Park - you're a fire sign which means loving the open air, QLD

Broken Hill, combining an industrial history and open desert-like landscape, you'll be in your element, NSW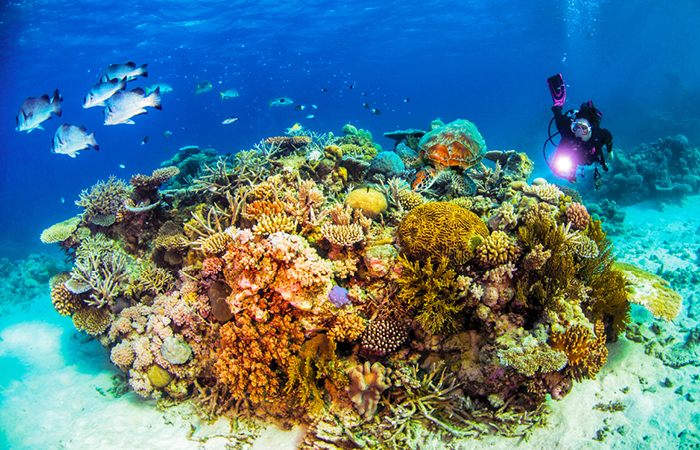 Dive the Great Barrier Reef, off the coast of Cairns, QLD
Capricorn: Ticking the bucket list
Independent and tenacious, a planner and a problem solver, Capricorns are seeking a challenging and rewarding trip. Bucket list destinations, once in a lifetime experiences and physical, mental challenges. We have myriad options here down under, depending on the season, there are quite a few must dos that our Capricorn friends can aim to tick off their lists. 
Some of our must dos though include: 
Diving or snorkelling the Great Barrier Reef, one of the seven new world wonders, right here off our shores, QLD

A week exploring the Kimberleys; the horizontal falls, rugged ranges, dramatic gorges and isolated coastlines of the Indian Ocean and Timor Sea, WA

A few days exploring Uluru and the Red Centre, finishing off with a spectacular night enjoying the Sounds of Silence dining experience, NT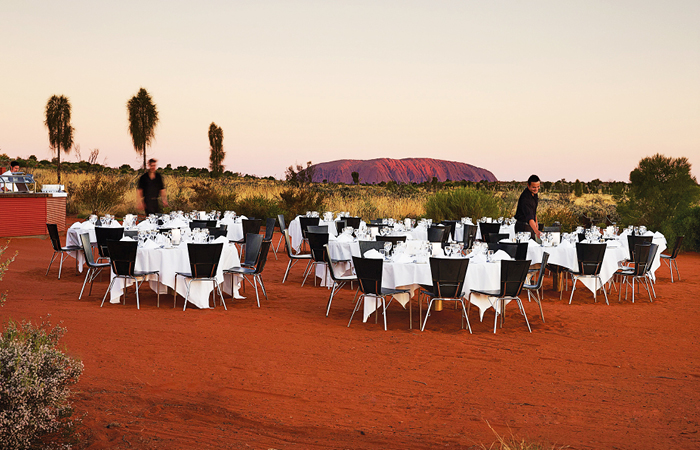 Sounds of Silence dinner, NT. Image courtesy of Tourism Australia
Aquarius: Creative idealists 
Imaginative and idealistic, Aquarians like a leisurely lifestyle, and love to help people along their way. Confident, adaptable and curious, your ideal destination is somewhere that will offer intellectual stimulation as well as creative inspiration, allowing you to learn, imagine, feel inspired and relax while on holiday. You'll want plenty of fresh air and open space, two things Australia has in droves.
Here are some of our suggestions: 
Skipper yourself and your mates as you sail around the Whitsundays for a few days, basking in the tropical sun, but keeping busy aboard your catamaran, QLD

Mornington Peninsula - soak up the fresh sea air, local cuisine, golf, alfresco dining, wineries and wildlife all in one convenient location, VIC

An Aussie Farmstay - wholesome country atmosphere, clean air, fresh produce and the option to partake in farm activities, or sit back and relax, what more could our Aquarian friends want? Australia wide
​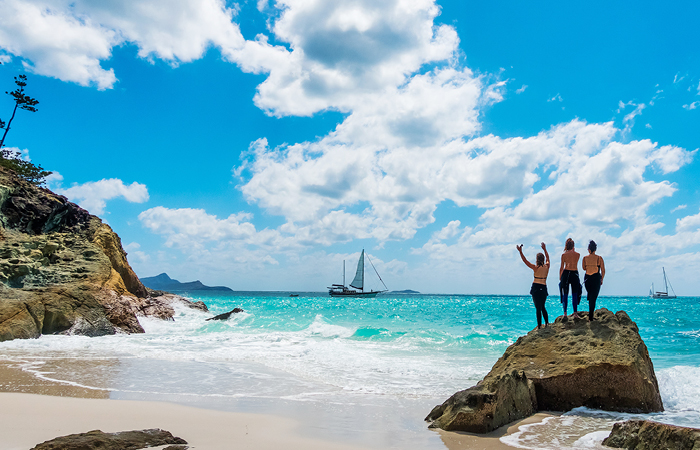 Sail the Whitsundays for a week...who's keen?
Pisces: seeking a solo escape
Sensitive, emotional, artistic and wise. The Pisces among us enjoy a little time out, possibly solo, or simply in a quiet, spacious setting. Your mind is always racing, divided between fantasy and reality. So when it comes to a holiday, it's a chance for some mental, and physical time out. Something like a rustic country weekend with a fire, whiskey, a good book and a creative outlet. Or a beach escape; the sea soothes you, the country calms you.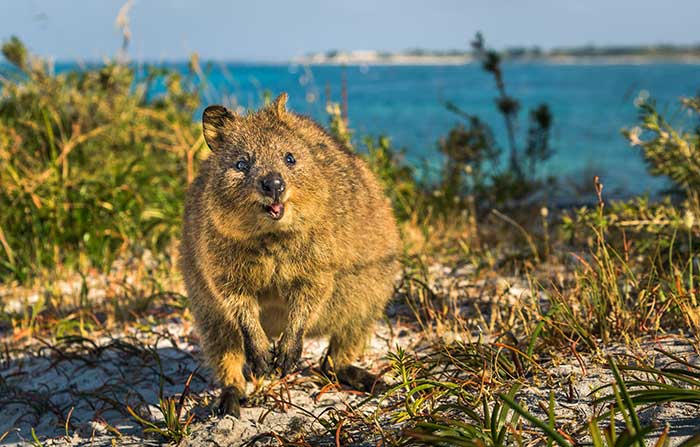 WA's Rottnest Island: home of the quokka!
Palm Beach, one of Australia's most beautiful beaches. You can wine, dine, meditate, relax, walk and brush up on a little history while you're there, NSW

Cradle Mountain, a tranquil National Park full of hiking trails, wildlife and of course, a calming lake, TAS.

Rottnest Island, home to Quokkas, 63 beaches and 20 bays, this is a Pisces paradise, WA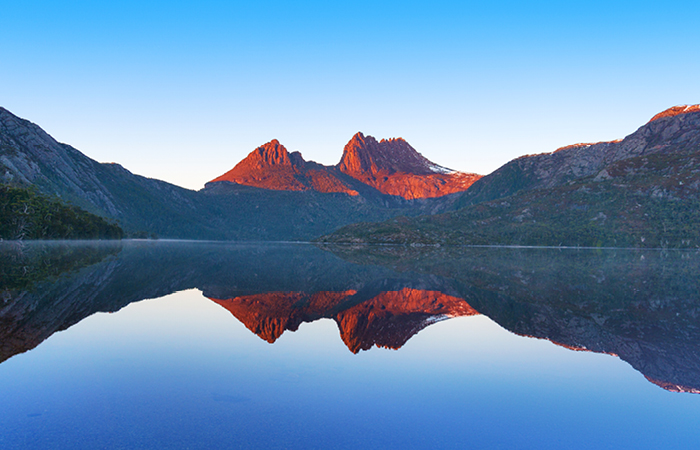 She's a beauty - Tasmania's Cradle Mountain
---
Sign up to our newsletter for more travel inspiration, tips and exclusive deals sent straight to your inbox. 
---
Other Travel Articles You Might Like...