17 June 2015
Words by Carlie Tucker
The ability to stay connected while on the road is becoming increasingly important to business travellers. Smartphones and other mobile devices have certainly made it easier, but data limits can be a hassle. This is why it's so important to find a great hotel that caters to business travellers with little perks such as complimentary WiFi.
The number of these hotels is on the rise in Australia, which is why we've put together a list of 14 great hotels that (at the time of writing) offer free WiFi to guests:
Brisbane
Hotel Jen: Conveniently situated on the fringe of the Brisbane city centre, this recent addition to the city ticks all the boxes for a business traveller seeking a modern stay and free WiFi. It also happens to be a SmartSTAY hotel, which offers FCBT clients complimentary breakfast and one garment pressing for free when you book through your Travel Manager.
Next Hotel: Another new addition to the Brisbane staying scene, this hip hotel has taken tech-savvy design to the next level. Along with free WiFi, guests are provided with a smartphone to control everything in their room. From air conditioning to lighting, it's all done on your phone. The hotel also offers express check-ins/outs via smartphone and app as well as several business-friendly spaces to unwind on the road.
Sydney
Rydges Sydney Central: Well appointed and conveniently positioned, this business friendly hotel in Sydney is another top choice for working travellers. Free WiFi is available to guests throughout the 271 guest rooms along with the state-of-the-art function and meeting rooms. FCBT clients also have access to such SmartSTAY benefits as complimentary car parking, food and beverage discounts and an upgraded room if one is available at check-in.
QT Hotel Sydney: Fun and funky, this Sydney hotel offers business travellers a little style with their stay. Of course, WiFi is freely available throughout the hotel, but you'll also be treated to comfortable rooms with modern interiors and quirky design additions throughout the hotel. The Gowings Bar & Grill, Gilt Lounge, Parlour Lane Roasters and spaQ are also available on-site to ensure everything is at your fingertips.

Images courtesy of Ovolohotels.com
Melbourne
Rendezvous Melbourne: This may be one of Melbourne's most historic hotels, but that doesn't mean their behind the times when it comes to complimentary WiFi. Guests are treated to 100MB per day without charge, which goes a long way in keeping up to date on work emails. The hotel also offers up comfortable rooms with a superb location on Flinders Street.  Book through FCBT to take advantage of such SmartSTAY exclusives as a food and beverage voucher and a free room upgrade (subject to availability).
Ovolo Laneways: Perched within easy walking distance of Melbourne's fantastic laneways, this hotel is a perfect city stay that allows you the convenience of being close to key business districts as well as some of the city's best sightseeing attractions. It's a modern offering with sleek and stylish rooms. Plus, guests are treated to a sweep of freebies, including WiFi, breakfast, in-room snacks and a social happy hour!

Image courtesy of Hilton.com
Perth
Rendezvous Hotel Perth Central: Another top offering from Rendezvous, this central Perth hotel not only treats guests to 100MB of free WiFi per day, but the same comfort and convenience this top brand is known for. As a SmartSTAY hotel, FCBT clients can book through a Travel Manager to also receive access to a food and beverage voucher as well as a room upgrade (subject to availability).
Parmelia Hilton Perth: Also located in the heart of the Perth city centre, this Hilton hotel provides business travellers with the convenience of being within close proximity to many of the city's highlights. Along with comfortable rooms featuring that signature Hilton style, you'll have access to free WiFi, meeting and event spaces, a fitness centre and outdoor pool.
Adelaide
Stamford Plaza: Comprised of 335 guest rooms, including 21 suites, this hotel provides a comfy stay in Adelaide for travellers of all types. Those in town on work will appreciate the complimentary Wifi (when booked through the hotel or with FCBT) along with a heated outdoor pool on the rooftop, 24-hour concierge and top location close to both business and leisure areas. This is a SMARTSTAY hotel, which means FCBT clients also have access to free breakfast and a late check-out or early check-in (subject to availability).

Image courtesy of Qtcanberra.com.au
Canberra
QT Canberra: Like its Sydney counterpart, QT Canberra is a stunning expression of unique design and quirky style. Along with its 205 designer guest rooms, you'll find the Capitol Bar & Grill, Lucky's Speakeasy and the QT Lounge available to guests. There is also a Barber Shop to ensure you're in tip top shape for your next business meeting. Oh yeah, and the WiFi is free.
Rydges Capital Hill: Stay connected  at this Canberra hotel with complimentary WiFi recently integrated throughout. There are 186 spacious rooms available, including spa suites for those that like a little extra luxury while on the road. With comfy beds and top hotel facilities, your convenience is assured. As an added bonus, book through FCBT and take advantage of SmartSTAY exclusives such as free parking, a room upgrade (if available) and food and beverage credits.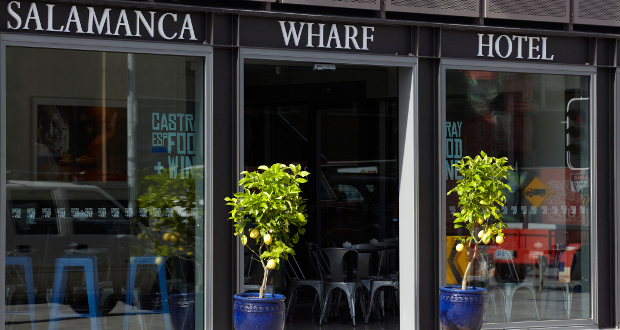 Hobart
Travelodge Hobart: Clean, comfortable and budget friendly, this Hobart hotel ticks all the boxes for business travellers heading to the Apple Isle for work. It also happens to offer 100MB of complimentary WiFi per day when you book a room. Along with a convenient location in the heart of Hobart, it's also a SmartSTAY hotel, providing FCBT clients with free car parking and a late check-out until 2pm.
Salamanca Wharf Hotel: This charming boutique property is a fantastic offering for business travellers with a range of rooms available to suit different budget sizes. This includes studio rooms, premium apartments or the loft penthouse. Each is well appointed with modern interiors and such benefits as free WiFi. It also happens to be near Salamanca Market, MONA, Mt Wellington and Hobart Shopping.

Image courtesy of Rydges.com
Darwin
Rydges Darwin Airport Resort: A mere 350 metres from the Darwin International Airport, this hotel provides business travellers with a quality stay that offers easy access to everything. There are 181 spacious rooms. All are neat and tidy with comfortable beds, air conditioning and balconies or patios. They all also come with free WiFi. Book this SmartSTAY hotel through FCBT and you'll also have access to breakfast discounts, late check-out until 12pm and a complimentary room upgrade (subject to availability).  
Other Travel Articles You Might Like...