22 February 2016
Words by Ben Stower
Even in 2009 Changi was probably one of the better airports to trap oneself.
It was my first time overseas and the extent of my terminal knowledge was: what you see is what you get.
So I spent 12 hours wandering the airport, playing the free video games, drinking Singapore Slings and occasionally standing in one place and watching people for probably too long.
It never occurred to me, as it doesn't to most travellers, that some of my layover might be spent seeing Singapore.
I'm not sure if Changi offered layover sightseeing tours back then, but it definitely does now, along with these four other airports.
So the next time your business travels land you in one of the following for longer than you'd prefer, consider venturing out and seeing some of the world.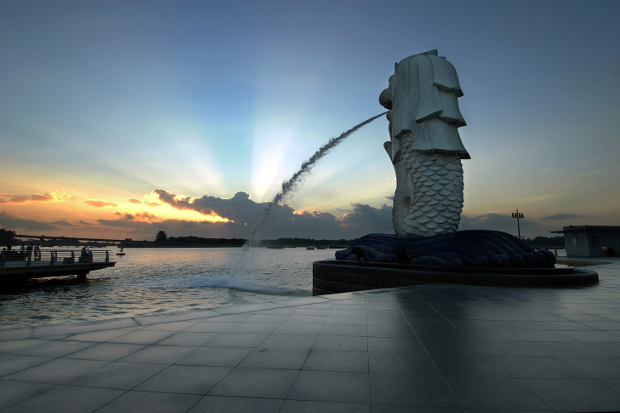 Get a photo with the famous statue in Merlion Park (Image: Getty)
1. Changi Airport - Singapore
Although Changi has a slew of indoor entertainment options for travellers passing through, its two free sightseeing tours are a welcome escape from the terminal's walls.
Both tours are about 2.5 hours long, so you'll need at least 5.5-6 hours spare before your next flight. A passport and boarding passes are also required to register for a tour.
To do so, visit the Free Singapore Tours booths in Terminal 2 and 3 more than one hour before tour start time.
Heritage Tour
Runs six times daily (9am, 10am, 11.30am, 12.30pm, 2.30pm and 3.30pm)
With a focus on Singapore's architecture and culture, this tour includes visits to the Colonial District, Chinatown and Little India.
There are two 20-minute stopovers. One at Merlion Park where you can see the striking symbol of Singapore, a mythical creature with a lion's head and fish's body.
The other takes place at Kampong Glam, home to Malaysian influences including galleries, craft stalls, cafesand beautifully restored shops.
City Sights Tour
Runs three times daily (5pm, 6pm and 7.30pm)
Discover Singapore's modern attractions including the Singapore Flyer (world's second-tallest observation wheel), Marina Bay Financial Centre, Marina Bay Sands resort and The Esplanade.
You'll also get a 20-minute stopover at Merlion Park and a 30-minute stop at Gardens by the Bay, an inner-city park with 500,000 plants and the world-famous man-made Supertrees.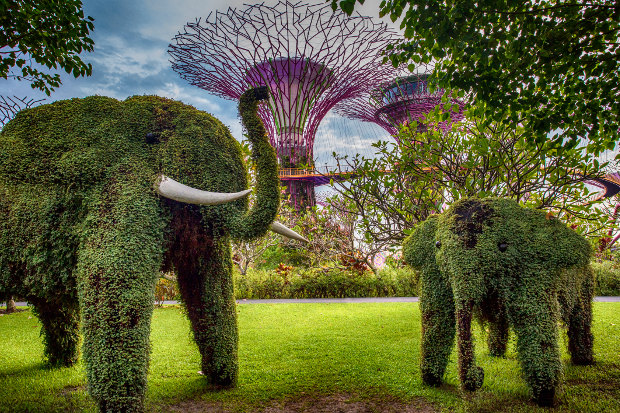 Singapore has taken a very different path with its Gardens by the Bay (Image: Getty)
2. Narita Airport - Tokyo, Japan
A relatively new feature at Narita Airport, the Narita Transit Program gives you the option of three guided or two self-guided tours.
Sign up for the tours at the Narita Transit Program counter in Terminal 1 or 2, which is open between 9am and 12pm. All tours are free, but you will need to pay for expenses including transportation and entry fees.
Tour lengths range from 2.5 to three hours, so only those with at least five hours before their next flight should register.
Course 1 (guided)
Travel back 1,000 years as you step inside the ancient Narita-san Shinsho-ji Temple. You'll also be able to stroll the culturally-rich streets of Narita-san Omotesando, where you can try traditional cuisine and purchase artisan goods.
Course 2 (guided)
Already missing being on a plane? Spend your layover in a flight simulator and exploring the aeronautical history at the Museum of Aeronautical Sciences. Full-size displays of aircrafts and more interactive exhibits provide information and entertainment.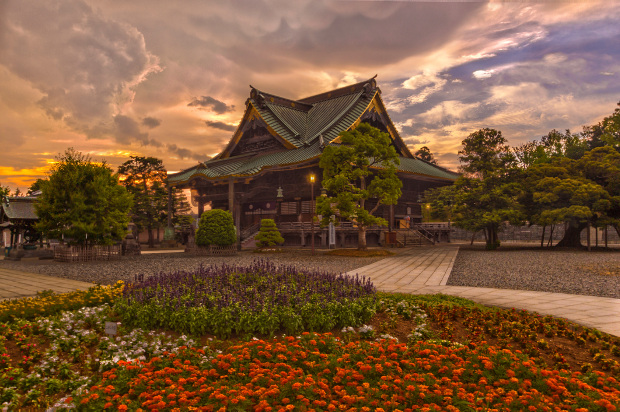 Narita-san Shinsho-ji Temple (Image: Getty)
Course 3 (guided)
Enjoy some quality time away from civilisation with a relaxing walk in Tako's countryside. Home to ricepaddies and vast open spaces, Tako also has  a riverside pathway where vibrant purple hydrangeas bloom in summer.
Courses 4 & 5 (self-guided)
Spend some time shopping in one of Japan's world-famous outlet malls. Course 4 gives you 2.5 hours with about 120 stores at Shisui Premium Outlets, while Course 5 takes you to Aeon Mall Narita. Both tours include gift vouchers to be spent at the malls.
---
Stopping over for 24 hours?
Stopover Guide: 24 Hours In Bangkok
Stopover Guide: 24 Hours Dallas
Stopover Guide: 24 Hours In Honolulu
---
3. Salt Lake City Airport - Salt Lake City, USA
If you've got two or more hours to spare, you can make the most of your time with a free shuttle bus to Temple Square.
One of the city's most-visited sites, Temple Square is home to numerous eye-catching buildings including Salt Lake Temple, Salt Lake Tabernacle and the Seagull Monument.
To organise the tour, simply visit the Information Desk in Terminal 1 or 2. The shuttle bus makes hourly trips between 11am and 4pm.
Salt Lake Temple (Image: Getty)
4. Heathrow & Gatwick Airports - London, England
London Magical Tours runs its full arsenal of London sightseeing tours out of Heathrow and Gatwick airports. Each tour includes a qualified guide, chauffeur and vehicle to suit your group size (car, minibus or coach).
Tours should be pre-booked so the representative can greet you at the airport and begin your sightseeing experience immediately. The length and price will vary depending on the tour. Below are three recommended tours:
London Half-Day Tour (3 hours)
Take in the biggest sights of London including Buckingham Palace, Big Ben, Houses of Parliament and St James Palace. You'll have numerous opportunities to get out on the street and explore the historic sites up close.
Sherlock Holmes' London (2.5 hours)
Follow the lives of Sherlock Holmes and Dr Watson with visits to iconic locations including 221b Baker Street, Scotland Yard and a special meeting place. Conan Doyle's Practice and the Sherlock Holmes Museum are also on the agenda.
London Night Tour (3 hours)
See the city sights via car and on foot with a private guide. At night London is beautifully illuminated with old-world street lamps and bright world-famous buildings such as Harrods. Waterloo Bridge, the London Eye and Trafalgar Square are just some of the other stops.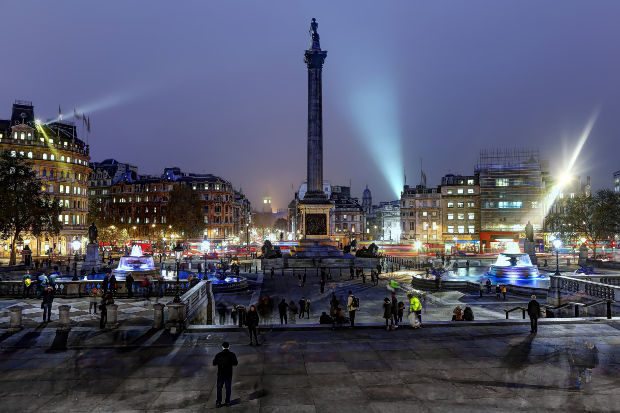 See Trafalgar Square light up at night (Image: Getty)
5. Doha Airport - Doha, Qatar
Visit four iconic Doha landmarks during a three-hour tour that includes the Museum of Islamic Art, Katara Cultural Centre, the Pearl-Qatar and Souq Waqif.
All four make up some of the city's most stunning architecture, along with showcasing Qatar's fascinating culture including jewellery, spices, art and shopping.
There are four tours a day run on a first-come-first-served basis. Visit the Doha City Tour desk, located at the beginning of Concourse B, after you land. 
Other Travel Articles You Might Like...