5 June 2015

Words by Carlie Tucker
Every time you step out the door en route to a new place, it's an opportunity to expand your business network. From new acquaintances to new clients, one of the benefits of being on the road is that it puts you in touch with a new group of people every time you travel. 
Tech savvy travellers are capitalising on this opportunity with a range of apps on offer that assist in facilitating networking opportunities. We're not talking Facebook and Twitter here. We're talking apps dedicated to all aspects of professional networking, ranging from sharing e-business cards to joining networking events around the globe.
So, without further ado, here are five free business networking apps to use on the road:
LinkedIn
Pros: Easy to use and widespread with a huge potential network
Cons: Somewhat restrictive as you depend on who's already in your network
If you're speaking about professional networking, LinkedIn is a must. This networking site is dedicated to professionals making connections via the world wide web, and the smartphone app makes it even easier to manage and meet-up with contacts in any given destination. It also features all the functions available on the website, making it easier to update your resume or load an article from the palm of your hand.
Happening
Pros: Great for meeting new people
Cons: Only available for iPhones, iPads and iPod Touch
This networking app allows you to search and locate what's happening in your local area, no matter where you are. This includes professional events teeming with networking opportunities. Or, use it to find fun events in new locations to unwind after work.  Available for iPhones, it allows you to select as many events as you like, which it will store in your calendar for you.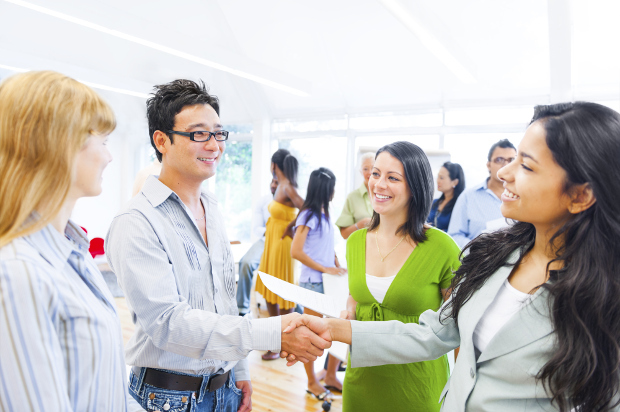 Shapr
Pros: Dedicated to professional networking
Cons: Somewhat restrictive as you depend on who's already in your network
This business networking app is purely for professionals, allowing you to meet-up with like-mined individuals that are hoping to expand their professional network. Using your network's networks, the idea is to meet new people through the people you already know, which is great for credibility and cutting out those awkward introductions with compete strangers.
Vivastream
Pros: Useful tool for big events and conferences
Cons: Only available for iPhones, iPad and iPod Touch
Have you ever stood in conference room full of people and wondered where to start? Especially helpful for younger professionals new to the networking game, this app helps you narrow down potential networking opportunities at conferences and events. Using your LinkedIn profile and a few selected tags, it will show you potential connections to assist in meeting people with similar backgrounds and professional interests. It's also a great icebreaker.
CamCard
Pros: Easy way to scan and input new contact details into your phone
Cons: Can get tripped up with different fonts and colours
Networking at big events can mean a handful  or more of business cards through the day and a night of inputting all of those details into your phone. CamCard eases the process of making new connections by allowing you to easily scan cards and input the details into your phone contacts. Along with a slew of other helpful features, it also has an e-card function to exchange an electronic version of your card if you run out of paper cards. 
Other Travel Articles You Might Like...