2 March 2016
Words by Ben Stower
I love Australia as much as any green-and-gold Digger, but I can't help feeling our country has been kept back a grade once or twice, particularly when it comes to airport terminal services.
There seems to be a lot more ingenious amenities and processes at airports up north compared to Down Under. From terminal swimming pools and sleeping facilities to rival some hotels, travellers in Australia are missing out.
Here are eight airport trends you can enjoy overseas, which we'd all prefer to have back home as well.
See the Salt Lake Temple on a layover tour in Salt Lake City (Image: Getty)
1. Layover Tours
When asked if you've visited a city, the least impressive response is along the lines of: "No, but I've been in the airport."
Layover tours are a relatively new and long-overdue practice that allow passengers with extended layovers (five or more hours) to spend two to three of those enjoying the city's sights. It's one of the best ways to combine business with pleasure.
Tours are currently running in only a handful of airports – Heathrow, Salt Lake City and Doha offer some of the best. However, we'd love to have the option of seeing a bit of Melbourne, Brisbane, Sydney, Perth and other Australian cities on our domestic business travels.   
2. Swimming Pools
With the kind of temperatures we have to endure in Australia, it's surprising swimming pools haven't become part of our airports' amenities already.
Changi airport is leading the way towards a cooler layover with its rooftop swimming pool and Jacuzzi combo overlooking the tarmac. We're not asking for a Jacuzzi or even a rooftop swim, but a place to take a quick dip would be very appreciated.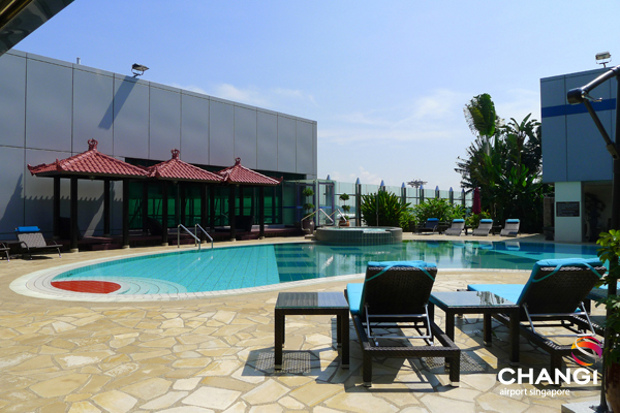 Fancy a dip between flights? In Changi you can (Image: Changi Airport Singapore)
3. Cinema
With so much cinematic entertainment now available on flights (often for free), would people even want to stare at a screen during their layover?
That's the question that has many airports turning away from installing theatres in their terminals (plus the cost of maintainence). However, Changi's free 24-hour cinema has proven to be very popular with both holidaymakers and business travellers looking to unwind.
With Australia's budget domestic airlines still withholding free in-flight entertainment, our country is a prime destination for adding a little movie magic to airports.
4. Places To Sleep
A good rest is rarely associated with flying – there's nothing too elegant about contorting your body to lay across the steel armrests on the terminal chairs. However, that might change quickly in the future with many airports around the world now employing the services of sleep pods, mini suites, snooze cubes and nap capsules.
One of the most impressive is YOTEL's futuristic cabin at Amsterdam Schiphol, London Heathrow and Gatwick, and Paris Charles de Gaulle airports.
The one-person cabin offers seven square metres of space that includes personal ensuite bathroom with monsoon shower, a pull-up work desk, flat-screen television and comfortable bed. Free Wi-Fi, tea and coffee are also available.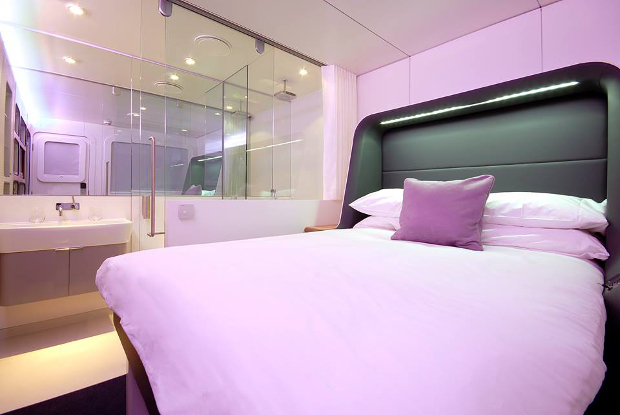 A good sleep isn't hard to find at some airports (Image: YOTEL via Facebook)
---
Just want a cosy airport lounge? Behind The Frosted Glass Doors
Recognise any of these? 5 Bad Airport Habits To Break
---
5. Experience-Based Security Lines
America's TSA has created a new queuing system in an attempt to speed up security screening at airports.
It functions similar to slope grading at a ski resort. The blue line is for beginner travellers, green for regulars and black diamond for experts. The idea is that frequent travellers who know the ins and outs of security screening won't be held up by those who don't.
Unfortunately, flyers are still able to select what line they belong in and airports have found that self-proclaimed "experts" are still causing some delays. It's still a better system than the disjointed mash-up we have in Australia. 
6. Healthcare Services
Imagine being able to take care of your annual dentist check-up, travel immunizations and other general healthcare while waiting for your flight. This is a reality in the United States where various airports around the country house health services within the terminals.
Dr Robert Trager is the dentist at New York's LeGuardia Airport, offering medical help for tooth aches, broken dentures and more. Meanwhile, Hartsfield-Jackson in Atlanta and Philadephia International both provide walk-in GP clinics.
Travel immunizations and physical therapy are also available at JFK International and Newark Liberty International.
Get you annual clean instead of waiting in the departure lounge (Image: Getty)
7. Fitness Facilities
With a growing interest in personal health, more airports are welcoming the trend in transit exercise with a range of fitness facilities.
From designated walking paths at Dallas/Fort Worth and state-of-the-art gyms, to inline skating at Zurich Airport and yoga classes, the options are surprisingly varied and fun considering the airports' restricted space.
8. Drinks-To-Go
Probably the least likely to be replicated in Australia is Nashville International Airport's airport-wide beer and liquor license.
Travellers at the airport are able to take purchased alcoholic drinks with them throughout the terminal, where there's a range of entertainment to accompany a tasty beverage.
Airport bars facilitate the licensing law by offering takeaway drinks, which can be enjoyed while getting a massage, watching live music or exploring an art exhibit. 
Other Travel Articles You Might Like...