2 July 2015
Words by Carlie Tucker
The Apple iWatch marks the latest success in wearable technology, and as demand increases so too does the amount of applications designed to make daily life that much easier. Luckily for business travellers, this means a range of new apps that simplify all aspects of frequent travel. From weather trackers to entertainment, here are eight iWatch apps that every business traveller should check out.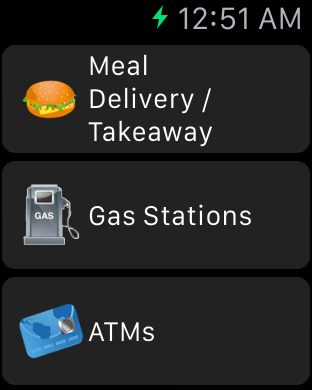 Places Around
Great for any traveller heading to an unfamiliar destination, this app allows you to search what's around you. Divided into different categories, such as ATMs, Banks, Bakeries, Bars and more, you simply select what you're looking for. Along with offering up nearby options, this app will provide the easiest route to get there.
Cost: $2.49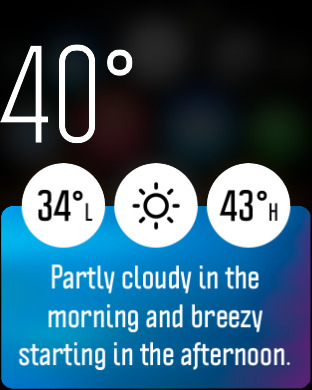 Weather Nerd
Not your standard weather app, this handy little tool could very well make you into your own personal meteorologist. Weekly, daily and beyond seven day forecasts are available with a graph that shows temperatures, rain and wind for the day. It will also provide the current temperature along with changes of precipitation, wind speed, sunset, sunrise and humidity.
If you consider yourself a bit of a weather nerd, though, be prepared with minute-to-minute forecasts and a 'Nerd Out' function that lists out all weather information you could possibly need or want.
Cost: $4.99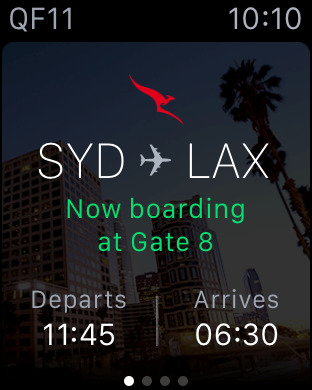 Qantas App
As you might suspect, this iWatch app gives you access to all of your Qantas flight information on your wrist. Though you may be surprised at just how much this little app is capable of. Starting before you even leave, it allows you to browse upcoming trips and create personalised timelines. It will set reminders for check-ins, allow you to get your boarding pass and provide the quickest route to the airport.  Once you've checked-in, you will receive up-to-date flight information, including boarding times and baggage carousel information to quickly pick up your bags at your final destination.
Cost: Free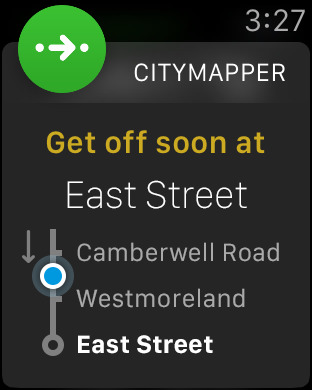 CityMapper
If you're heading overseas, this unique app will make navigating the world's biggest cities a breeze!  Available for places such as London, Los Angeles, Paris, Singapore and more, it is a journey planning app that offers real-time information on all modes of transport. This includes departure times and next available time for trains and buses. It also allows you to book taxis and keep up-to-date on weather alerts and disruptions in service.
Cost: Free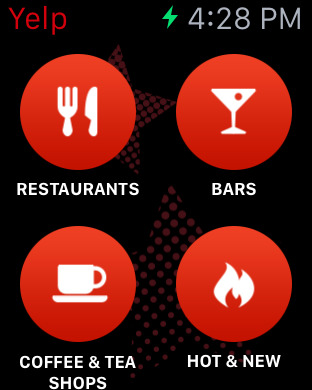 Yelp
Everyone's favourite review site has developed an app for the iWatch, allowing access to 70 million reviews for businesses across the globe. This app makes it easy to look up local businesses, search for nearby restaurants and shops and read reviews.  Don't suffer through a bad meal in an unfamiliar location ever again.
Cost: Free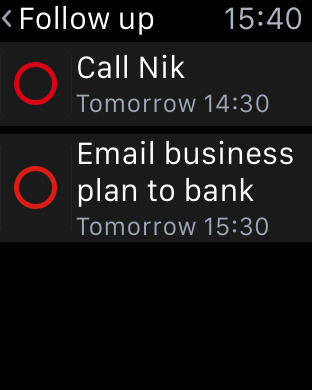 Clear
This app assists in the quest to organise your life.  Simply speaking, it's a way to create to-do lists with your iWatch. Particularly helpful for busy travellers that have to juggle multiple itineraries, it allows you to organise daily tasks with lists that can be arranged by themes. It also lets you set reminders and it's compatible with iCloud, which means you can access your lists no matter where you are.  
Cost: $6.99
Drafts 4
This app is at the more expensive end of purchasing, but it does bill itself as 'where text starts'. It allows you to take down text via dictation and distribute it across multiple platforms with a single click of a button. It's compatible with a huge number of programs, allowing you to tweet, Facebook, take personal notes, add calendar events, upload to your Google Drive or Evernote in a hurry. You can organise documents with a drafts function  as well as create texts and emails. It's also iCloud compatible so you can access your text everywhere you go.  
Cost: $12.99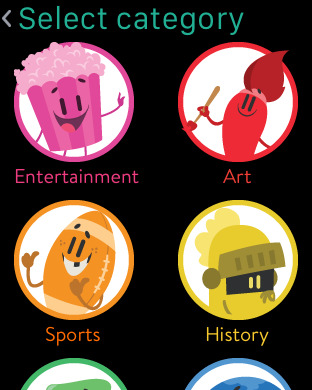 Trivia Crack
If you find yourself with the odd free minute or two and you need something to keep you occupied, this entertainment app is the perfect choice. It was one of the biggest gaming apps of the last year and is now compatible with the iWatch. It you haven't played before, the premise is simple: challenge friends or strangers to a good ol' fashioned game of triva. Questions span a range of categories.
Cost: Free
All images courtesy of iTunes
Other Travel Articles You Might Like...