29 September 2017
Long haul business travel just got a whole lot more appealing. Earlier this year Qantas announced news of major cabin upgrades across the their A380 fleet, aiming to improve the passenger experience for long haul flights.  This will include refurbishments across all cabin classes that will see seating reconfigurations, improved seating cushions, upgraded suites and Skybeds.  While the larger rollout won't be implemented for another 12 months, the first step has commenced, with the carrier already investing into upgrading the First Class sleep service offered across the fleet.
If you rack up the miles with frequent international business travel, or have an upcoming conference far afield, perhaps this is a good opportunity to put some of those frequent flyer points to good use.  A First Class sleep onboard the A380 is looking increasingly appealing with these updates, and you simply can't beat arriving rested and refreshed, ready for the work week that's ahead. Read on for some of the snugly-slumber highlights First Class guests will enjoy.
Sheridan Australia Partnership
Celebrating its 50th anniversary of creating beautiful living accessories, iconic Australian bedding brand Sheridan has partnered with Qantas.  A range of luxurious new bedding products will hit the skies from October 2017.  The impressive ensemble will include luxe linens, a duvet cover, memory foam mattress, a soft-touch bolster cushion and will be completed with a 100% combed-cotton woven throw. 
But it doesn't stop there.. another first for Qantas is the pillow menu Sheridan worked with the carrier on, offering more than the standard-issue lightweight Sheridan Ultimate Comfort Pillow of days past.  Guests will now have the added options of Memory Foam and Feather & Down Sheridan pillows. 
The full ensemble has been crafted from luxe, natural materials in soft, earthy tones to suit the First Class cabins.  Qantas Head of Customer Product and Service, Phil Capps said the bedding ensemble by Sheridan was part of the airline's continued investment in passenger comfort on long haul flights.
"A comfortable bed combined with our focus on in-flight nutrition and wellbeing are all part of our strategy to help our customers feel energised when they arrive at their destination. Sheridan is an expert in comfort and we're pleased to be working together to provide our customers in First with the ultimate luxury sleep experience."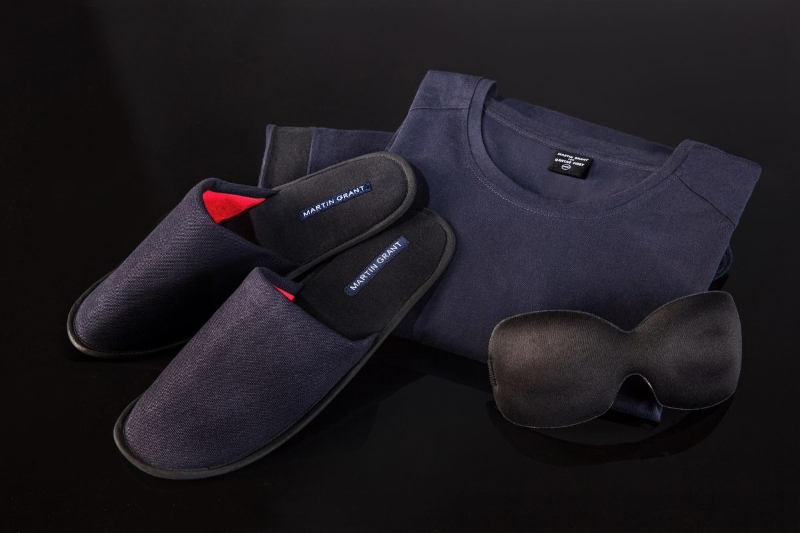 Luxe Pjs for the business traveller to sleep in style
Martin Grant Amenities
To accompany the luxe range of bedding, Qantas has partnered with Australian-born, Paris based designer Martin Grant on first class pyjamas and the holy grail of flight souvenirs - the amenity kit.  Grant has created a fresh look, incorporating subtle tones from the Qantas branding and uniforms, including a little French Navy and a dash of 'Qantas Red'.  The range includes elegant ready-to-wear pyjamas with matching socks, slippers, and a luxuriously thick, padded eye mask that looks guaranteed to block out any visual distractions. 
The highly sought after amenity kits will be offered in male and female varieties, though there is minimal difference between the two.  Included in-flight necessities like hand cream, lip balm and hydrating facial moisturiser have been carefully selected.  Australian brand Aurora Spa has been chosen for their botanical ASPAR products, ensuing guests arrive looking fresh-faced and glowing, ready to hit the ground running for a productive business trip. Along with dental kit and deodorant, these items are all contained in a sophisticated Martin Grant case. 
Grant has also worked on crew attire, injecting new life into crew and pilot uniforms, giving them a modern update to create a slightly more 'fashion-forward' image for the brand. 
These luxe additions are sure to improve the Qantas guest experience, creating the ultimate sleep comforts in the sky. Not bad for stage one, Qantas has set the scene well for what's to come for the A380 fleet in 2019. So guests can now can eat, drink, work and sleep in style, enjoying efficient long haul travel and landing ready to tackle that new deal, make the most of the a conference and return home feeling healthy and well rested.  
Other Travel Articles You Might Like...
Request an appointment with a Business Travel expert