29 June 2015
Words by Beth J. Harpaz
On a quick trip to Tucson, I had a few hours to get a look at some classic desert scenery but not enough time (or energy) for a big hike before catching a flight home.
A friend suggested Sabino Canyon, 27 kilometres from central Tucson. It proved to be the perfect fast and easy way to sample Arizona's beauty without a lot of fuss.
For the time-crunched traveller, the best thing about Sabino is that the nature trails begin just steps from the car park. I strolled the well-marked footpaths and within just a few minutes, I'd seen towering saguaro cactus, spectacular mountain backdrops and a variety of other vegetation and scenery.
I even had time to take a tram shuttle that offers a narrated tour on a loop drive. The tram round-trip is 45 to 50 minutes total but there are also a series of hop-on, hop-off stops if you have time to explore or hang out. When you're ready to go, just catch the next shuttle that comes through.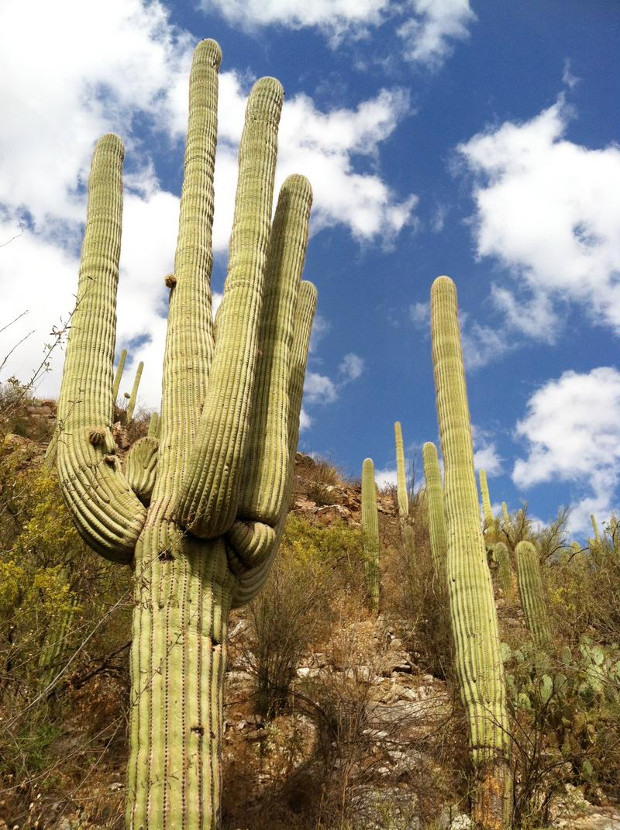 A favourite spot for visitors is a stop by a creek with a tree-shaded area.
My visit in late spring happened to coincide with that brief time of year when many cactus plants were covered with gorgeous colourful flowers, and the weather, while warm, was not unbearably hot. But one of the great things about Sabino Canyon is that even though the visitor centre is only open 8am to 4.30pm, the grounds never close.
With summer sunrises well before 6am and sunsets in early evening, there's plenty of daylight for business travellers to drop by first thing in the morning or late in the day, even if they're tied up in meetings during regular business hours.
You can take a jog, a stroll or just a quick selfie with a cactus in the background (watch out for thorns!).
After-hours visitors in the summer will also have plenty of company. Intrepid locals visit Sabino at all hours to avoid the midday heat, even making nighttime visits by flashlight.
"What we typically see early in the morning and later in the evening are the local folks who come to walk for exercise or ride their bikes," said Heidi Schewel, spokeswoman for the US Forest Service's Coronado National Forest, which includes Sabino Canyon.
Sabino also attracts visitors from around the globe. "It's world-class scenery," Schewel said.
A few things to keep in mind:
Allow 40 minutes for the 27-kilometre drive from central Tucson.
Summer temperatures can climb over 38C. Be sure to wear sunscreen and a hat and drink plenty of water.
Beware of nocturnal wildlife, including venomous snakes. "A lot of them will come out at night to warm themselves on the pavement of the road, so people need to be watching where they're going, but you can see them in plenty of time ahead of you," Schewel said. "We just urge people to be careful where they put their hands and feet. Use common sense and have a great time."
If You Go...
SABINO CANYON RECREATION AREA: 27 kilometres from central Tucson, Arizona. Visitor centre open 8am to 4.30pm. The $5 (A$7.50) parking fee is required even when the visitor centre is closed; use self-pay stations
SABINO CANYON TRAM TOURS: Tram tours: Monday-Friday, 9am-4pm, departing on the hour; weekends and some holidays, departures every 30 minutes from 9am-4.30pm. Schedule varies by season so check for details. Adults, $8; children 3-12, $4. Night tours offered June 29, June 30 and July 1 at 9 p.m. by prepaid reservation only, with additional night tours in September, October and November.
Copyright (2015) Associated Press. All rights reserved. This material may not be published, broadcast, rewritten, or redistributed.
This article was written by Beth J. Harpaz from The Associated Press and was legally licensed through the NewsCred publisher network.