30 August 2015
Words by Hugh Morris
From an art form to a Nick Cave book, aircraft sick bags have a more colourful history than you might think.
Isn't it crazy to think that you used to be allowed to smoke on a plane? Or that pre-1970 nobody really checked your luggage?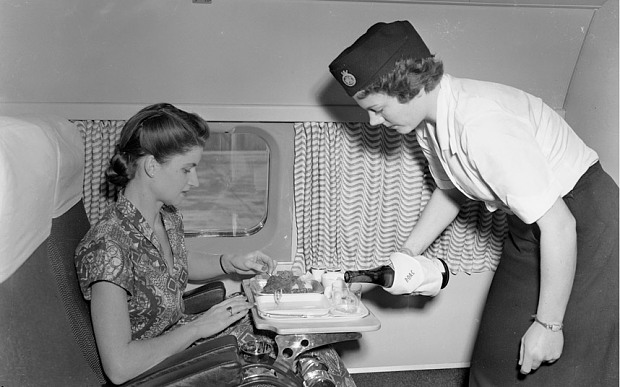 Now it's only a matter of time before you travel from the airport terminal to your plane seat, tagging bags and all, without actually coming into contact with another human being. Oh, how flying has changed.
Yet there remains a stubborn constant – the humble air sickness bag.
Invented by American plastics innovator Gilmore Tilmen Schjeldahl in 1949, the plastic-lined receptacle has been a regular fixture in your seat pocket ever since.
And still to this day, despite a myriad of technological advances in aviation and cost-saving measures by low-cost carriers, they still provide reassurance to anyone prone to airborne nausea they will not be left to catch anything nasty in cupped hands. Lovely, isn't it?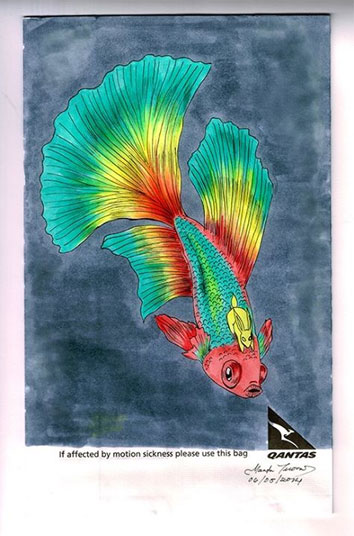 The bags (and not a lot of people know this) were originally meant to be used to store food, but were first used as sick bags by American carrier Northwest Orient Airlines (which merged with Delta in 2010), before becoming standard across the industry.
In some respects, they arrived too late as it was not long after their introduction that pressurised cabins became commonplace, allowing planes to take higher, smoother routes and alleviating much in-flight nausea.
Prior to jet liners, air sickness was also exacerbated by cabin air tinged with a strong gas and oil scent, prompting experts to seek a cure.
In 1928 the New York Times proclaimed that air sickness could be tamed through "anti-airsickness fumes" that mixed oxygen with a pleasant cinnamon scent. While in 1929, the Guggenheim Fund, an aviation body, claimed that air sickness was actually a psychological state and could be cured by increased confidence in flight.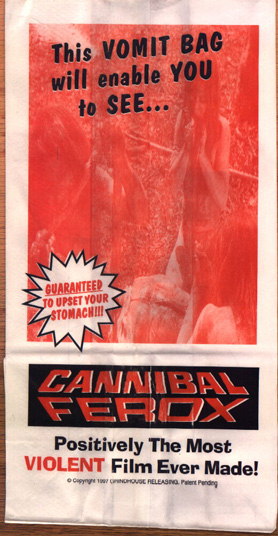 Perhaps all that was needed to induce that confidence boost was a small, paper-plastic bag in front of every seat.
Because, let's be honest, when's the last time you saw someone actually be sick into a sick bag? It's a comfort blanket.
Remove the bags from the planes, alert the passengers and they would probably lose their heads and start being sick like it was going out of fashion. It's just amazing it's still part of the furniture today.
One of the reasons, perhaps, that the sick bag has remained a staple part of air travel is that it has become a much-loved item, playing the role of blank canvas, advertising hoarding and muse. Here are a few examples: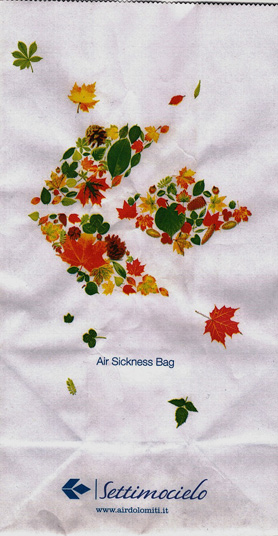 • The Air Sickness Bag Virtual Museum, curated by Steven J Silberberg, exhibits more than 2,600 different sick bag designs. The site includes a "most wanted" section for bags Silberberg most desires.
• Niek Vermeulen holds the world record for the largest collection of sick bags - 6,290 from 1,191 different airlines and almost 200 different countries. The Dutchman has been collecting them since the 1970s. Good for him.
• Last year, Australian airline Qantas held a competition to find the best sick bag artwork from its passengers.
• 10 years earlier in 2004, Virgin Atlantic introduced a series of 20 limited edition sick bags, in association with the charmingly-named and now obsolete designforchunks.com website. The bags reportedly did not last as long as expected on the company's aircraft as everyone took them home as souvenirs. However, the designs were later framed and displayed in the airline's lounge at Heathrow.
• Some airlines, including Spirit Airlines, have used the bags to generate advertising income. Virgin Atlantic promoted the Star Wars film Episode III: Revenge of the Sith on its bags in 2004.
• Earlier this year, Nick Cave, of Nick Cave and the Bad Seeds, released a new book called The Sick Bag Song, which chronicled his 2014 North American tour through scribbles on airline sick bags.
• In 2009, Ryanair boss Michael O'Leary raised eyebrows by suggesting passengers might have to pay for a sick bag .
• If you want to start your own sick bag collection, there are more than a few designs up for grabs on eBay .
This article was written by Hugh Morris from The Daily Telegraph and was legally licensed through the NewsCred publisher network.
Other Travel Articles You Might Like...