18 January 2016
Words by AFP Relaxnews
A simple redesign of the traditional backpack that moves the outer zippers against the wearer's back to keep thieves at bay is collecting accolades left, right and centre for its smart design.
After raising nearly four times her original goal of A$95,000 in a Kickstarter campaign that was launched a year ago, Briton Sarah Giblin has made her dream of creating a more secure backpack a reality, with shipments of her anti-thief RiutBags delivered for its first holiday season.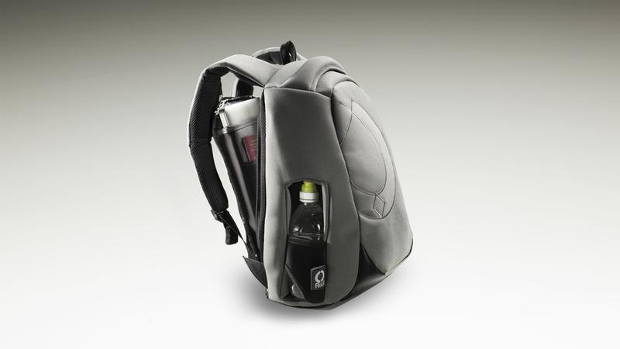 The idea is simple: the backwards backpack hides zippers and pockets from prying fingers by moving them to the back of the bag.
"The person behind you can get into your backpack more easily than you can. That's an unnerving design fault in our busiest towns and cities, travelling with expensive devices which access even more valuable data," wrote Giblin on her Kickstarter page.
"So I turned the backpack round. No outer zips; they're all against your back."
Bags are made with water-resistant materials and features include hidden strap pockets, handy for transport tickets; compartments for laptops and letter-sized documents; passports, keys and wallets; and pen holders.
The first shipments began arriving to consumers and Kickstarter supporters around the world in December.
The ingenious design generated significant media interest and earned Giblin the Golden A'Design Award 2015 in the category of fashion and travel accessories.
Popular tech blog Gizmodo also included the RiutBag in their list of the top 20 most innovative Kickstarter campaigns.
Giblin says she came up with the idea out of necessity as a regular backpacker commuter between London and Reading, and frequent flyer between England and Germany, who saw a glaring design flaw.
"I'm not a bag designer by trade. I was simply a rucksack user," she said.
"I believe users are perfectly placed to spot design faults and come up with simple, user focused solutions."
Another major Kickstarter success story for frequent flyers this year is the Baubax travel jacket, also described as the Swiss Army knife of jackets with 15 pockets and features sewn ingeniously into hoodies, bomber jackets and blazers that include eye masks, neck pillows, pockets for earphones, soda, sunglasses, iPad and phone.
Meanwhile, the RiutBags come in two sizes - slim, 10L bags for city living and larger 15L bags - and are available in grey and black.
The next worldwide shipments are scheduled to launch in February.
Copyright AFP Relaxnews, 2015.
This article was from AFP Relax News and was legally licensed through the NewsCred publisher network.
Other Travel Articles You Might Like...