8 April 2015
Words by Mike Tuckerman
Rugby World Cup 2015 is less than six months away, with the tournament already attracting unprecedented attention from rugby aficionados.
A general sale last September saw almost a million tickets purchased, with Australia's pool-stage clash against England at Twickenham alone generating a staggering 650,000 applications.
That makes Australia's showdown with their fierce rivals one of 2015's must-see sporting events and Flight Centre is one of the lucky few official travel agents still in possession of ticket packages.
With tickets for the October 3 showdown in short supply, it's no surprise that many businesses are snapping them up for clients and employees.
If the Wallabies thought facing England in their pool stage was tough, coach Michael Cheika may consider himself cursed after Australia was also drawn in the same pool as Wales.
That means the Wallabies will face two of the Northern Hemisphere's toughest outfits in a Pool A also featuring unpredictable South Pacific fliers Fiji and South American qualifiers Uruguay.
Nevertheless, former Wallabies captain and two-time Rugby World Cup winner John Eales says that Cheika knows how to get the best out of his players.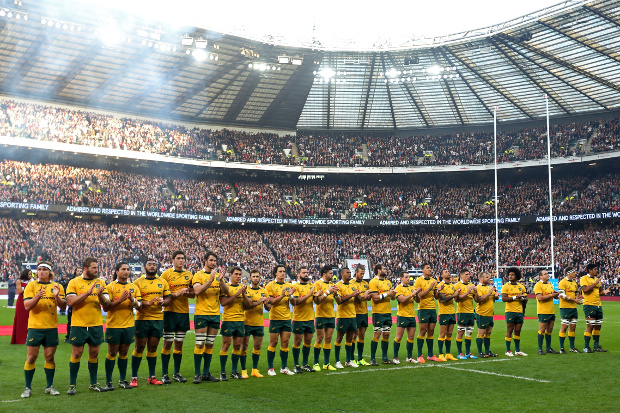 "He wants to play a confronting game. He wants to play an attacking game," says Eales of Cheika's game plan in the build-up to Rugby World Cup 2015.
"He's relentless in his pursuit of standards within the team… and I think that's important."
The tournament marks the second time England will host a Rugby World Cup Final, with 10 English cities and Cardiff in Wales all set to host matches at one of the year's most anticipated sporting events.
Australia will be thankful its Pool A clash with Wales on October 10 takes place in London rather than Cardiff's Millennium Stadium – even if Eales famously lifted the Webb Ellis Cup there in 1999.
Despite meeting the Welsh in the neutral confines of Twickenham, the Wallabies are nevertheless likely to be confronted by a sea of red in the stands, with Welsh fans set to decamp en masse to the English capital.
Wallabies fans hoping to out-sing their Welsh opponents will no doubt enjoy the experience of trying to do so in one of world sport's most famous venues, with the 82,000-capacity Twickenham long regarded as the spiritual home of rugby.  
"Twickenham's a great place to play," says former skipper Eales. "The typical Twickenham crowd really knows and understands rugby. They roll with the flow of the game, they understand it fully and they get caught up in the emotion of it."
Fans can also immerse themselves in the typical Twickenham matchday experience, with the pretty riverside suburb brimming with traditional English pubs and well-appointed boutique hotels.
Despite being drawn in a tough pool, Wallabies coach Cheika will no doubt expect his side to nab a top-two finish and advance to the knock-out stages.
While the all-conquering All Blacks go into the tournament as red-hot favourites to claim a second successive Rugby World Cup crown, the Wallabies would no doubt dearly love to beat hosts England in their own backyard.
Few Australian fans can forget English fly-half Jonny Wilkinson's dramatic extra-time drop goal to win Rugby World Cup 2003 and break hometown hearts in Sydney.
"It's great to playing games at Twickenham, but it's even more special when you beat the English at Twickenham," explains Eales.
If revenge is a dish best served  cold, then Wallabies fans will hope it's blowing an icy gale at Twickenham come October 31.
Flight Centre is an official travel agent for Rugby World Cup 2015.