15 March 2015
Words by Natalie Paris 
With the new Apple Watch on sale in April, airlines and travel booking websites are developing apps that aim to make travellers' lives easier.
The main benefit for holidaymakers wanting to splash out an on Apple Watch when it goes on sale on April 24, is that air passengers will be able to wear their boarding passes on their wrists.
Travellers will also be, in theory, less likely to miss a flight or face a last-minute, mad dash through the terminal as a "gentle tap" motion on their wrists will alert them to boarding gate closing times.
EasyJet is one airline that is designing an app for the Apple Watch. It says the Passbook boarding passes will be convenient to access around the airport.
The "Glances" feature of the watch will allow the easyJet app to provide personalised flight information and a "countdown" to boarding.
This will include pre-departure information, check-in detail, up-to-date local currency exchange rates, the weather in your destination and "real time" flight status.
Passengers will also be able to send tweets on Twitter and post to Facebook at various stages of their trip directly from the watch face, easyJet said. This could include countdowns to departure as well as sharing destination weather – one of the most annoying holiday brags, according to a recent survey on social media trends.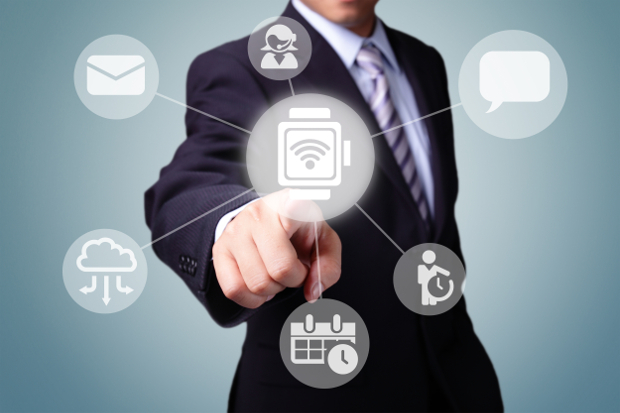 Hotel chains are also getting in on the act. Starwood, for example, is developing an app that will display the owner's room key, so that guests will need only to swipe their wrists over their room door to enter.
The Starwood Preferred Guest app will be available at more than 150 W Hotels, Aloft and Element properties around the world.
American Airlines has also designed an app for the watch which includes details of baggage claim and connection details.
TripAdvisor's app meanwhile will recommend restaurants that are nearby and have been highly rated by users. Expedia's will let users check itineraries, with flight and hotel information, including check-in and -out times.
Ryanair's innovation lab said it is looking to build a prototype app for the smartwatch that will, at the earliest, be ready in June.
This article was written by Natalie Paris from The Daily Telegraph and was legally licensed through the NewsCred publisher network.
Other Travel Articles You Might Like...