7 September 2016
Words by Carlie Tucker 
Brisbane Airport passengers  could be strolling through the terminals to the soothing sounds of the Queensland Symphony Orchestra (QSO) this year. As part of the Artist-in-Residence program, the domestic and international terminals will feature six pop-up performances, with three set to take place before the end of the year.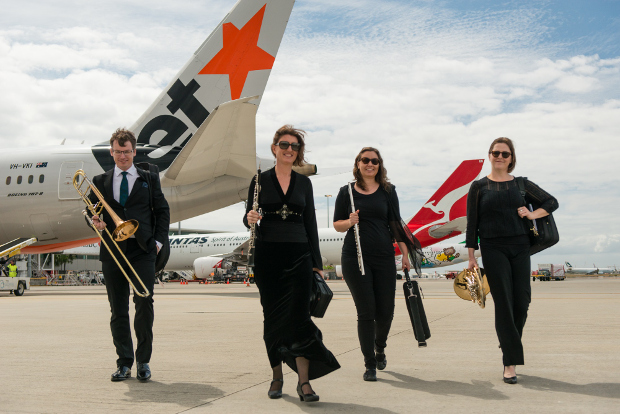 Launched last year, the Artist-in-Residence program is a first for Australia and aims to champion the arts across Queensland by featuring significant artists and performers from the area. The airport has long been a supporter of the arts as a major investor in projects and organisations from music and theatre to ballet, exhibitions and festivals. It has commissioned dozes of works to create one of the largest collections of public art in Australia.  
There's a growing awareness of Brisbane as a city dedicated to the arts, and Queensland as a cultural destination, and we want to add momentum to that," says Brisbane airport Corporate CEO and Managing Director Julieanne Alroe.
---
Looking for more news about the Brisbane Airport?
Q&A With Brisbane Airport CEO Julianne Alroe
Brisbane Airport: Food And Beverage Winner
---
"We are extremely lucky to have an abundance of creative artists and performers in our own backyard and, through our Artist-in-Residence program, we're able to showcase these talents to a broader audience and hopefully inspire visitors to our city and indeed locals to take a closer look at what Queensland has to offer."
QSO is known for its classical and modern compositions, engaging audiences of all tastes and ages. It is the largest performing arts company in the state and the only professional symphony orchestra. They will bring a new element of excitement to travel through the award-winning airport, a task they're more than happy to undertake. 
"The experience of hearing orchestral music live is like the anticipation people feel at an airport – there's the excitement of new places and new sounds as well as the memories and warm embrace of family, much like the feeling you get when you hear your favourite pieces of music," says QSO Interium Chief Executive Rodney Phillips. 
QSO marks the second artist to be featured in the program, which was launched last year. The renowned orchestra follows realist painter Robert Brownhall who created a series of works featuring different views of the airport. This includes passenger, aircraft and landscape views.
Other Travel Articles You Might Like...