27 September 2015
Words by Lindsey Tanner
You're in downtown Chicago on business, spent all day shivering in an over air-conditioned hotel meeting room, now finally free to roam the city streets and maybe find a decent happy hour spot.
Forget the boring bar scene and head along State Street to the south side of the Chicago River and down the concrete stairs under the Chicago Riverwalk sign. Follow the path to the right, under and beyond the bridge and you'll find an unlikely music-lover's oasis called The Hideout.
In nice weather, the riverwalk is a great hangout along the Chicago River, which cuts right through downtown. The walk features bike and kayak rentals, al fresco outposts of popular city restaurants, and new since this summer, free music at The Hideout, a prettified version of its original incarnation, a divey old-time bar and beloved music venue/hipster hangout 6.5 kilometres northwest of downtown.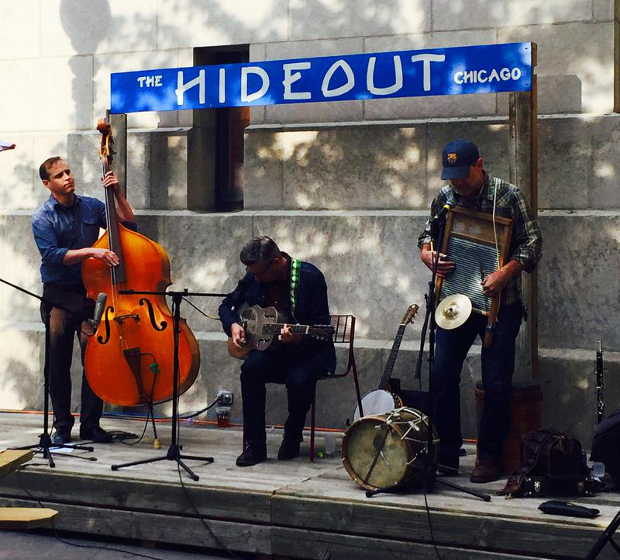 The old Hideout is located in an industrial area adjacent to a city garbage truck park. The new Hideout by the river has a more upscale, less intimate feel but the same great selection of eclectic top-notch local music acts, four nights weekly from 5:30-7:30pm and 1-3pm Sundays.
Drinks are fairly cheap, just like the original, and there's a small selection of food, including tacos on Tuesdays. The location, shadowed by the Trump Tower and an iconic bridge, features a small outdoor stage and indoor ping-pong table.
"It's kind of an alternate reality compared to the (real) Hideout," said Joel Paterson, a virtuoso jazz, blues and rockabilly guitarist who plays in several Chicago bands.
He plays Tuesdays at the river outpost with Devil in a Woodpile, a rootsy jug band-like group. The frontman is Rick Sherry, aptly described by his record label as a carnival barker-singer who plays harmonica and washboard and gives the group its unique sound.
On a recent Tuesday evening, tourists and business travellers joined locals on the outdoor picnic tables, tapping their feet in time.
"It's a neat new thing," Paterson said of the riverside digs. "I still like the old Hideout better, but I'm lucky I get to play in both places."
Copyright (2015) Associated Press. All rights reserved. This material may not be published, broadcast, rewritten, or redistributed.
This article was written by Lindsey Tanner from The Associated Press and was legally licensed through the NewsCred publisher network.
Other Travel Articles You Might Like...