12 June 2018
For anyone who hasn't been to the Sunshine State's capital city in recent years (even months), let the record show that Brissie is no longer the small sleepy town she once was. Brisbane city has come into her own in recent years with a spate of hotel openings, hip cafes, coworking spaces and designer shopping popping up all over town, it's the perfect city for every type of business traveller.
Whether you're after a swanky hotel bar or creative laneway cafe Brisbane's got what you need just a short stroll away.
Where to go for your breakfast meeting: Felix For Goodness
Felix for Goodness on Burnett Lane is a must visit – a charming architect designed café by day and wine bar on Friday night. Carved out of an old record storage room, Felix is the perfect place to kick start the day.
This trendy cafe encompasses the laneway culture of Melbourne in Brisbane's CBD, serving up freshly baked items such as egg and prosciutto tarts and feta, herb and kale scones alongside regular breakfast fare like avo on toast. A great way to woo a prospective client or simply start the day in an interesting and creative space.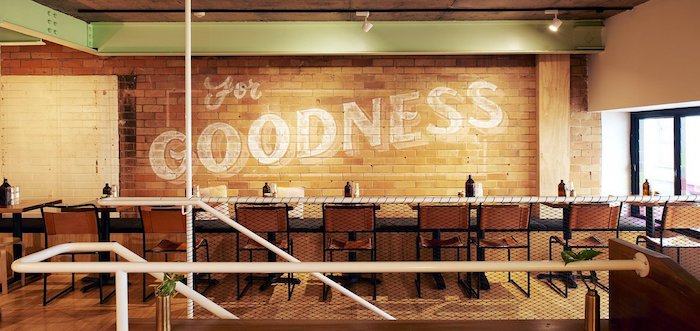 Felix For Goodness cafe and restaurant on Burnett Lane, Brisbane. Source: Felix For Goodness.
Alternative destinations for a lunch time meeting: GOMA  
To get both your clients to think outside the box and demonstrate your personal creative approach to a project why not take your meeting outside or in one of the city's unique spaces.
Places like Brisbane's Gallery of Modern Art (GOMA), Spicers Balfour, a charming Queenslander-turned-hotel tucked away in New Farm's stylish suburbia or one of the city's many creative co-working spaces that have popped up in recent months?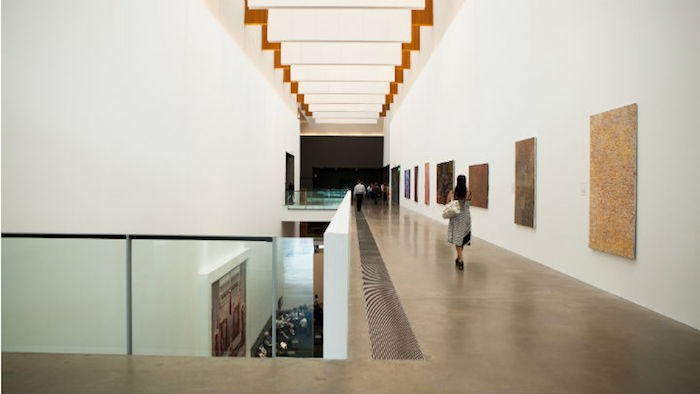 Gallery Of Modern Art. Source: Brisbane Marketing.
RELATED: 16 of the Best Aussie Co-working Spaces to Work at When Travelling 
Where to have after work drinks: The Gresham
Housed on the ground floor of the historic NAB Building, The Gresham is a whisky bar and ode to yesteryear with chesterfield couches, rich mahogany furniture, and historic photos on the walls. Perfect for every type of business traveller wanting to impress.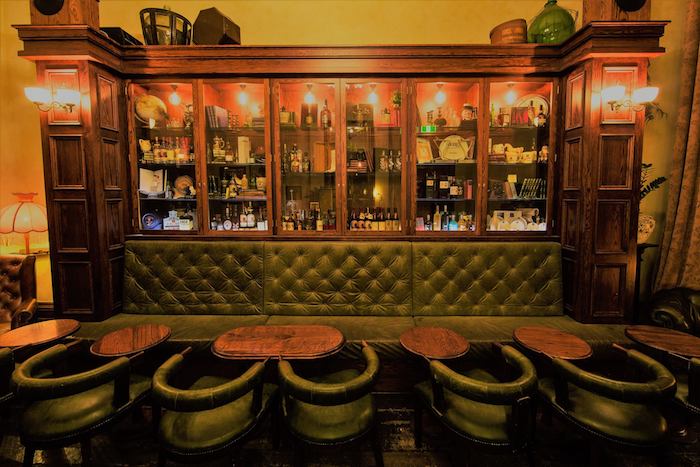 Plush lounges and wooden interior make up the interiors of The Gresham. Source: The Gresham.
Food delivery when you don't want to leave your hotel room:
Room service vs. Food delivery services
Hotel guests and especially time poor business travellers increasingly prefer to order their eats from takeout restaurants rather than from room service. Many hotels haven't been able to cater to guests' late night dessert or pasta cravings in the past however picking up on this trend, some are now collaborating with food delivery services directly to provide their guests with more local restaurant options.
How does it work?
For instance, Quest Apartment hotels and Deliveroo have partnered up to create Australia's first on-demand room service. The participating hotels will be stocked with in-room Deliveroo menus and guests can call guest services to order. The cost will be added to your final bill to pay on check-out.
Other delivery apps to consider when travelling are UberEats, Foodora and Menulog.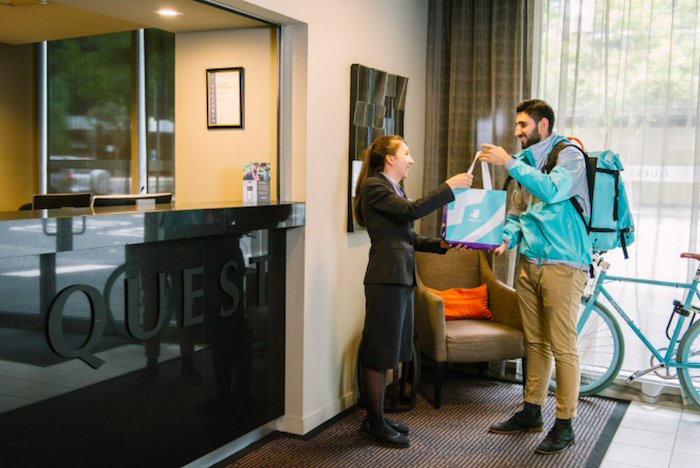 Deliveroo x Quest Apartment Hotels partnership. Source: Quest Apartment Hotels.
Getting around: Uber + GoCard
It's probably safe to say that most travellers are familiar with the super convenient ride sharing app Uber, though it can be  more difficult to use in some Aussie cities than others to find a ride. Brisbane is not one of those. There are plenty of drivers in all parts of the city so you can feel confident opening the app in and around the city.
However, during peak business hours like 7-9am and 5-7pm, traffic can be heavy in and around the city making the bus and train system a quicker and more convenient option, which is where the handy GoCard comes in. Where Sydney has the Opal card and Melbourne has the Myki, Brisbane has the easy to use GoCard which can be purchased at newsagents and topped up at bus and train stations around the city.
Other Travel Articles You Might Like...