30 December 2015
Words by Renae Robinson
Not everybody's office is the ocean, and not everybody's business trip is a stretch, but that's the case for Noosa-based Stand-Up Paddleboard (SUP) Yoga instructor Kat Harding. Her unusual occupation has taken her around the world, from the beaches of the Maldives to retreats in Croatia – and it's not even her day job.
Between working full-time in human resources, Kat teaches SUP Yoga and beach yoga, as well as training other yoga teachers in SUP Yoga, holding pop-up yoga events and retreats, and presenting at Wanderlust festivals. "I know the benefits of yoga and I love that SUP Yoga gives you an option to get outdoors, to try something new and to really have a great experience in nature," Kat says. "You don't get that in many sports, and you don't get that in many different forms of yoga, either. It's really beautiful to be on the water, surrounded by nature, removed from everyday life."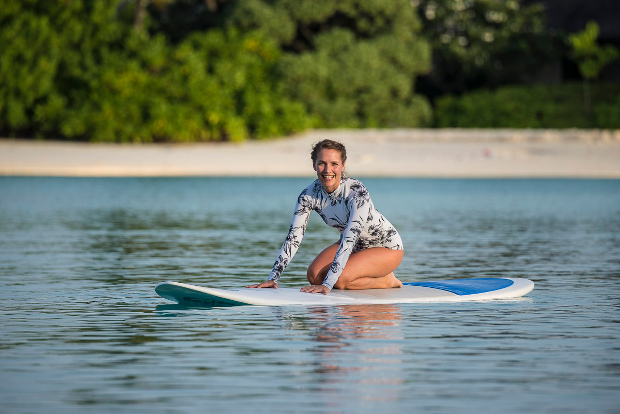 Kat spent three months in Europe in 2015 teaching yoga and travelling, as well as finalising destinations for retreats there. She also travelled to the Maldives to teach the yogis at the Four Seasons Resort Maldives at Kuda Huraa the art of SUP Yoga. Here she takes us on a whirlwind tour of her business and travel experiences.
Why SUP Yoga?
From my experience, it certainly aids co-ordination, it helps with balance, and it helps with strength because you have to activate the right muscles to stay in the position. We do have a lot of people who've never done yoga or SUP Yoga and they're usually fine. We do try to keep everyone on the board.
Why travel?
Part of my experience that I want to provide to people is about being somewhere really beautiful and effortless that you have everything you could possibly need in the one spot. You don't need to spend a lot of money other than on getting there.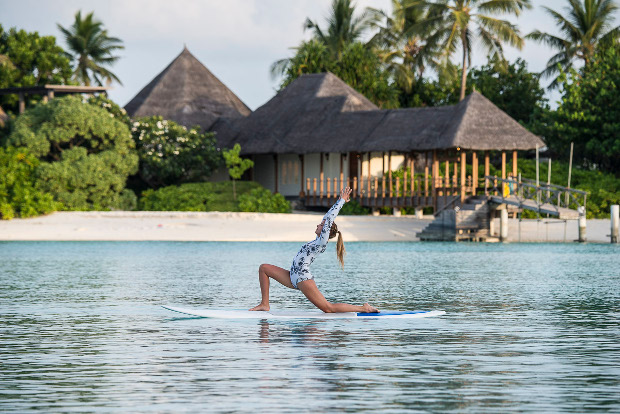 What retreats are coming up?
I'm going to be running a SUP Yoga week-long retreat in Croatia in July next year; plus two weeks of retreats in Greece after that. I've potentially got two weeks in Fiji, as well; and we've also got Wanderlust back in the Sunshine Coast in October next year. If I can fit it in, I'll do some pop-up yoga in London.
How often do you travel for business and where do you go?
This year I've been to Sydney, the Maldives, England, Croatia.
What are your tips for travelling for business?
Wear compression leggings. Particularly for long-haul flights, I like to be comfortable. I like to be able to sleep. I like to reduce the swelling that I get sometimes when I fly. And for muscle recovery, if you're moving as much as I do.
I always take my own water bottle with me and fill that up wherever I am, if I can. That helps the environment, really, and me to stay hydrated.
Book in advance, particularly with flights because they become a bit more expensive when you get closer. And plan your transfers in advance, when you book the destinations. Because there's nothing worse to get somewhere then have no idea how to get to your hotel or to your next destination.
---
Time out: Airports Are Installing Yoga Rooms To Help You Relax Between Flights
Keep your cool: Quick Fixes For Stressed Travellers
---
What are your must-pack items?
Well for where I go, swimmers are a must-pack, my yoga wear, and sunscreen is probably a big one, as well.
Any little rituals before you fly or when you arrive?
I try to always do some form of exercise, even if it's gentle, before I get on a flight. When I get there, for me, it's usually about getting my feet up, relaxing, and not just going straight into work.
Do you have favourite airlines, hotels or airports?
I love flying with Emirates, I think their service is really great, and Dubai airport is massive so there's plenty to do on stopovers. After my Four Seasons experience, I would definitely recommend the Four Seasons resorts all over the world. It's not just about the destinations they choose or the accommodation but they way that they're staffed and the way they treat you is incredible.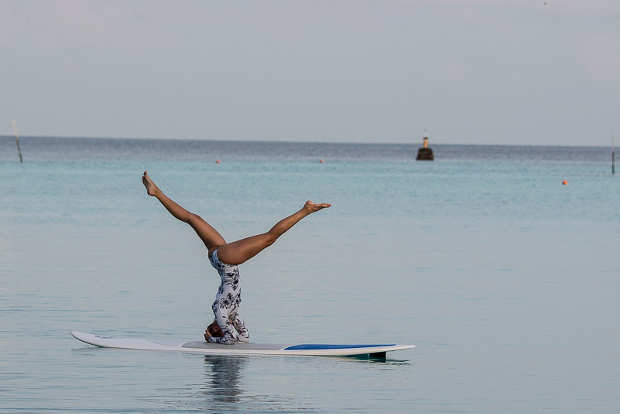 Tips on staying balanced/healthy on the road?
My yoga practice definitely plays into that but also having a good book to read so when you're in transit, rather than doing work, you take the time to actually chill out and read a book and tune out.
How can others incorporate yoga into business travel?
Ergonomically, it's really great to give the top of your spine and your chest and shoulders a bit of a stretch whenever you get off a flight – heart openers like taking your arms behind your back and opening your shoulders are always really great.
Also, some yoga stretches that open the hips a little bit, so a cross-legged seated position helps. Pigeon pose is a great one to open the hips, particularly after a flight; and low lunges, as well. If you've been particularly stressed, that will break the pattern of the stress reflexes you have down the front of your body.
Take the time to take a few deep breaths when you're in transit, or when you're on the flight. Just focusing on your breath, acknowledging that you've got where you meant to be and on your leg to where you're heading next is really great. You're rushed heading into the airport so when you do get a chance to stop and take a deep breath, it feels really good.
* Images courtesy of Joli Photos
Other Travel Articles You Might Like...