15 April 2015
Words by Jason Dutton-Smith
Whoever said the golden age of travel is lost, clearly hasn't taken advantage of the spate of business class deals of late. Once reserved for the uber famous celebrity or the business elite, business class today is more accessible, and affordable, than ever before. With frequent flyer programs allowing point collection on everything from shopping, to putting petrol in the car and paying the bills, business class has suddenly become a realistic option for many.
The Australian skies are more competitive than ever when it comes to travel in the pointy end of the plane, and airlines are looking at enticing passengers with added services and greater convenience. Here we look at the airlines offering a business class cabin from Australia to great destinations around the world.
Qantas
Qantas has recently introduced a new turn down service for their award winning Skybed seat.  Passengers  can advise lounge staff prior to departure and the always efficient cabin crew will have your seat arranged with the mattress pad and blanket ready for sleep when you step onboard the aircraft.
The flagship A380 aircraft has a business class lounge with dining options designed by the Rockpool crew with an online selection able to be pre-ordered with Q-Eat.  Entertainment is displayed on 12.1 inch personal TV screens with noise cancelling headphones.
Virgin Australia
Known for friendly service and attention to detail, the international business class cabin on Virgin's long-haul fleet of 777-300ER aircraft provide six-foot-two flat beds in a dedicated cabin.
Personal TV screens provide entertainment on the award winning Red system coupled with noise-cancelling headphones. An exclusive Luke Mangan designed menu sources the best local produce which are matched with a diverse selection of wines. Lounge access and limousine service are available on select business class fares.
By end of 2015 a new business class seat and design will be introduced including a redesigned bar area where passengers can mingle mid-flight.
Etihad Airways
A recent rebrand has seen the flying experience reimagined by Etihad with new business Studios and Business Suites onboard the carriers aircraft.  Flat-beds with mattress pads, pillows and duvets plus cotton loungewear and slippers are provided in both suites and studios with mood lighting offering a relaxed cabin.  
Contemporary dining is served on china with a Dine Anytime option available to all guests. Menus include full a-la-carte options plus bistro style choices or all-day menu on longer flights. All perfectly matched with fine wines and liqueurs. Personal entertainment TVs up to 18-inches offer a wide choice with over 750 hours of on demand choices.
Emirates
Flat-bed business class beds are available on the carriers flagship A380 and most Boeing 777 aircraft. Space to work with a side table, individual mini bar, in-seat power at every seat and Wi-Fi are available on Emirates next generation style of seating.
Gourmet meals from locally sourced produce are served on Royal Doulton bone china with exclusive Robert Welch cutlery. An extensive wine list matched to meals is available along with complimentary cocktails, champagne, beers, spirits, and hot and cold drinks. Entertainment is on personal TV screens or join fellow travellers at the in-flight bar, fully stocked  with bar tender service and selection of canapés served throughout the flight.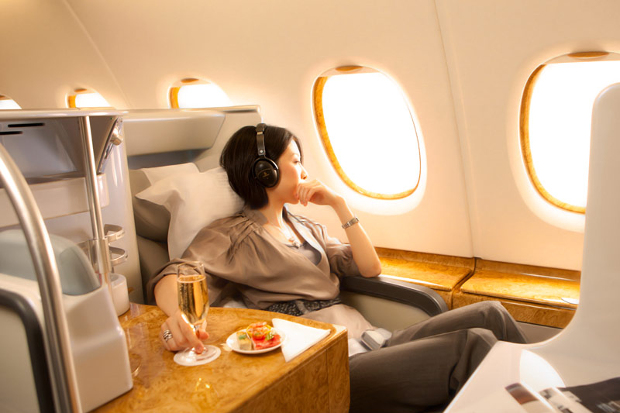 Air New Zealand
Business class is offered on the airlines wide-body 787, 777 and 767 aircraft, for travel between New Zealand, Pacific Islands, Asia, North America and UK. Flat-bed seats offer 22-inch wide leather armchairs which convert into a six-foot-six bed - one of the longest in today's skies. Mattress, duvet and full size pillows are all included.
Kiwi chef designed and created gourmet meals and snacks are available all day matched with crisp New Zealand and international wines. A 12.1-inch personal widescreen touch screen TV will keep you entertained for countless hours with noise-cancelling headphones. All coupled with the famous kiwi hospitality.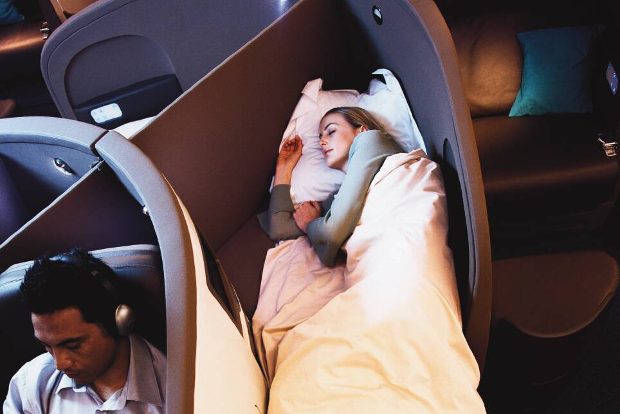 Singapore Airlines
Boasting the most room and widest business class seats in the world, the Singapore Airlines business class seat on long-haul flights are a luxurious experience. Full flat beds, personal desk space with award winning entertainment and gourmet meals are just the beginning.
Book the Cook is a unique service that enables passengers to pre-order their meals to be specially prepared. Over 60 dishes can be chosen from which have been designed by an international culinary panel. Large 15.1-inch wide LCD screens provide hours of entertainment with USB ports and in-seat power available at every seat.
Cathay Pacific
A new business class cabin on Cathay's long-haul aircraft feature full flat beds that lay flat just over two metres long, A unique bed extension in the lay flat position provides an additional 6.5 inches of hip support. The arm rest is also able to be pushed down into a locked position providing even further shoulder room. A side storage area has room for smaller items including headphones, glasses and other gadgets and features a vanity mirror. The small compartment when open doubles as a privacy screen.
A world of entertainment is available with noise-cancelling headphones on a 15.4-inch personal TV screen with entertainment featured in 10 languages. A multi-connector port allow streaming of audio and video from your own personal device to your TV screen. Restaurant style meals with fine wines are served throughout the flight.
Thai Airways International
Business class cabins are inspired by the rich and diverse culture of Thailand. On Thai's long-haul aircraft - A380, 777 and 787 - a 180 degree lie-flat bed with back and lumbar support with bedding is available for sleeping. Seats have a 15-inch personal TV screen with an entertainment library with over 100 movies with hours of music at your finger tips.
Gourmet meals can be ordered prior to departure with a full bar service offering fine wines, spirits, liqueurs and beers. Royal Silk Lounges provide a sanctuary from the airport terminal with meals and spa treatments available at select airports.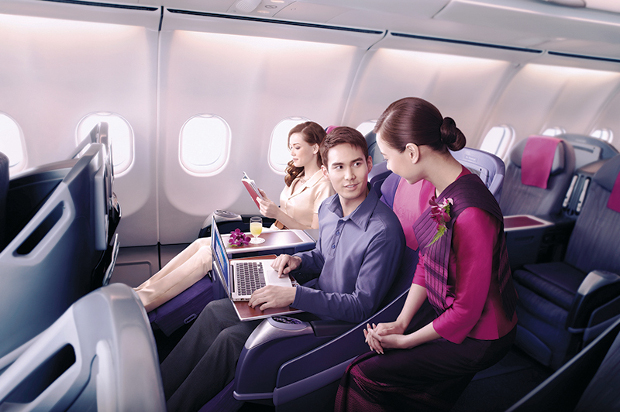 Malaysia Airlines
Large business class seats that recline to an angled flat-bed with plenty of leg-room are offered in a dedicated cabin with room and space to work or relax. Meals are available with a chef-on-call service with the menu featuring 25 gourmet  meals to chosen from.  Meals are matched with a selection of wines and other beverages.
Fares include a 40kg baggage allowance with two pieces of hand luggage able to be taken onboard. Lounges are available world-wide with showers, meals and beverages plus free Wi-Fi.
Other Travel Articles You Might Like...