28 July 2015
Words by Cassandra Laffey
One of the life goals of frequent flyers is perfecting the art of packing light by fitting all your travel needs into the one piece of carry-on luggage. For business travellers, streamlining your airport check-in process by bypassing the baggage carousel means getting home or to your hotel sooner. Creating a stylish capsule clothing collection is ideal for jet-setting gals who need their working wardrobe to do double-duty in the boardroom and at the bar. By choosing key pieces in durable fabrics, you can have your carry-on and wear it! Whether you work in a creative environment, or need to suit up at the office, here are the MVPs of your capsule wardrobe for travel.
Before you start packing, consider the length of time you will be away, the climate in your destination, and your itinerary and activities. For international travel, ensure your toiletries and makeup are in permissible amounts and housed in a clear plastic bag. To maximise your capsule wardrobe, make sure each item you pack can be worn with at least one other item. Good fabrics for travel include quick-drying and crease-resistant materials such as polyester, Lycra and nylon or natural fabrics blended with synthetics. Depending on your destination and trip, some active wear and swimwear can also be packed. And don't forget your sleepwear!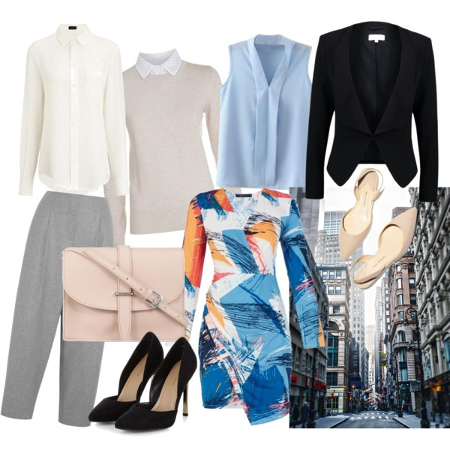 Image: Polyvore/cassandralaffey
Strictly Business:
If wearing a suit is non-negotiable, these clothing combinations will ensure you have office-appropriate attire for day and alternate garments for dinners or informal gatherings. Pack two dresses (a jersey wrap dress is a flattering and popular choice), three tops (think a classic, collared shirt, knits and a sleeveless top) and one bottom (a skirt or pants), along with two pairs of footwear. If you are travelling to a cooler climate, add a blazer or coat. Accessories, such as a statement necklace or patterned scarf, can also make an outfit transition from day to night.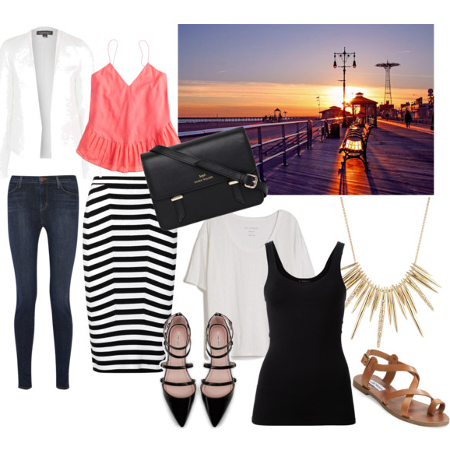 Image: Polyvore/cassandralaffey
Creative Licence:
Even in a more relaxed work environment, you still want to exude style while travelling. To contain your capsule wardrobe to carry-on, opt for three tops (a linen tee, a camisole or tank top and a knit is ideal), two bottoms (a skirt and a pant) and a dress. Pack a pair of heels and flats, or for a hotter climate, a pair of wedges and sandals may be more appropriate. Denim is a great fabric for travel as it can be worn in most climates and is also wrinkle-resistant. For summer destinations, look for breathable fabrics such as linen, rayon and silk, but opt for a blend to avoid creasing.
Other Travel Articles You Might Like...