Cathay Pacific's Improved Hong Kong Lounge Is Perfect For Business Travellers
25 May 2016
Words by Ben Stower
Business travellers flying with Cathay Pacific will find a new sanctuary awaiting them at Hong Kong International Airport with the airline recently revealing its refurbished First and Business Class lounge, The Pier.
The Pier was first opened in 2001 and was overdue for the facelift, which Cathay describes as "understated luxury". The overall area is 1,000 square metres larger than the previous lounge (total of 3,306 square metres).
This emphasis on space suits the new design style, which strives to remove guests from the stresses of travel and engage them with unexpected comforts.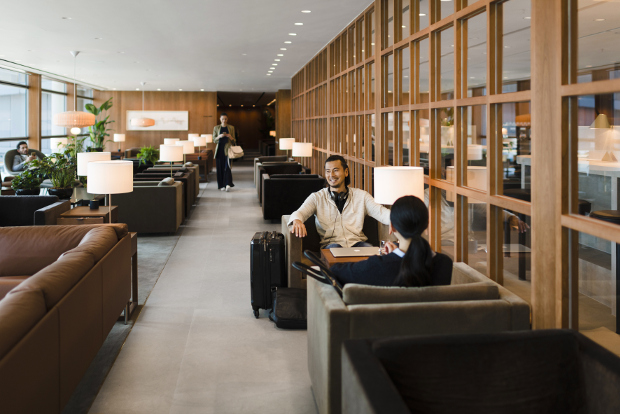 Image: Cathay Pacific
Fast Or Slow?
When first entering The Pier you're naturally prompted to place yourself into one of two groups: fast or slow. This design was inspired by Hong Kong street life (with a touch of luxury of course), with the 'street' breaking into 'fast' and 'slow' lanes.
This enables travellers to visit the lounge at their desired pace. And for business travellers with less time to spare it can mean the difference between serenity and a stress headache.
Choose the fast lane and you'll be immediately directed through the lounge's food offerings. Included among these are The Food Hall with self-serve kiosks and a coffee cart modelled off Asia's street food carts, and The Noodle Bar, which sells noodles, dim sums, buns and more.
Opt for a slower approach to first visit The Pier's lounge area with views over the runway and large individual couch seating. These 'Solo Chairs' come with a side table and built-in reading lamp, perfect for catching up on work or unwinding with a book or movie.
The Pier's abundance of plant life and natural materials is evident regardless of what lane you select, both of which culminate in another highlight: the wellbeing area.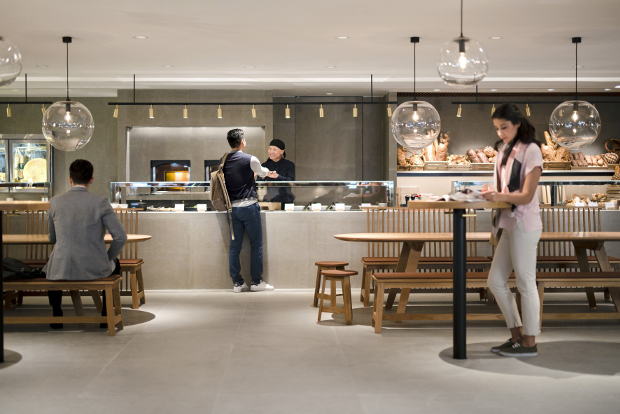 Image: Cathay Pacific
---
More business travel advice on airport lounges
The Best Lounge Features For Business Travellers
Best Airline Lounge Spas Around The Globe
---
A Place To Refresh & Relax
You'll recognise your entrance into The Pier's wellbeing area once you reach the Tea House. Possessing a quiet, library-esque atmosphere, the Tea House features an interactive menu that lets you see and smell the teas before committing.
If you have trouble deciding, you can call upon the tea specialist, who will recommend one of the 11 available teas to suit your tastes.
The wellness area also includes 14 shower suites accompanied by the Relaxation Room. This particular room dims the lighting and softens the noise, providing a space where you can peacefully snooze on low upholstered loungers.
Combining all these complementary elements together, The Pier delivers a rare environment for an airport; one that soothes, revitalises and sends forth the travelling professional utterly relaxed for the flight ahead.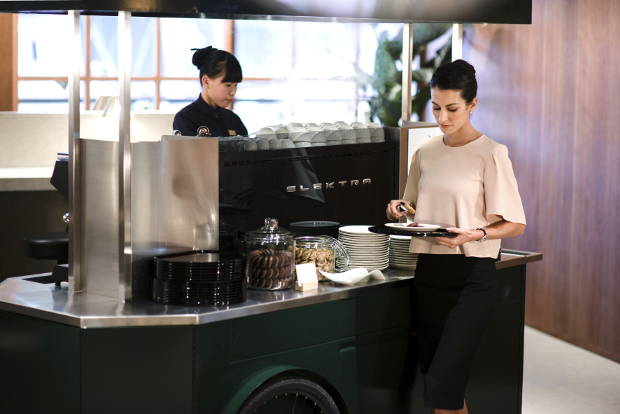 Image: Cathay Pacific
Crucial details
The Pier is located at Gate 65 in the North West concourse of Hong Kong International Airport
Admittance is granted to first- and business-class passengers, Marco Polo Club Silver and above members, members of all tiers who earned lounge passes, and oneworld Emerald and Sapphire members.
5 reasons business travellers will love The Pier
The Bureau home office with 10 iMac computers, desk chairs and individual lighting
A full-service bar, along with hot food, desserts, fruit salads and more in the Food Hall
Coffee from Illy Coffee at the Coffee Cart, served by a barista
Lounge seating equipped with power and USB sockets
Wi-Fi throughout the lounge
Other Travel Articles You Might Like...