31 December 2015
Words by Simon Calder
Our survey of public transport links to the UK's leading airports shows a dramatic variation in fares: from A$5 for the bus between Liverpool city centre and John Lennon Airport, to almost 10 times as much aboard the Gatwick Express from London. But there are cut-price alternatives for Britain's seven busiest airports.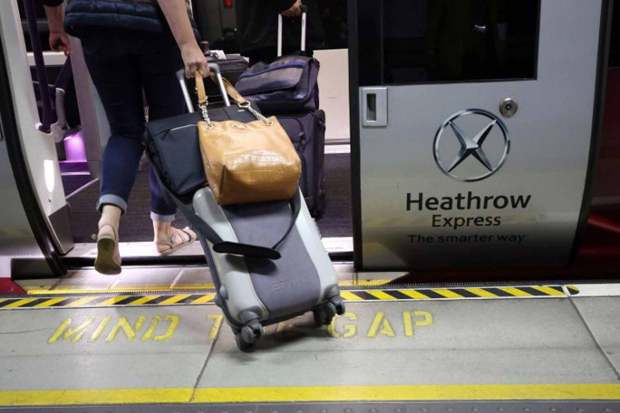 Heathrow
For our survey, we used the most popular form of transport, the Tube ($7 from the centre, using a contactless card). In contrast, the Heathrow Express is the most expensive airport link in Britain ($45 one-way). But book 90 days in advance and you can get a return ticket for $26.
Cheaper still, take the N9 night bus ($3), which leaves central London every 20 minutes between 11.30pm and 4.50am, taking 82 minutes to Terminal 5.
Gatwick
Off-peak, the Southern train from London Bridge costs $20; Thameslink opens up London St Pancras as well as Blackfriars for $23. You could buy both for less than the $42 for a single Gatwick Express ticket.
Manchester
The train and tram both cost $9.50. But bus No 43 costs only $7, though the trip takes 65 minutes.
Stansted
Book a month ahead and the $40 one-way Stansted Express costs just $18; a week in advance, it's $27.
Luton
With no rail station at the airport (it's two miles away at the bottom of the hill), direct bus options from London look enticing; easyBus has frequent departures from Victoria, Marble Arch and Liverpool Street for $4 if you book sufficiently far in advance. The firm also serves Heathrow, Gatwick and Stansted.
Edinburgh
What's the difference between the last two stops on the tram line to the airport? About half a mile, and $8. To and from the airport, passengers pay a flat $12. Any other journey, including to/from the next stop along, Ingliston Park and Ride, is $3. Take a 10-minute walk and save.
This article was written by Simon Calder from The Independent and was legally licensed through the NewsCred publisher network.
Other Travel Articles You Might Like...