13 September 2015
Words by AFP Relaxnews
The Internet is pretty much agreed: An ingenious design for a multi-functional travel jacket may claim legitimacy to being the world's best travel jacket after all, now that the project has raised nearly 460 times its original fundraising goal, to $9.2 million (A$12.5 million).
BauBax Jackets, designed with 15 features that include everything from a built-in eye mask, inflatable neck pillow, gloves and storage pockets, has managed to spark the world's interest and become the fourth most funded project in the history of Kickstarter, at time of writing.
That's out of a database of 250,000 campaigns.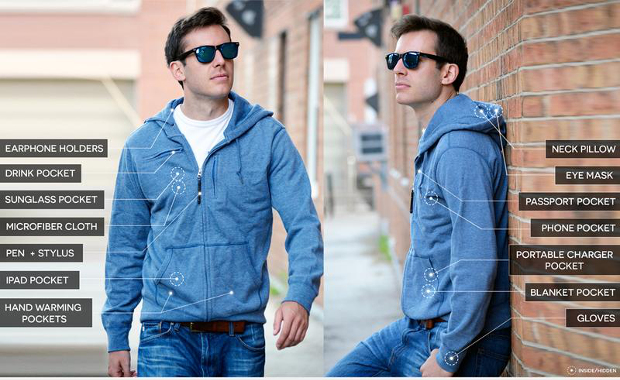 The Chicago-based firm also claims its design, which could be called the Swiss Army Knife of jackets, is the most funded clothing project in the history of crowd funding.
Since first launching in July on Kickstarter, the jacket's ingenuity has managed to sell itself, attracting nearly 44,500 supporters to contribute and help the entrepreneurs get the product to market.
The original prototype is an impressive feat of sartorial engineering.
Lined inconspicuously in unremarkable sweatshirt hoodies, bomber jackets, blazers and windbreakers are cleverly hidden utility pockets that can carry everything from tablets, phones, water bottles, soda cans, earbuds, passports and sunglasses.
Likewise, an eye mask, gloves and a telescoping pen pocket are sewn straight into the jacket. An inflatable pillow is discreetly tucked away into the hood and can be inflated in two seconds, and deflated with the press of a button.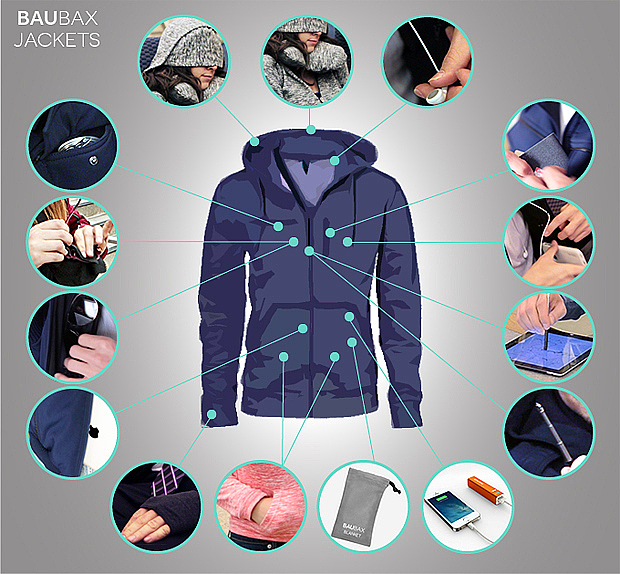 The blazer is made of a wrinkle-free fabric and also features a removable hood.
Meanwhile, the surplus money raised will go towards creating new jacket features, including the addition of a water-resistant Smartphone pocket big enough to hold the largest iPhone (6 plus) and Samsung phone (Note 5).
The entrepreneurs are also giving fans the final word on the jacket design through online polls: Instead of a single button, for instance, the women's blazer will feature two, while voters expressed preference for a red bomber over a military-style jacket.
The jackets, which start at $149 (up from $89 in the original pitch) are available for pre-order on Indiegogo and will begin international delivery in December..
Copyright AFP Relaxnews, 2015.
This article was from AFP Relax News and was legally licensed through the NewsCred publisher network.
Other Travel Articles You Might Like...