10 July 2015
Words by Tara Young
Wil Valor really puts the tailor into tailoring. For this 10 year old company it's all about your individual style.
Mark Ferguson, company founder reaffirms the mantra that at Wil Valor it's not about changing your style, just using experience and expertise to enhance it.  
Mark's impetus to establish the business in 2005 arose from his personal need to transition from the sporting arena into the corporate world.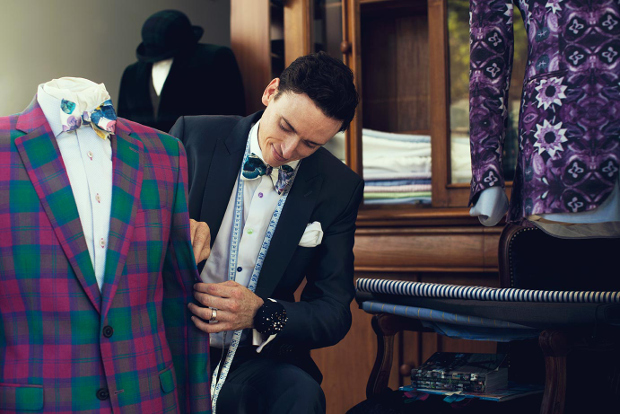 "I was a 6' 5" skinny basketball professional looking to start working in the business sector, and I just couldn't find anything that fit.
"And looking good in the work environment is not about being vain or shallow; it is about looking and feeling professional.
"Over the last 10 years I believe there has never been so much emphasis on men's grooming, and if you're not a buy-off-the-rack type of person, you should still be afforded every opportunity to look your best at work.
"Since 2005 I have been delighted to work with and in this growing trend, and we have gone from strength to strength. We now have three franchise partners with more to come in the next 12 months," Mark outlined.

KISS frontman Paul Stanley
Will Valor's signature attention to design and their fabric selection hasn't gone unnoticed, catching the attention of a number of celebrities. This includes music maestro Nile Rodgers ( who has worked with such names as  Madonna, Pharrell Williams and Daftpunk); Luke Kennedy (runner up to "The Voice Australia"); and rock and roll legend and KISS front man, Paul Stanley.
"Paul Stanley contacted me initially to make some alterations on a Dior suit that he had bought in Sydney. I did those and I offered to make him a real statement jacket.
"He readily agreed, and was over the moon [with the results]. So much so, he has since ordered another one.
"I really take pride that for our clients, tailor-made clothing is perhaps the only option, but for others it's about the quality, uniqueness and the customization of garments that are hand-made.

The Voice finalist Luke Kennedy
"We are all about expertise and each of our Style Advisors is highly trained. They advise the correct colours for you; they advise the correct style for you; they obtain the correct measurements; and they give you the correct fit."
So where to from here for Mark and Wil Valor?
"My vision of success is that Wil Valor will be a nationally recognised menswear label, and that we continue to grow with like-minded business partners.
"I envisage one of those partners as Flight Centre Business Travel being front and centre of our growth. As a part of this trajectory, I know we will be doing significant business travel and working with Flight Centre Business Travel has been a delight with their flexibility and responsiveness to all our business travel needs." 
Other Travel Articles You Might Like...