15 March 2015
Words by AFP Relax News
In a sign of the times, digital detox vacations are growing increasingly popular among travellers who are recognizing the need to unplug and reconnect with the world offline but may need some help to cut off the ties.
In the US last week, a band of digital detox crusaders launched a movement aimed at weaning people off their devices, an event they've called National Day of Unplugging.
On March 6 and 7 in cities like San Francisco and Los Angeles, for instance, overnight 'Unplug' retreats began to re-train participants on how to stop obsessively checking their email, log off Facebook, and enjoy the moment, sans Instagram and Twitter.
The rules are simple yet possibly daunting: "No phones, no digital cameras, no work talk, no networking."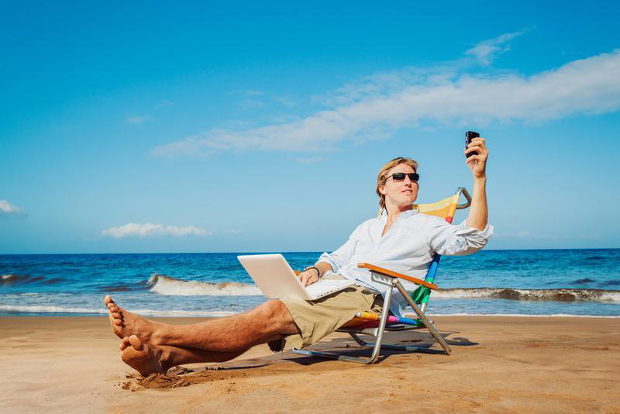 The events are organised by the same group which hosted the first Camp Grounded last year, billed as a summer camp for adults that required guests to check their phones, laptops and tablets at the cabin door in exchange for a few days of yoga, workshops, arts, crafts, campfires and sing-alongs. The next retreats are scheduled for May.
It's not just a hipster, hippie phenomenon either.
More and more luxury hotels and resorts are trying to lure the overworked and digitally oppressed with detox packages that will firmly - but gently - ask guests to surrender their devices at check-in.
Earlier this year, the Four Seasons Resort Hampshire, for instance, launched a Digital Detox Spa Retreat designed to help guests recharge and develop a healthier online-offline life balance.
To distract guests from worrying about the email they may be missing, and stamp out the compulsive need to Instagram every moment of every day, guests are treated to a bespoke 90-minute Sodashi therapy that includes foot cleanse, full body exfoliation, and deep massage; an hour-long yoga session, and use of the property's tennis courts and mountain bikes.
Digitaldetoxholidays.com also offers hotels and vacation ideas in three categories: pre-packaged detox vacations; tech-free destinations where Wi-Fi, phones and TVs are not offered; and for the true addicts - those who can't be trusted with temptation - "highly disconnected" destinations that have no cell reception.
To maintain a relaxed and stress-free environment along its Seven Mile Beach, for instance, the Grand Cayman Marriott has imposed a ban on mobile phones and electronic devices.
And at the Westin Dublin in Ireland, guests can voluntarily check themselves into a Digital Detox package that involves surrendering their electronic devices in a safe. In exchange they receive a "detox survival kit" that includes a board game, walking map and tree-planting kit.
Copyright AFP Relaxnews, 2015.
This article was from AFP Relax News and was legally licensed through the NewsCred publisher network.
Other Travel Articles You Might Like...