20 September 2015
Words by Adrian Bridge
Passengers using the Eurostar service from London to Brussels this month have been given a glimpse of the future – and seem to have liked what they've seen.
The glimpse has been in the form of journeys in one of the slick revamped - and renamed - e300 trains that the company has brought into operation as part of a A$2.2 billion program to modernise a fleet that first went into service in 1994.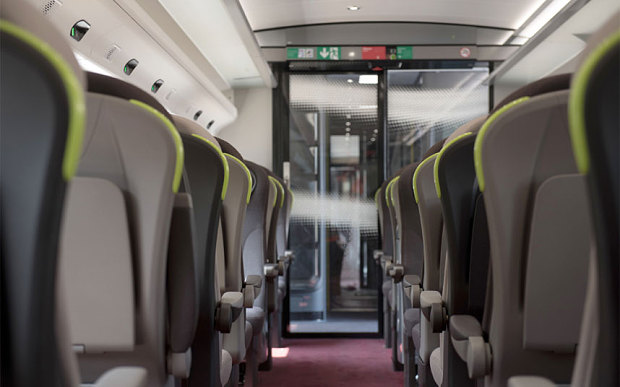 The e300 is not strictly speaking new, but is rather a completely modernised version of the Class 373 train that has been plying Eurostar's key routes between London and Paris and London and Brussels for more than 25 years.
Its introduction is the forerunner of far greater changes ahead - the phased introduction into service later this year of a 17-strong fleet of completely new state-of the art Italian-designed trains built by the German company Siemens.
The revamped e300 that began services earlier this month on the London-Brussels route has been refashioned along the same lines as the e320s that are to come.
Gone are the somewhat dated, cramped interiors of the original trains' standard class compartments and in come new ergonomically-designed seating areas, fashionably grey liveries, extendable seat cushions, redesigned fold-away tables, more passenger-friendly luggage racks, new above seat displays to indicate which seats are free and a wider provision of baby-changing facilities and touch-free taps in the toilets.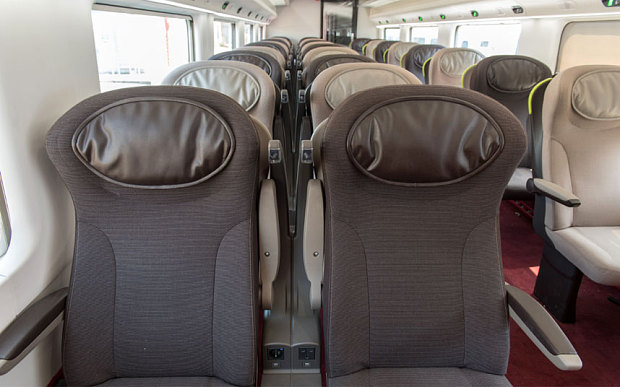 Even in Standard, all seats have power sockets that can accommodate British and continental plugs, and, although not yet operational, full Wi-Fi connectivity.
In Standard Premier, each seat also has a USB socket and extra space; Business Premier has a host of further refinements, including a red carpet.
The new look won glowing praise from Mark Smith, the man behind the train enthusiasts' website (named after his favourite Eurostar seat).
"Internally it's unrecognisable - most passengers will think it's a brand new train," he tweeted after seeing the e300 for the first time. "Superb job!"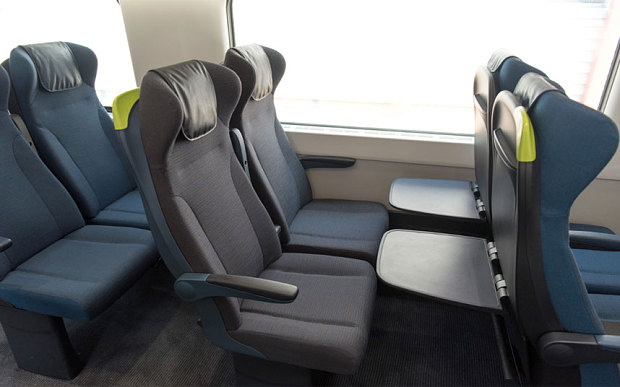 At the moment there is just one e300 in service and it is being rostered on all of Eurostar routes – covering London, Paris and Brussels, but also Lille, Lyon, Avignon and Marseille. Its routings are not being publicised so passengers wanting to sample the new-look and feel will just have to hope they are lucky.
By the beginning of 2016 the second revamped e300 should be coming into play and there could be more ahead. (Eurostar has not yet said how many of the old trains will be given the e300 treatment.)
But by the end of this year far greater change will have come when the first of the 17 brand new e320 trains comes into operation. The trains' new look has been fashioned by the Italian design house Pininfarina, and with a top speed of 320kph, the journey time between London and Paris will be cut to just two hours.
Eurostar spokeswoman Lucy Treble said passengers hoping to be able to use Wi-Fi on board would not have much longer to wait as it is due to come in with the first of the e320 services and will also from that time be operational in any e300s.
Twenty-first century comforts and connectivity needs aside, British lovers of high speed train travel will have something else to celebrate looking further ahead: the start in 2017 of a direct Eurostar service between London and Amsterdam.
This article was written by Adrian Bridge from The Daily Telegraph and was legally licensed through the NewsCred publisher network.
Other Travel Articles You Might Like...