15 May 2015
Words by Tara Young & Lisa Bjorkesten
Flight Centre Business Travel (FCBT) is delighted to have a great bilateral working relationship with King Content, a global content marketing company. Both organisations share an understanding of the business travel space.
FCBT are ensuring King Content have a seamless business travel experience, and King Content are assisting FCBT to share their story to the business travel community.
With a growing global presence, King Content's travel needs are also expanding and this is where FCBT has slotted in to ease this company's growth trajectory.
The recent launch of King Content's New York office, its fifth globally, illustrates how both organizations combined their unique expertise for a unique storytelling event, accompanied by a few drams of whiskey. And what other way to hear about the whiskey and the power of storytelling would there be unless it was from the master Irish storyteller - Ciaran O'Donovan of Pernod Ricard.
"King Content is all about storytelling, and so I'm going to tell you some stories," said the perfectly waist-coat clad Irishman (in that universally appealing dulcet accent), before ushering everyone there to 'nose' the whiskey that had just been handed out.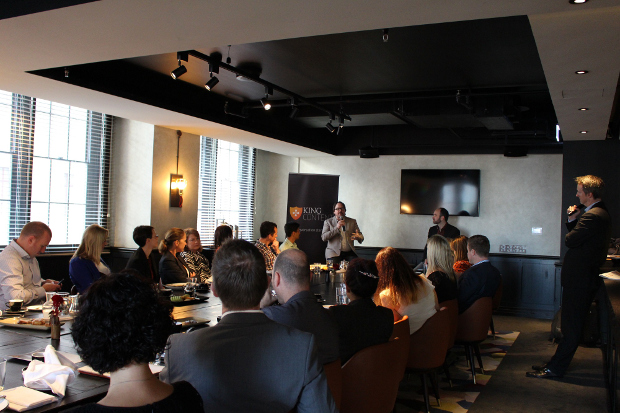 In fact, it was the night of April 23, 2015, at Tribeca Grand's Church Bar – the night that marked the official opening of the New York office for King Content, a growing global content marketing agency. Together with partner NewsCred, King Content gathered a select crew of marketers from industries ranging from finance (leading banks and insurance companies) to retail (top beauty and fashion brands),  including tech, e-commerce, CPG, health, media, liquor and not-for-profit groups to celebrate the launch.
"So from where does whiskey originate?" Ciaran O'Donovan questioned. Despite almost breaking down over shouted answers of "Scotland", rather than his beloved homeland, Ciaran went on to tell equal parts funny, equal parts intriguing tales of the history of the amber liquor. With interesting tidbits like…    
Did you know, with a license to distil Irish whiskey from 1608, the Old Bushmills Distillery in Northern Ireland is the oldest licensed whiskey distillery in the world? And did you know that here in the United States whiskey was used as currency during the American Revolution? Or that the whiskey excise and the Whiskey Rebellion of 1791 contributed to the formation of political parties in the US?
Heck, who even knew there were so many diverse types of this supposedly simple, distilled alcoholic beverage?
Ciaran took the audience through some of Pernod Ricard's finest – from Jameson Black Barrel, with its notes of exotic fruity sweetness, and the almost sherry-like Redbreast 12, on to the spicy, honey-flavored Powers Gold Label. He regaled them with tales and history of each before allowing us to nose and finally sip them. Each drop tastes all the more intriguing for the stories that precede it.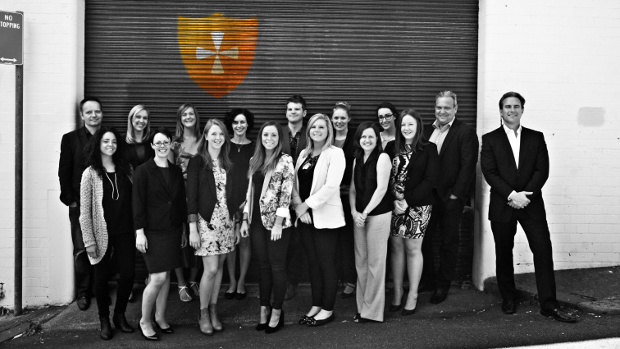 In a mere 20 minutes, Ciaran had artfully educated many of those present, who previously had not much of a clue between whiskey and bourbon, let alone between a single pot still and a small batch grain. In the time it took to sip a classic Old Fashion, Ciaran had – ever so subtly – shown them first-hand the power of storytelling to bring a brand or product to life, to make it all the more meaningful and, ultimately, desirable.
As one guest eloquently put it, as they retired to hear the jazz band in The Lounge, everyone chattering 10-to-the-dozen about wanting to try more whiskeys, asking where they can get their hands on their favorite of the samples:
"Imagine if he'd stood up there and said, 'I'm here to sell you Irish whiskey. I have all these bottles, different labels – 25 per cent off, who wants them?'
We'd mostly have turned our heads back to our wine and conversation. But instead he captured 100 per cent of our attention with highly engaging, entertaining stories, helped truly experience the tasting and – whaddya know – in the end made just about every single one of us want to buy whiskey, without overtly spruiking a single drop!"
And thus, the centuries old art of Irish storytelling is alive and well and a perfect reminder of how brands can, to this day, creatively leverage one of the oldest arts to add meaning, experience and desirability to their product or service.
King Content "get" the importance of storytelling and courtship that modern consumers expect to develop a direct and personal relationship with the brands they use and trust.
In recognition of this consumer expectation, King Content has put together a team that is made up of journalists, editorial specialists and social media experts.
King Content have worked and are working with some of the biggest brands in the world: McDonald's, Lenovo, Thomson Reuters, Canon, Woolmark, Kelly Services, and of course Flight Centre.
Flight Centre Business Travel is delighted to have a great bilateral working relationship with King Content, where both businesses "scratch each other's backs" by using their special skills and understanding of the business travel space.
Other Travel Articles You Might Like...