9 December 2015
Words by Carlie Tucker
Flight Centre's Business Travel Managers live and breathe travel every day. With access to the world's leading airlines and extensive experience in planning and booking airfares and accommodation all over the world, our travel team are your one-stop shop for work or play. So, when it comes to talking FCBT, these guys and gals know their stuff.
We're picking their brains one dedicated Travel Manager at a time. This week we're doing a quick Q&A with Clair O'Mahony, getting to know who's behind the FCBT philosophy while covering everything from business benefits to top travel tips for the corporate traveller.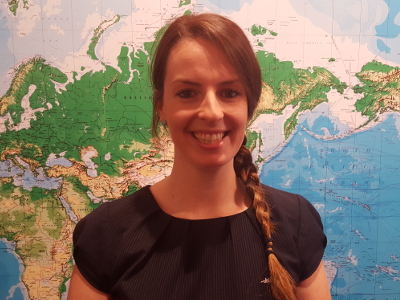 Name:  Claire O'Mahony
Title: Team Leader
Shop:  FCBT Direct King Street
How long have you been with Flight Centre Business Travel?
Five years and two months.
What drew you to FCBT?
I already had a small to medium-sized corporate portfolio that I was booking out of a regular leisure retail Flight Centre store, so I was approached to enter the FCBT brand.
At that stage, I wasn't that familiar with what my day-to-day would look like, but I needed a change and was willing to take a risk. I already loved the corporate side of things so I was willing to give it a shot. I thought, "if it doesn't work then I can always go back to retail right?" I have never looked back.
---
Find out why you need a Travel Manager. FCBT vs Booking Online: Why You Need A Travel Manager
And just how much they can do. 11 Surprising Things  Your FCBT Travel Manager Can Do
---
What is your favourite part about your day?
 I know I should probably say my customers here, but they're a very close second favourite. My favourite thing about my day is getting to work with such a fabulous team. We laugh, sing and joke through a lot of the day. Often we work 10+ hours per day, so I think it's so important to be able to have fun in the process.
Another thing I absolutely love is that between the four of us we have nearly 30 years of experience. We're all constantly learning and developing from one another. I have always tried to surround myself with people that are more experienced than me, that will challenge me and help me grow in whatever field I choose. I attribute a lot of my successes to this because I am pushing myself outside my comfort zone.
What is your most memorable FCBT moment?
Our team won the Global Most Improved Team Award, so we got to take to the stage at the Flight Centre Global Gathering in Macau. This was such a special night. We had worked so hard through the year but we kept our eye on that prize the whole time. We knew it was achievable. We just had to do as much as humanly possible throughout the year to have a shot. 
To be presented with that award was so amazing, and it's hard to describe the feeling to be honest. It was pretty special.
What are the client benefits of working with a Travel Manager?
Me! That may sound a bit arrogant, but we Travel Managers are truly the major difference between our amazing brand and others out there. The strong relationships we build with our clients set us apart, and mean we have a greater understanding of their company's needs, goals, likes and dislikes.
We are human beings dealing with other human beings; we have the ability to think outside the box, make suggestions and we have empathy. All of these are qualities that computers, online booking tools or even airlines don't have. We can often pre-empt what our customer need before they even ask for it! That's what sets us apart.
The greatest compliment I have ever received as a Travel Manager is when several of my clients have actually referred to me as being a part of their team. To me this is the ultimate goal. It means we can grow and develop together, and they no longer see me as an expense, but rather as a 'value-add'.
What's your ultimate tip for frequent business travellers?
Be as organised as you can be. In this day and age most businesses are trying to cut costs wherever they can, particularly in regards to travel. The simplest way you can do this in the travel space is by being organised and planning ahead. It can be easier said than done when schedules change, but ultimately being organised can save thousands.
The reason for this is based on airline sale periods, airline availability, hotel availability and less likelihood of urgent changes if you've planned ahead and thought out your trip.
When dealing with some of my clients I have trialled stricter travel policies with them, and they have seen the results. Simply by booking 14 days prior to travel, rather than two to three days prior, their air spend dropped and they were able to get better deals at hotels because their bookings weren't so last-minute. 
Other Travel Articles You Might Like...