19 July 2015
Words by Hugh Morris
Who needs a third runway at Heathrow when planes can take off and land in city centres?
This is the thinking of architecture graduate Alex Sutton who has designed an airport to exist above the streets and canals of Stockholm.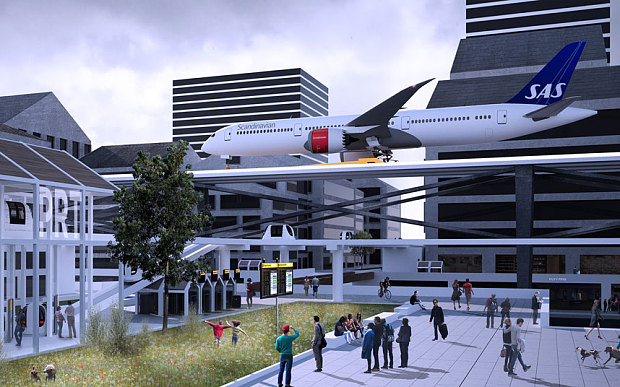 The 25 year-old from London's Bartlett School of Architecture says the proposal would aim to alleviate the pressure on airport capacity and challenge how "mundane and ordinary" the aviation industry has become.
His plans for Stockholm City Airport underpin his belief that airports have become isolated from society and a desire to change that. Sutton feels that airports can be integrated into cities as part of the infrastructure, with short runways and "micro-termini".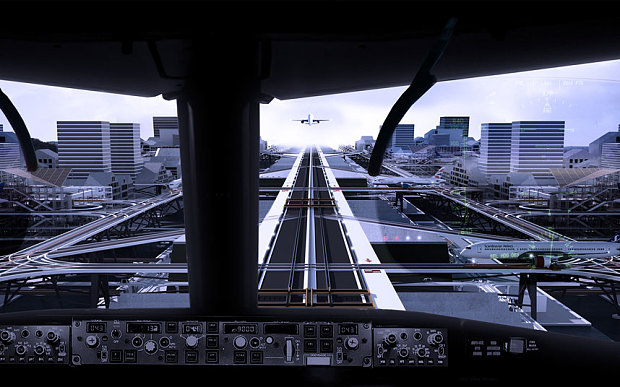 The proposal, which was awarded a distinction by his tutors, also includes city-wide baggage systems and elevated taxi-track systems to move aircraft around the terminals with their engines off, therefore limiting emissions and noise.
A Personal Rapid Transit (PRT) system – a series of pods not unlike a monorail – incorporated with self-service baggage kiosks would move passengers about the airport.
Sutton, who graduated last month, told Telegraph Travel: "I have been interested in aviation and airports since I was a child.
"I wanted to explore with my Masters project the idea of 'what if' aircraft were environmentally friendly and advanced enough to operate within a built context, and therefore how could it be that airports and a city coexist?"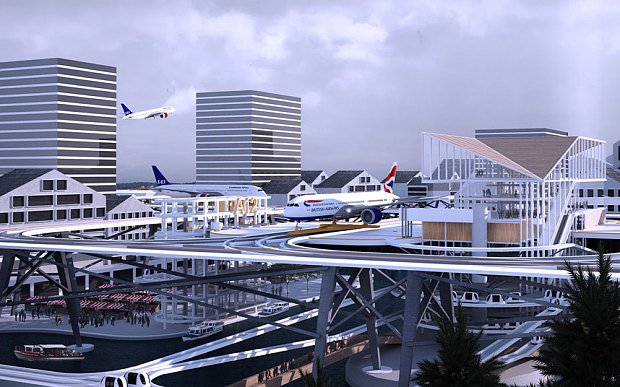 Sutton cited the growth of "airport cities" - a result of businesses and residences moving closer to airports to create independent urban centres, like Manchester's Airport City - as inspiration for designs that integrate flying within cities.
"Should the terminal buildings [of airports] grow to become megastructures the size of some cities, or can they begin to be broken down and fit within a more familiar city environment that might allow the airport to become a 'place' for everyone, not just travellers?" he asked.
Sutton admitted that aviation technology was not yet advanced enough to allow for his design but said that the industry had to change to cope with demand and become more environmentally friendly.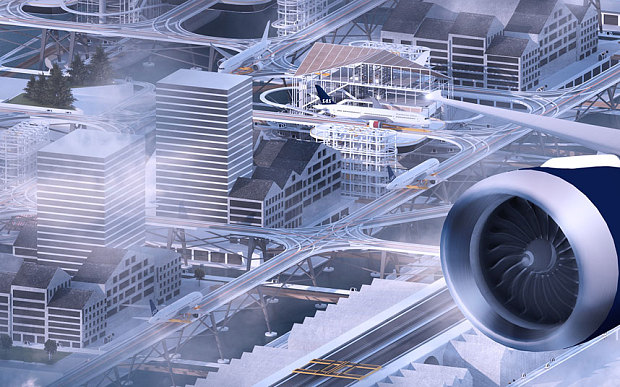 "While time will tell what happens, there is no harm in challenging the design of airports and imagining a 'what if'," he added.
He said Stockholm, which already has an airport, is one of the fastest growing cities in Europe and a hub city for Scandinavia.
The students at Bartlett School of Architecture in London were asked to develop a utopian dream for their final year project.
 
This article was written by Hugh Morris from The Daily Telegraph and was legally licensed through the NewsCred publisher network.
Other Travel Articles You Might Like...