27 November 2015
Need something to look forward to apart from Christmas madness and pressing work deadlines as 2015 hurtles towards its finish? 
Flight Centre Business Travel is GIVING you not just one little bright package but the chance to grab a whole lot of fantastic bonuses for your business and leisure travel!
Yes for the Twelve (Working) Days of Christmas, Flight Centre Business Travel is delighted to reward our fantastic clients with gifts like free wine, vouchers and lounge passes - just by booking what you would normally book! 
On the last day of Christmas, FCBT brought to me ...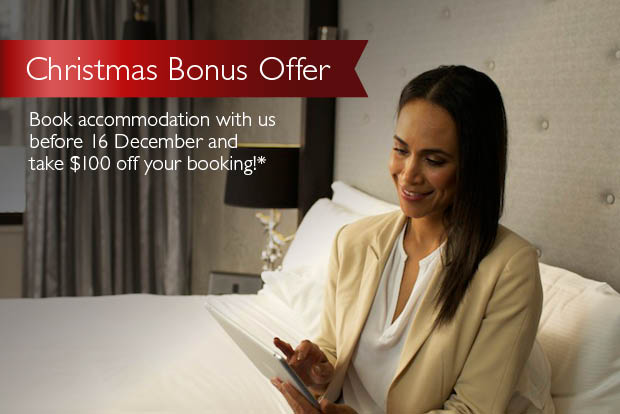 Take a little bit off the bottom line this year by booking your next business stay with FCBT! Book any hotel accommodation by close of business 16 December 2015 and you'll receive $100 off your booking!
Valid for hotel bookings made on 14 to 16 December 2015 for travel to 31 March 2016. In order to redeem voucher you must be a client of Flight Centre Business Travel. Not valid on leisure bookings and only redeemable through a Flight Centre Business Travel store. Not valid with any other offer.    
Contact one of our Travel Managers, Business Development Managers, or call 1300 797 826 to grab your Christmas bonus!
Other Travel Articles You Might Like...
Request an appointment with a Business Travel expert