2 September 2016
Words by Carlie Tucker
We've all been there: lining up at the security gate of a US airport and feverishly trying to remember what to do. What's in your carry-on? Do you need to give them your ID? What about your boarding pass? Shoes on or off? What about your belt? What's this newfangled AIT machine and what does it do?
The questions seem endless, and all the while you're working up a sweat worrying about whether or not your nail clippers are still considered a deadly weapon.
Panic no more! Here is a helpful guide on what to expect when checking in and going through security at a US airport. There's even a few helpful hints to help you save some time. And, rest assured that nail clippers are now free to travel aboard in your carry-on bag.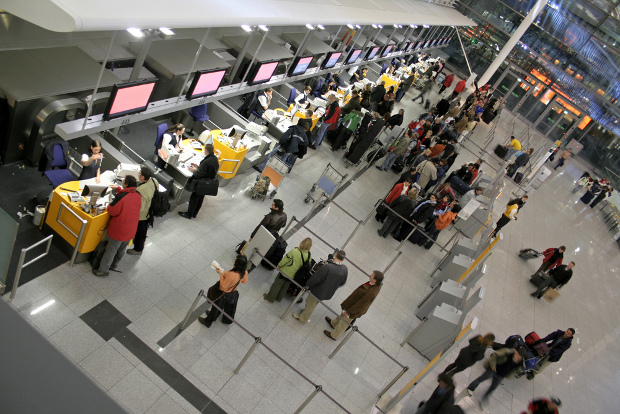 Check-in
Give yourself plenty of time.
You will need your passport and ESTA proof/visa.
When it comes to navigating US airports, you can never have too much time. This is especially true if you're flying through busy hubs such as LAX or JFK. Domestic travellers should plan on giving themselves at least two hours prior to departure, while international travellers should plan on three.
Once you've arrived at the airport, ensure that you have your travel documents ready to go before you get to the front of the check-in line. Pack them in a secure, easy to access place in your wallet or bag so that you can easily pull them out without fumbling through everything. This includes your passport, travel visa or ESTA proof. While you may not be required to show proof of the latter because it's electronic, some airlines will request to see a print out.
Tech Tip: There are travel websites/apps available that predict wait times at various major airports. While these times aren't guaranteed, they can give you an idea of what to expect upon arrival.
Security
Dress smart.
Remember the 3-1-1 rule.
You will need your passport and boarding pass in hand.
Getting through security can seem like a daunting process, but if you know what's expected and you're prepared, it actually goes pretty quickly. Firstly, save time by dressing and packing smart. Wear a single layer of clothing with slip-on shoes/ boots and minimal jewellery or accessories. Ensure that all items in any carry-on baggage are neatly packed so it's easy to scan. Of course, leave the prohibited items at home such as sharp objects, flammables, etc.
---
Looking for more airport tips?
What Not To Wear Through Airport Security
Common Reasons Travellers Miss Their Flights
---
As you approach the metal detectors, you will be expected to remove the following items and place them in individual bins for scanning:  
Jackets
Shoes
Belts or any bulky accessories
Coins, keys and phones
Laptops
3-1-1 bags (see below)
You will present your boarding pass and passport to the security agent and pass through the required detectors. Assuming you haven't set off the alarm and you've packed wisely, pick up your items and proceed to your gate.
3-1-1 Rule:
If you are carrying liquids, gels, aerosols, creams and/or pastes, remember that all of these items must be 3.4 ounces (100mls) or less per container. Place them in a one quart-sized, clear plastic bag. Each passenger is allowed to take one bag in their carry-on, which will have to be removed and placed in a bin to be scanned.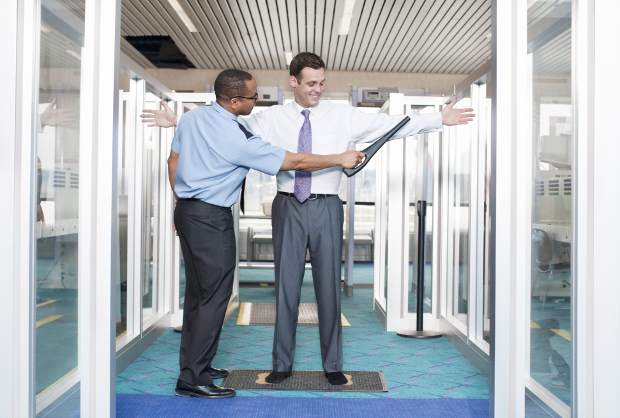 AIT Machines and Pat Downs:
AIT Machines, also known as body scanners, are units that use milimetre waves to scan participating passengers for metallic and non metallic items that may be hidden. They use generic outlines rather than passenger-specific images. If you are asked to use an AIT Machine at security, ensure that all items are removed from your pockets. You will be asked to step inside the unit, hold your hands over your head and stay still for a few seconds. You will then exit the unit on the other side. The entire process takes less than a minute.
If you would prefer to skip the AIT Machine, or you set off the metal detector, you will be screened with a pat-down in which a security agent of the same gender pats down your body over your clothes to ensure you are not carrying any prohibited items. You are able to request a private room for a pat down if so desired.
Once you've been cleared by the security officer, pick up your personal items and proceed to your gate.
Tech Tip: You can sign up for TSA update emails to stay on top of new procedures or rules regarding what can and can't be taken through security. The TSA has also started to roll out a Pre-Check Program available to US Citizens, lawful permanent residents and all members of Global Entry. 
Other Travel Articles You Might Like...
Request an appointment with a Business Travel expert