3 August 2015
Words by Ben Stower
One of the underrated struggles of business travel is finding appropriate gifts for family and friends. It can be hard to avoid settling on a key ring, t-shirt or a postcard during a hectic schedule.
Next time you're in one of the following countries, take this guide along as well, so you have at least one gift covered before you even land.
Argentina - Leather Belt
Leather is one of Argentina's biggest industries and the locals have mastered the art of designing beautiful leather goods including boots and bags. For a cheap and easy-to-pack gift, I recommend purchasing a leather belt from a street market, or from an established retailer if you want to splurge.
China - Silk Cheongsam
China is famous for its historic Silk Road and there's a reason traders travelled from across the world to purchase silk in the East. The cheongsam, a fashionable and tight-fitting silk gown, makes for glamorous evening wear that stands out amongst Western styles.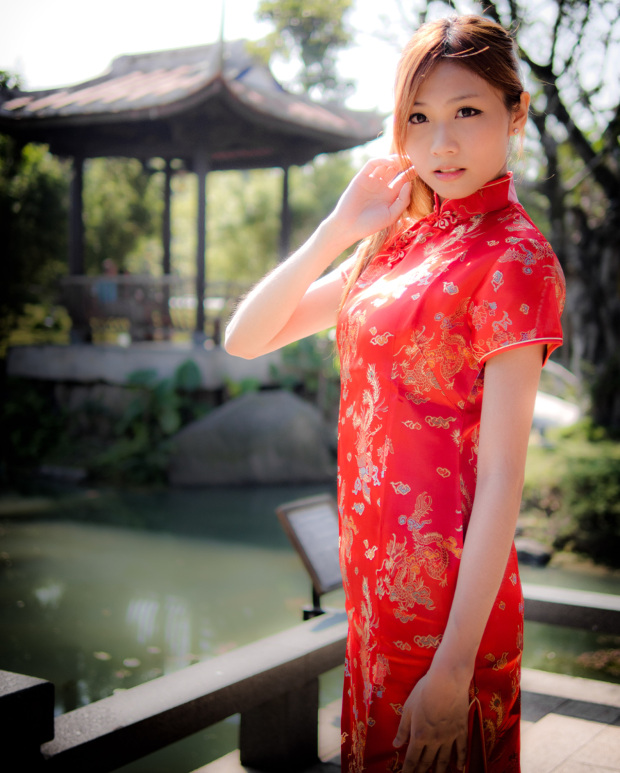 A traditional cheongsam (image: Getty)
Czech Republic - Marionettes
Czech marionettes are beautiful puppets carved and painted by hand. The puppets are old fashioned, controlled by strings and a central rod. These toys are a huge part of Czech culture and history, and learning to master the skill of puppetry can be a fun alternative to playing Angry Birds.
England - Harrods Annual Bear
This isn't just any plush bear. The Harrods Annual Bear has been a staple of the renowned English department store for more than 20 years. The teddy bear changes each year – 2015's is Charles Clay, named after the famous musician. You can also purchase other varieties including a seasonal Christmas bear.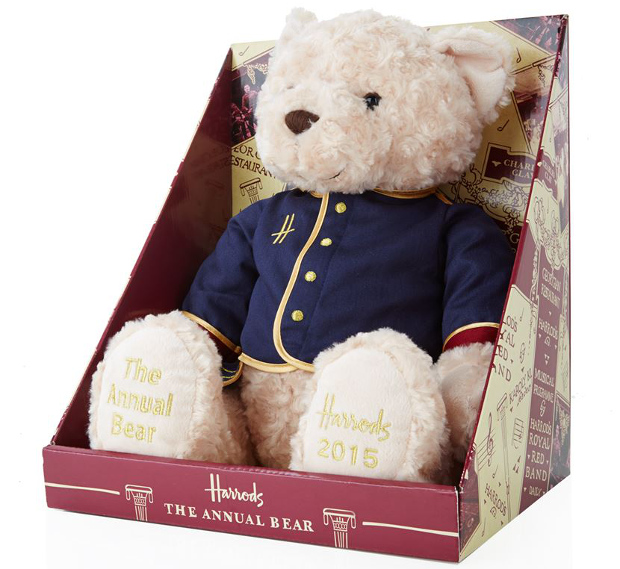 Charles Clay in teddy bear form (image: Harrods)
France - Chocolate
It's hard to select one iconic souvenir from France, but if you want something unique and equally delicious you might opt for a box of locally-made chocolates. Maison du Chocolat is one of the most recognisable chains. You'll find a variety of truffles, ganaches, pralines and fruit chocolates inside.
Germany - Lederhosen/Dirndl
For a fun and versatile gift get your hands on a traditional Lederhosen (males) or Dirndl Dress (females). These can be used for dress-up parties, your local Oktoberfest or for a special night at home. Cheap replicas can be purchased from costume shops, while authentic leather outfits usually price in the thousands.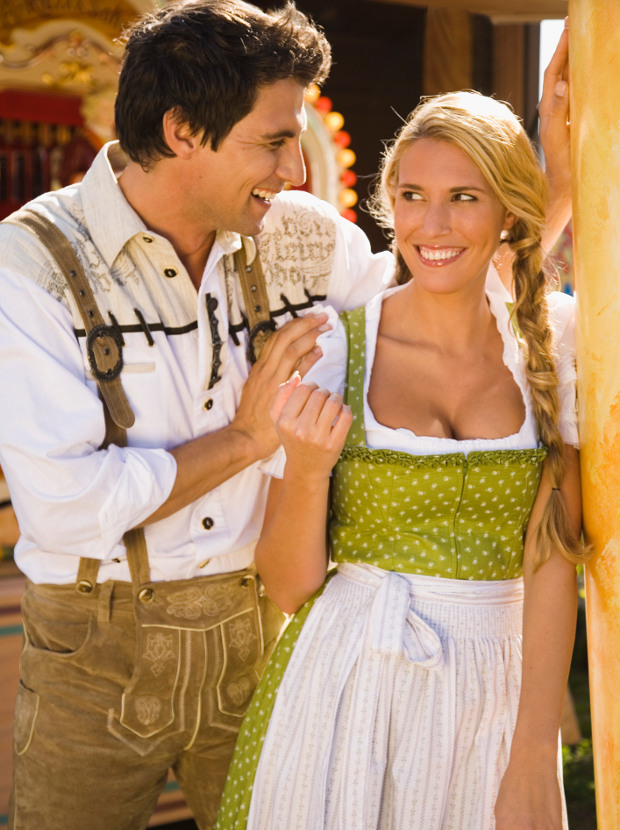 Purchase a traditional Lederhosen or Dirndl next time you're in Germany (image: Getty)
India - Pashmina Shawl
Pashmina originates from Kasmir, India, and is considered to be the finest type of cashmere wool. The name literally translates to 'soft gold' in Kashmiri, an indication of the material's high quality. Pashmina shawls are commonly worn by females and keep the wearer warm and comfortable.
Ireland - The Claddagh Ring
The Claddagh ring is a meaningful gift symbolic of Ireland's traditions and history. Its intricate design incorporates three parts: friendship (hands), love (heart) and loyalty (crown). First produced in the 17th century, the ring has undergone various transformations, but you can still find the original design.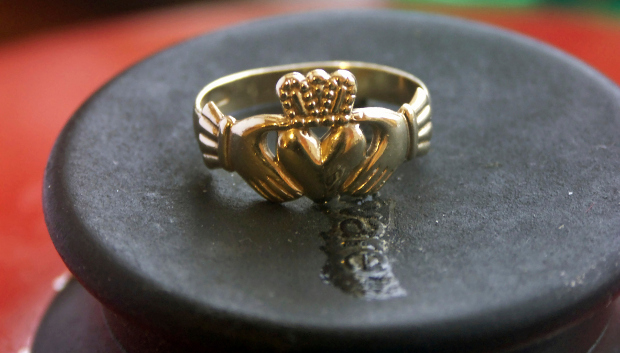 An authentic Claddagh ring (image: Getty)
Italy - Traditional Venetian Mask
Dating back centuries, Venetian masks first originated in the Italian city of Venice, but can now be purchased anywhere around the country. Depending on how much you wish to spend, you can find very beautiful and intricate designs.
Japan - Daruma Doll
This traditional Japanese doll symbolises good luck and perseverance, depicting a bearded man called Bodhidharma, who was a Buddhist monk. They are typically given as gifts of encouragement.
Daruma dolls are easy to find in Japan (image: Getty)
Los Angeles (USA) - Sport Merchandise
Sport in the USA is a prominent pastime and Los Angeles is home to some of the most prolific sporting teams in the country. With two professional basketball teams (Lakers and Clippers) and major league baseball (Dodgers) and soccer (Galaxy) teams, it's easy to find merchandise such as jerseys, balls and hats.
New York (USA) - Chelsea Market Gift Bag
At only fifteen years old, New York's Chelsea Market is already one of the world's most recognisable indoor food halls. Featuring a smorgasbord of local flavours, this is the best place to bring back an edible collection of New York. Check out the Chelsea Market Baskets stall for customizable foodie gift baskets.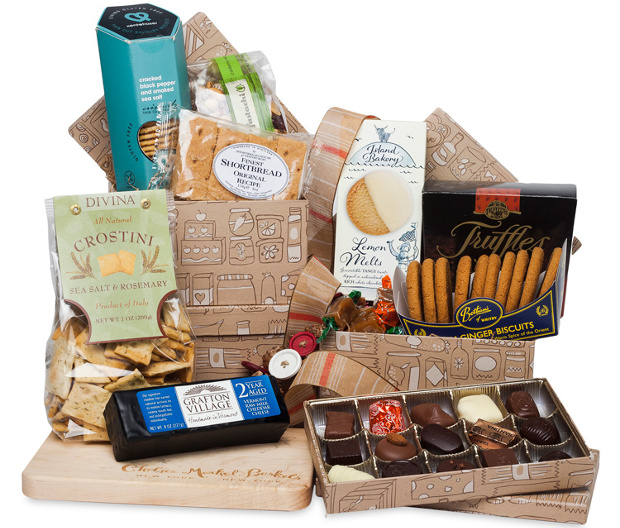 One of many Chelsea Market Gift Bag options (image: Chelsea Market Baskets)
New Zealand - Thermal/Mineral Mud
New Zealand is home to numerous thermal and mineral mud baths, which have proven health benefits. Various regions where these baths are located have started bottling their mud and selling it as hand cream, facial rub and other beauty remedies.
Poland - Amber Gemstone Jewellery
Amber is a gemstone native to Poland and is now available in multiple jewellers and stalls throughout the country. You can purchase the gemstones individually or buy items of jewellery imbued with the vibrant orange stone including necklaces, earrings and rings.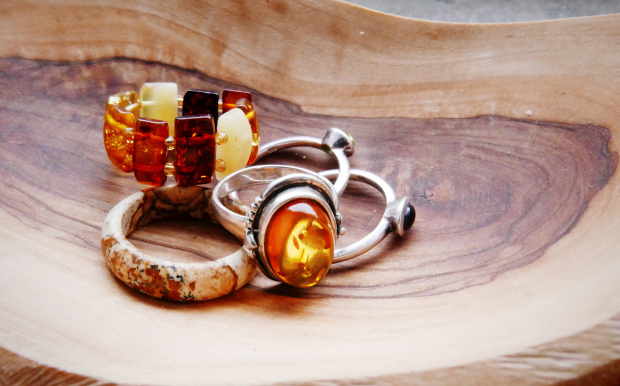 Poland's amber gemstones create unique and beautiful jewellery (image: Getty)
Russia - Lacquer Box
These decorative papier-mache boxes feature gorgeous hand paintings by artists throughout Russia. Covered in a lacquered finish and featuring scenes from Russian lore, the boxes posses a hand-crafted and traditional charm.
South Africa - Amarula
Amarula is a cream liqueur made locally in South Africa with fruit from the marula tree as the main ingredient. Compared to other common liqueurs, it's a fruitier version of Baileys. Best enjoyed on the rocks, Amarula is also delicious with ice cream. You'll spend about $40 on a bottle in Australia, but only $10 in South Africa.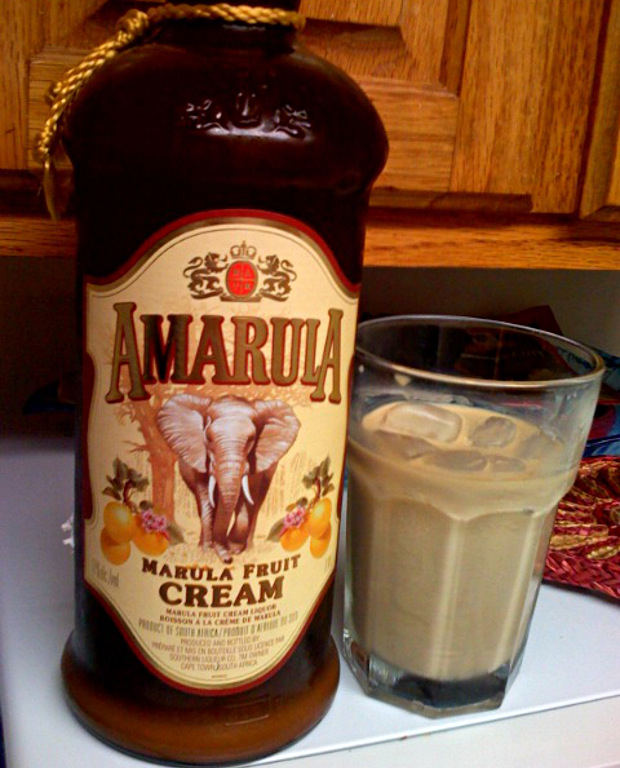 Amarula is a great desert liqueur (image: Wikipedia)
Switzerland - Decorative Cowbell
Cowbells often appear in Swiss folklore, when large cowbells were rare and coveted items. These days you can find bells of all sizes including those covered in intricate art. They can be used as ornaments, for decoration or on a dog's collar.
Other Travel Articles You Might Like...