16 April 2015
Words by Tara Young
Flying around our country for work? Here's what to expect if you need to fuel up before you land.
If you are flying Virgin, Australia's second largest airline, as of February 2015, complimentary food is now available on flights across its entire domestic network. This is a big jump in their in-flight service and an indication of its efforts to compete with its bigger competitor, the Flying Kangaroo, to gain a bigger share of the domestic market.
That's great news for hungry passengers, but the time of day and the duration of the flight determines the type of meal on offer.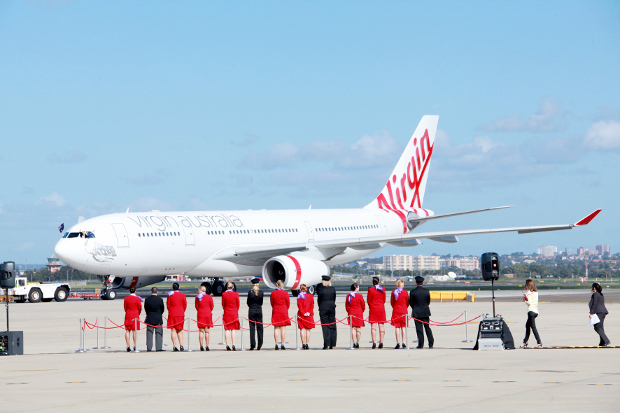 Virgin Economy Class Travellers:
The airline serves complimentary non-alcoholic drinks on all Virgin Australia flights. In addition, complimentary beer and wine is offered on all services between capital cities departing between 5pm and 7pm.
On all flights between Sydney, Brisbane and Melbourne, all domestic services to and/from Adelaide and selected other routes, a complimentary snack and non-alcoholic beverage is offered to all Economy passengers. For all flights between Perth and the East Coast, a complimentary hot meal and beverage is offered to all Economy passengers.
On all other domestic and short-haul international routes where a complimentary snack & food service is not provided, Economy class depending on the fare purchased, offers an all inclusive meal for "flexi-fare" domestic passengers.
Alternately, for "saver fare" passengers, a buy on board service with food and drinks available for purchase is offered from a separate menu by Luke Mangan, which includes a gourmet range of snacks, meals and beverages. The menu is available on all flights. On other selected flights, passengers have access to hot snacks, hot meals and specialty products such as gourmet ice cream.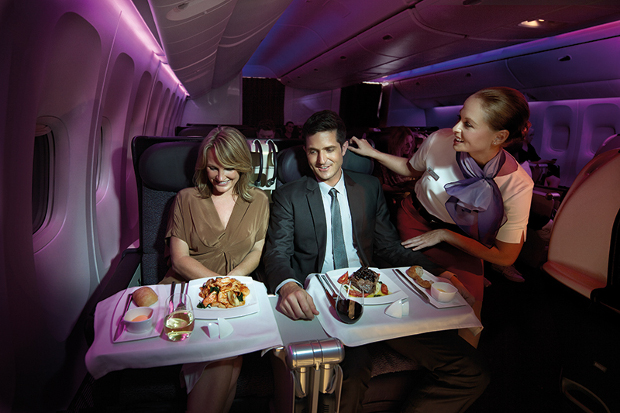 Virgin Business Class Travellers:
Emulating the Qantas partnering with celebrity chef Neil Perry, Virgin teamed up with Australian chef Luke Mangan in 2010 to start creating a lighter and more sophisticated menu for dining at 37,000 feet.
So, if you're lucky enough to be at the front end of the plane, Virgin's business class passengers can have access to a gourmet menu created by Luke Mangan. For lunch and dinner this includes a full three-course meal prepared on board by the crew.
Also in good foodie tradition, Luke Mangan's menu is accompanied by a selection of more premium Australian wines, beers and spirits and non-alcoholic beverages. This includes barista-style coffee.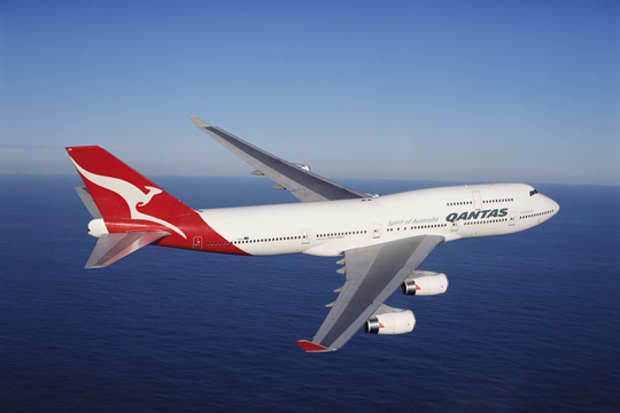 Qantas Economy Passengers:
Not to be outdone, the biggest player in the domestic airspace, Qantas, continues to try different approaches for its inflight dining. The latest offering is the packaging of the meals in both Economy and Business classes.
Trays have been swapped for custom made boxes, according to Qantas, to allow faster meal delivery and clearing, and to give more space to relax or dine and work with a laptop or tablet.
The designer boxes have been promoted for travellers to also expect greater menu variety and more generous servings - up to 50% more than current meals.
Economy dinner meals served when flying between 5-7pm include things like beer battered flathead fillets, beef ragu with spaghetti and parmesan; lentil quinoa and falafel salad with pomegranate dressing.
For main meal times, Economy passengers will receive a hot meal and a substantial salad. For breakfast and snacks, there are more premium products such as gourmet muffins and Bircher muesli available. Wine and beer will continue to be available on selected services across the domestic network.

Qantas Business Class Travellers:
Qantas have recently introduced International Business dining on domestic flights between Sydney, Melbourne, Brisbane and Perth.
Still designed by Qantas' consulting chef Neil Perry, the menu has the addition of small bites and more choices of entrée and main. The new menu is still a move away from tray-service towards menus and separately plated courses in the designer boxes. On supper flights, 'small bites' as well as a light refreshment and café style breakfast are provided.
On all other domestic business flights, hot and cold menus are offered along with wines from the Qantas Wine Cellar and specialist things such as cheese from Bottega Rotolo and handmade cakes from brands such as Manna from Heaven, Madhouse Bakehouse and Simmone Logue.
Jetstar Passengers:
For Australia's budget carrier Jetstar, the drinks and snacks are available to purchase onboard or can be pre-ordered on all domestic Australia flights.
The menu for domestic allows you to choose from a range of sandwiches and wraps, gourmet snacks, boutique wine and brewed Grinders coffee.
Other Travel Articles You Might Like...