15 June 2015
Words by Juliet Kinsman
Formal dining rooms, stiff service, silver cloches – high-end hotel restaurants of yore wouldn't satisfy modern culinary cravings.
Those settings still exist, but in the past, as fancy as things looked, the kitchens at the back were another matter: all strip lighting and functional industrial catering equipment – not that we'd ever have sneaked a peek.
If you'd told proprietors then that one day diners would demand to eyeball the cooking team at work, they'd have blanched. Now butchery's brought to the fore and labour is part of the flavour – we want display as we dine.
At ABaC Restaurant & Hotel in Barcelona, part of the thrill is being directed to your table (where you'll savour Jordi Cruz's two-Michelin-star 14- or 21-course menus) through the 200square metre kitchen.
And at the Typing Room in east London's Town Hall Hotel, I'm sure the fact that I could see Lee Wescott piping chestnut cream into the bowl made his dishes all the more delicious.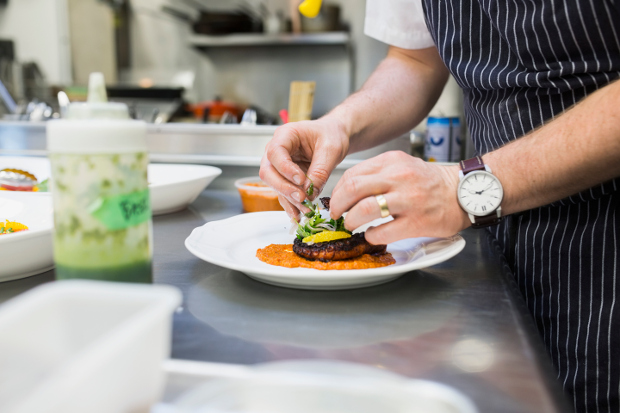 It's not always a contemporary context for such peeping-tommery. A Victorian pub on the outside, the York & Albany near Camden in London invites you down into a sexy, bordello-style space – but not many boudoirs let you spy on Gordon Ramsay protégés in an open kitchen, let alone host pizza or tiramisu masterclasses.
In Buenos Aires, Casa de Uco allows guests to have a butcher's at the raw cuts during its gourmet take on asado (barbecue). Chorizo, morcilla, short ribs, flank steaks and even sweetbreads are on display. Seeing the magic happen is part of the all-sensory experiences luxury travellers are insisting on.
There's also the taking part. DIY is de rigueur: Andaz Amsterdam lets you cook your own eggs at breakfast, while in Provence, Alain Ducasse's Hostellerie de l'Abbaye de la Celle and Jean-André Charial's Baumanière are among the hotels inviting guests to plunder their vegetable patches for ingredients.
The folks at Secret Bay in Dominica will take you lionfish hunting so you can spear your own supper in the Atlantic. At QT Sydney seeing sushi carved from a four-foot tuna in a glass fridge at the front of the restaurant is certainly a thrill.
The Pig hotels in south-west England have been big players in farm-to-table fun, and much of what you see is what you get. They don't serve up their pet porkers but the eggs are from the chickens and quails you'll see wandering about.
Lime Wood (big sister to the original Pig hotel in the New Forest) has chairs by the giant oven so you can pause in the grounds for some smoked salmon or lavender-cured loin of pork aromatherapy. It's official: dinner is no longer just about tasting your meals, it's about seeing them made and taking part.
This article was written by Juliet Kinsman from The Independent and was legally licensed through the NewsCred publisher network.
Other Travel Articles You Might Like...