18 September 2017
If you're a regular in the skies and far too familiar with miniature lotions and potions, you'd know better than most just how strenuous regular travel can be.  Early mornings, late nights, long meetings in dehydrating, climate controlled rooms mixed in with a little jetlag can really take it out of you.  When miles from home, little wins can result in big benefits, and take the edge off a long day.  Read on for areas to make a play at when you're out on the road.
The corporate life is often on the road
Empty Row on a Flight
There aren't many plane related pleasures as satisfying as boarding a flight to find you are the only one to occupy the row.  While it's usually followed by a mix of excited-anxiousness; noting where the rest of the boarding passengers are headed and avoiding eye contact with the hostesses; once the doors are shut the feeling reaches an all time high.  Securing this extra space on any flight, let alone the longer hauls, is one of the biggest travel wins and your legs will thank you for it. 
Tip: if available, claim the extra bottles of water, pillows and blankets to ensure you are more than comfortable for the flight ahead.
Stretch those legs! You will have to be seated in your ticketed seat for takeoff, but once they seat-belt lights are off you can enjoy your extra space
Complimentary Breakfast Buffet
Spending many a meal dining solo off room service trays is sure to reduce ones appetite, with dining being such a social activity.  Even if you're travelling alone, dining out and taking time to enjoy a meal can make a huge difference to your day.  Aim to start your mornings by sitting down to a healthy and nutritious breakfast, perhaps while you flick through the business pages or check emails.  This will really get your mood and energy levels in order, and ensure you're switched on and focused for the day ahead. Look out for accommodation with dining amenities, particularly a breakfast buffet.  Dinner is easier to plan last minute, but a rushed breakfast is never ideal. 
Tip:  book combo deals with a decent breakfast included in the room rate, or see if you can angle for a complimentary buffet as part of your booking.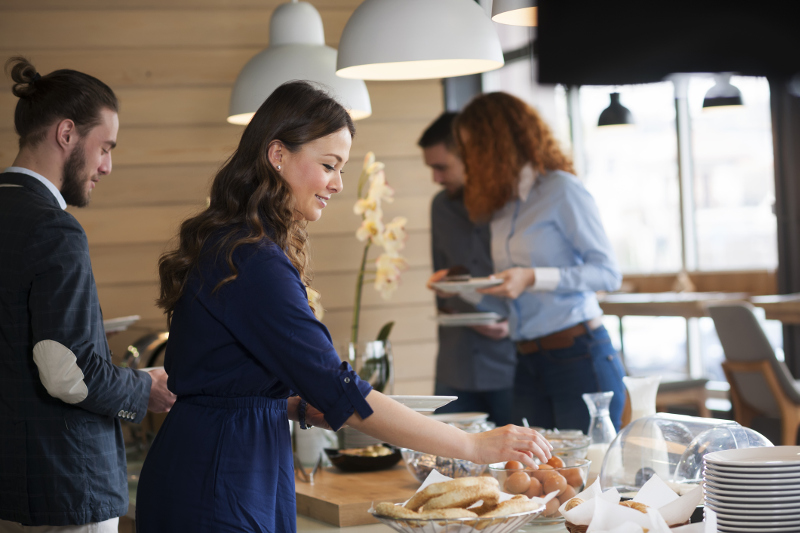 The buffet can be equally healthy and dangerously tempting - start with the freshly made breakfasts before filling up on empty, sugary items
Hotel Room Upgrade
The ever coveted room upgrade is one of the bigger bonuses one can receive while on the road for work (or pleasure for that matter).  A more spacious suite, a full-size desk, decent views and possibly even a luxuriously deep bathtub for you to soak away the day.  Generally room upgrades are awarded on stays that are shorter in length, during the week, when the guest is travelling for business and especially if they have an affiliation with the hotel chain - very likely you on your next corporate stint.  Make the most of an upgrade by getting set up and organised - electronics on charge, clothing unpacked into the spacious wardrobe, suitcase away so you feel more at 'home', and enjoy the perks, even if it's just for a night.
Tip: be polite and ask - if a higher price room isn't sold, the clerk can often upgrade guests for a night or two.  Asking how much an upgrade would cost also shows willingness, so they don't think you just want a free ride.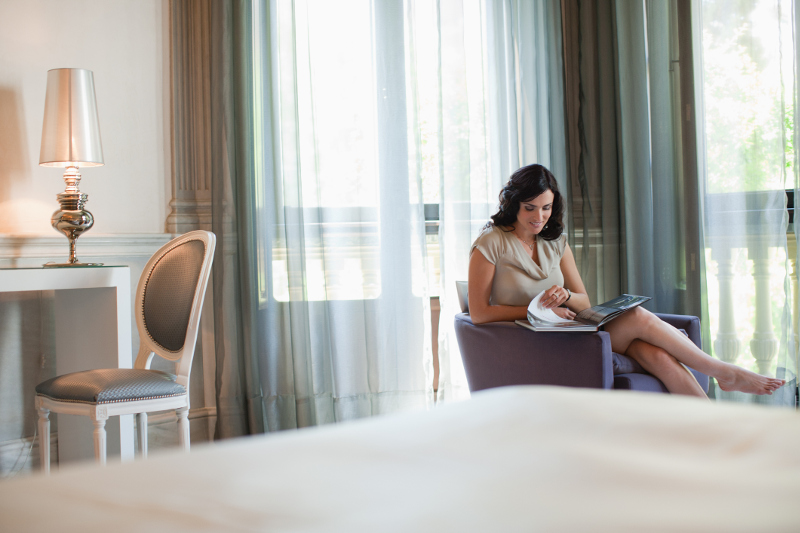 Make the most of your home-away-from-home - unpack and relax
Extended Check Out
If check out day simply entails leisurely packing, picking up last minute souvenirs and making it to the airport, then a little sleep in under that duck-down duvet would be a welcomed treat. While some hotels offer this at a fee, most will try to accommodate a later check out if you are upfront and polite, especially if you have an affiliation, have been an easy guest and of course, when they have capacity - usually Sundays and Mondays. After back to back meetings, client dinners and deadlines, hiding a little longer behind those heavy duty blinds and taking a bit of time for yourself is a nice way to level yourself out and recoup before heading back to the daily grind. 
Tip: Asking ahead of time, ideally when you check in is ideal, giving staff adequate time to accommodate your request.  This can also give you an opportunity to do something for the hotel, say a survey or taking a feedback form to show your willingness to assist and make it a mutually beneficial exchange.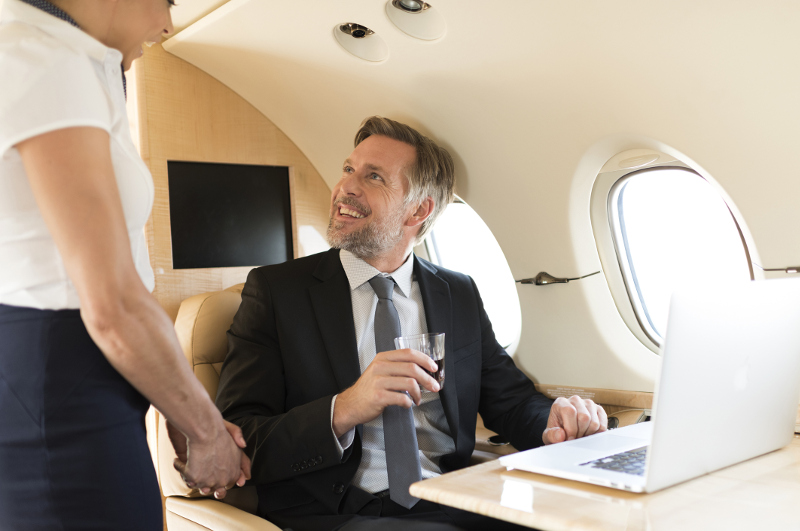 Life on board is always better with an upgrade
Flight Upgrade
The crème de la crème of corporate travel perks.. While rare, it doesn't get much better than this! Checking in at bag drop to find you have been bumped up a cabin class invites incredibly positive emotions about the trip ahead, which is amplified even further if this upgrade comes with additional higher-class lounge benefits.  Politely accept, thank them and swiftly move on through security and start planning your flight.  An upgrade offers a fantastic opportunity to improve work efficiency on flights, often providing more working space, increased privacy and a lack of distracting, noisy passengers.  If work isn't on your agenda, get comfortable and enjoy the dining, entertainment and luxe amenities an upgrade usually includes.  Sip fine wine from real glass, enjoy an entree and soft napery, perhaps kick back in a flat-lay bed, claim the fancy toiletries and make the most of the friendly, personalised service.
Tip: Loyalty plays hard in this court, with airlines favouring regular passengers, as well as those on full flexy fares.  
Images courtesy of Getty.
Other Travel Articles You Might Like...