8 February 2016
Words by Carlie Tucker
If business travel takes you to a new city, it's a prime opportunity to get out and see the sights. Unfortunately, time is not always on your side when it comes to taking it all in. If only there was a mini guide that offered a quick and easy snapshot of the city – one aspect that business travellers can easily explore on a lunch break or after work.
In an effort to provide just that, what follows is a mini city guide to Melbourne's public art exhibits. Abstract, thought provoking, colourful and unique, these sculptures and paintings have become a part of the city's identity. They pepper the inner city streets and parks and provide an easy lunchtime activity for busy workers looking to get to know Melbourne.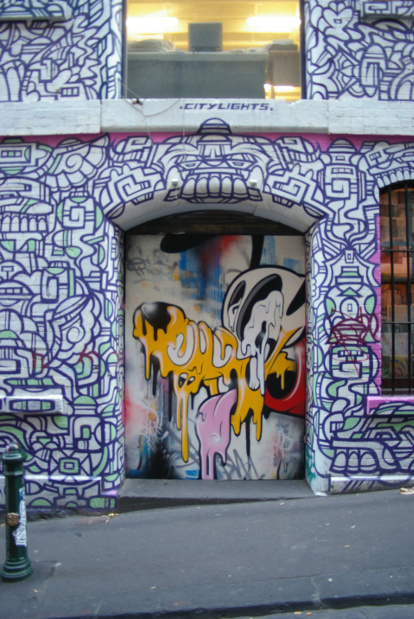 Hosier Lane - Melbourne CBD
Perhaps the most famous of Melbourne's outdoor exhibits, Hoiser Lane is a colourful conglomeration of street art. It is constantly changing as artists create new murals every day, month and year, and it has been home to works created by some of the world's most renowned names.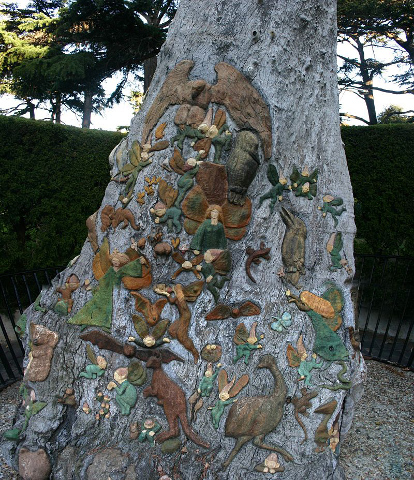 Fairies Tree - Fitzroy Park
This is one of the city's most beloved attractions, particularly for children. Ola Cohn's Fairies Tree is a series of carvings on the stump of an original Red Gum tree. It features everything from fairies and gnomes to koalas, flying foes and other native Australian fauna. The tree itself is well over 300 years old and has been preserved along with the carvings completed by Miss Cohn from 1931 to 1934.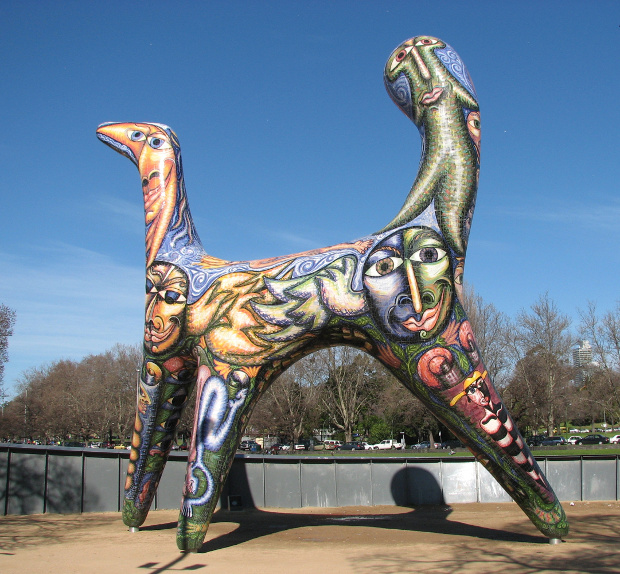 Mosaic Angel - Birrarung Marr Park
This 10-metre sculpture was created by local artist and sculptor Deborah Halpern in 1989. It features 16 different images that represent a variety of life forms created out of mosaic tiles. This includes a crocodile, fish, plants and fantasy creatures. Though it has moved a couple of times, it now resides in Birrarung Marr park near Federation Square.
---
Find out where to eat in Melbourne. Melbourne's Hottest Power Lunch Restaurants
And find out where to get coffee. Where to Woo Clients With Melbourne Coffee
---
Public Purse - Bouke Street Mall
Commissioned by the city in 1994, this unique piece was created by Simon Perry as street seating. It is exactly as it sounds – an oversized purse made of red granite and stainless steel. The beauty lies in its simplicity, as it's both a practical and aesthetic nod to the commercial area that surrounds it.

Image courtesy of monumentaustralia.org.au
Three Businessmen Who Brought Their Own Lunch - Corner Swanston and Bourke Streets
These three life-size gents are named Batman, Swanston and Hoddle. From the imagination of sculptors Alison Weaver and Paul Quinn, they represent the pioneers that helped build the city of Melbourne, returning in modern day to look on in amazement at what they helped create. 

Image: Paul Pavlinovich via davidmichaelbell.com.au
Raising the Rattler Pole (The Last of the Connies) - Spencer and Flinders Street
Created as a tribute to Melbourne's W-class trams, this temporary public art piece is a newer addition to the streets of Melbourne. By day, the up-ended 1:1 scale tram dazzles with a highly detailed bluestone effect, while at night, the windows and headlights light up with a welcoming glow. It was done by David Michael Bell and can be seen at the corner of Spencer and Flinders Streets until 2018.
Images courtesy of Wikipedia unless otherwise noted. 
Other Travel Articles You Might Like...