17 May 2015
Words by Soo Kim
Developed by four students at the Delft University of Technology in the Netherlands, in collaboration with KLM Airlines and the aircraft equipment manufacturer Zodiac Aerospace, the concept was shortlisted for an award at the recent Aircraft Interiors Expo in Hamburg.
The sensors in the seat would send data on the passenger's heart rate to an app called FlightBeat. The information is presented to flight staff as a colour-coded seat map indicating which passengers might need attention. Unwell or nervous passengers typically have a faster heart rate.
It is hoped the app could help prevent costly emergency landings caused by those who wait too long before alerting the crew when they are feeling unwell.
The students are aware of the privacy issues that may be of concern, so flyers could choose not to have their heart rate activity measured by adjusting a setting on their seat.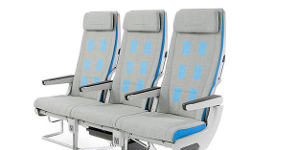 The app determines passengers' emotional status using software, approved by the HeartMath Institute, that can translate heart rhythm patterns into emotion, Mirthe Monninkhof and Quirine van Walt Meijer, two of the app's designers, told Inflight-Online.com.
Passengers would even be able to share their heart rate and emotional status with people not on the flight via an in-flight Wi-Fi connection. The designers hoped this feature would give any nervous passengers who choose not to share their data with the crew the option to seek the comfort of their friends or family.
Seat sensor technology was already being developed by the American car manufacturer Ford prior to KLM's project and is expected to be used in cars by 2020, according to the students, who have worked to adapt this technology for use on aircraft.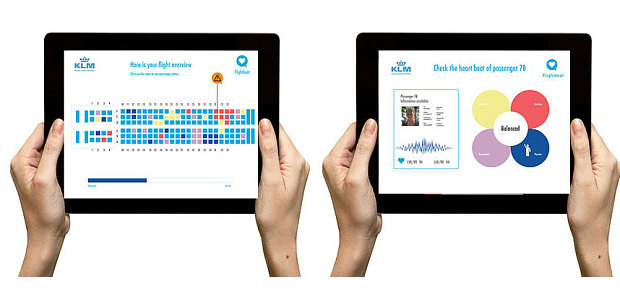 The data gathered via the app could potentially be used to track other aspects of the passenger experience including the effectiveness of in-flight entertainment in relaxing nervous flyers, which areas of the aircraft are likely to cause the most discomfort and stress, as well as which parts of the flight journey are most uncomfortable and stressful for passengers, Skift.com reports.
The app is still at a concept stage and has only been tested in prototype form. It would require further development and official certification before its production, Flaminia Del Conte, one of the students, told the Mail.
"It will be interesting to look deeper at the possible connections with smart watches in 2020 that could, together with FlightBeat, deliver added value to the experience of a passenger on board," the students told Inflight-Online.com.
This article was written by Soo Kim from The Daily Telegraph and was legally licensed through the NewsCred publisher network.
Other Travel Articles You Might Like...