15 June 2016
Words by Ben Stower
What makes you sweat? Is it the shudder of your seat as the plane burns its engines for take-off? Is it that slight wobble when the plane first leaves ground? Or is it those strange mechanical sounds that surround you, making you wonder if your flight is seconds from becoming the day's top news story?
For nervous flyers, the take-off part of flying can be cruel and nightmarish. Fortunately, there are numerous pre-flight techniques for relaxing yourself and distracting your mind from your fears, without using pills or alcohol.
Don't let the fear of flying get on top of you (Image: Getty)
1. Read A Book Or Watch A Movie
These days mobile phones can be left on and in flight mode while taking off, so download a movie or TV episode and let it transport you away from your seat.
If you prefer to read, books are another great option and allow you to truly immerse yourself and focus on something else. Invest in some noise-cancelling headphones to drown out the sounds outside with your show, or music if you're reading. Audio books can also help, but best practice is to avert both your eyes and ears.
2. Use A Breathing Technique
Anxiety can often render deep breathing useless. However, Captain Steve Allright from British Airways recommends holding your breath first before starting deep breathing. Another alternative is to breathe out for as long as possible, followed by a long, deep breath.
Meditation can also help calm your mind and body. Download a meditation app on your phone and practise in the weeks or days leading up to the flight.
Meditate when you need, no matter the situation (Image: Getty)
3. Focus On Your Destination
As you might've guessed by now, distraction is key to reducing stress. Having a photo, real or imagined, of your destination to focus on can really help when other options such as movies, a book or music aren't available.
If for some reason your destination isn't somewhere you actually want to be, you can think about another place. If Happy Gilmore taught us anything it's that having a 'happy place' can bring the best out of us in any situation.
---
More advice for business travellers
Life Hacks: 7 Secrets To Being On Time
6 Essentials For Your First Work Trip
---
4. Talk To Someone
Whether you're travelling with someone you know or have a stranger sitting in the seat next to you, talking is a great way to distract yourself.
Some nervous flyers prefer discussing subjects completely unrelated to flying, while others actually find voicing their fears helps the experience.
You might also want to let the flight attendants know about your concerns, as they can provide extra assistance and support during take-off and landing.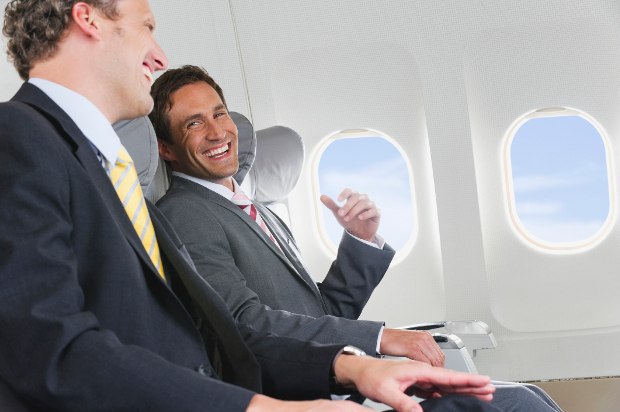 Start a conversation and the flight will be over before you realise it began (Image: Getty)
5. Know Your Plane Noises
If the sounds of rattling tray tables, shifting wheels and sliding carry-on bags turn your knuckles bone white on the armrest, it's time you learned what each noise means.
Study what each sound indicates and quiz yourself every time the plane takes off and lands. This will help distract and comfort you as you go through each noise. And you'll also quickly discover that none of them signal disaster in any form.
6. Workout Before Your Flight
The positive effects of exercise on stress have been documented at length in numerous peer-reviewed journals including the Clinical Psychology Review, which found that exercise training recruits a bodily process that increases resilience to stress.
With many airports around the world now including gyms, yoga studios, running tracks and other exercise facilities in their terminals, it's easier than ever to workout before or between flights.
If your airport is lacking in such facilities, try to wake up at least 30 minutes earlier than usual to fit in a quick workout.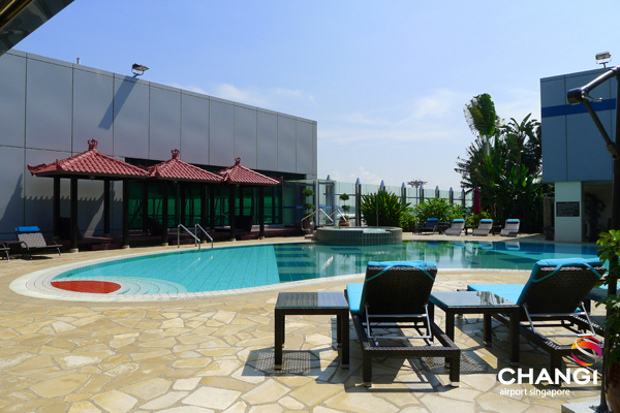 Take a swim before your flight at Changi (Image: Changi Airport Singapore)
7. Memorise Song Lyrics Or Book Passages
Another method of distraction, keep your mind preoccupied and gift yourself an impressive party trick by memorising poetry or song lyrics.
As soon as you feel the fear coming on, start reciting the passage to yourself out loud or in your head. Bonus: You might impress your neighbour with your rap skills or Lord Byron-esque charm. 
Other Travel Articles You Might Like...
Request an appointment with a Business Travel expert